Papri Banerjee was suspended from her college after her abusive post on the security forces went viral. However, Congress leaders came to the rescue of Papri Banerjee, who is an assistant professor of the English department at Icon Commerce College, Guwahati.
How much lies being fed in colleges that such venom being vomited out to justify deaths of 45 Soldiers. She is professor in ikon Commerce College, Guwahati.

Requesting Education minister @SBhttachrya to look into it & hold college equally responsible as her

CC: @assampolice pic.twitter.com/UWPR3YHlxh

— Comrade Squinty (@squintneon) February 15, 2019
The college authority had condemned her statement and suspended her. A letter issued by the college authorities on Saturday said, "You are put under suspension with immediate effect until the matter is resolved by a competent authority."
Terrorist Supporter Papri Benerjee got fired from University & Assam Police registered complaint. Well done Icon College for taking strong action against Terrrosist sympathizer. pic.twitter.com/iyznOaZwwg

— Comrade Squinty (@squintneon) February 16, 2019
However, she escaped the harsh punishment because of the intervention of Congress leaders.
Who comes in rescue of Papri Banerjee, the one who justified the #PulwamaAttack . No one but our own @INCIndia . Meanwhile Rahul Gandhi will continue to shed crocodile tears pic.twitter.com/wZVhfxvRav

— अमित रैना Amit Raina (@rainaamit) February 17, 2019
Congress Leader @SaketGokhale stepped in to pressurize @assampolice & forced them not to take any action against her who falsely denigrating Army. He is her facebook friend & know it very well.

This is the reality of Congress, Remember everything before voting these scumbags. pic.twitter.com/WkWtdlRWok

— Comrade Squinty (@squintneon) February 17, 2019
Saket Gokhale, who had worked in Congress' Digital Communications Department, in a FB post writes, "Papri Banerjee has been released and the sedition charges were not filed thanks to massive intervention and support from Nilim Dutta, Sahid Ul Islam Laskar, Indian National Congress- Assam, and the INC Central leadership."
And here is the buffoon thanking @INCIndia leadership for his 'support'.

I dare @RahulGandhi to now openly support Papri Banerjee's post calling our forces as rapists and justifying #PhulwamaTerrorAttack pic.twitter.com/hGpBvvDdSi

— Aditya Tiwari (@adt007ad) February 16, 2019
Saket Gokhale got clicked with the Congress President Rahul Gandhi.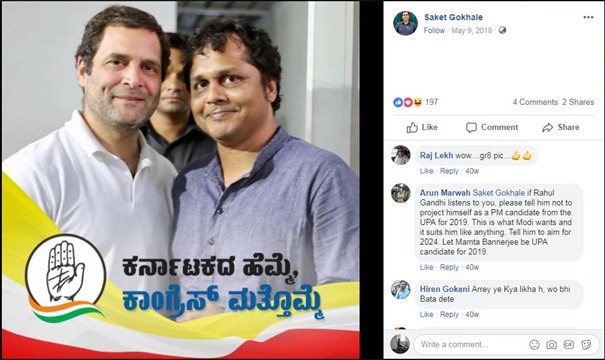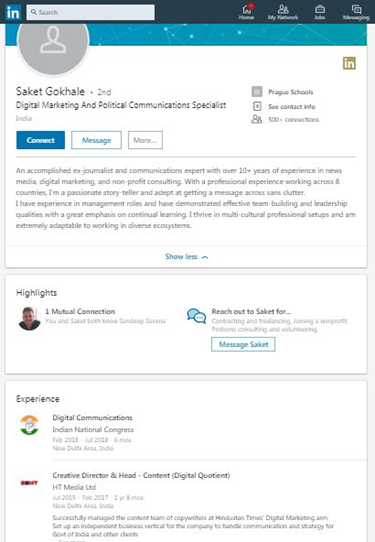 It seems Congress always play games with national security. These dirty games provide anti-India forces oxygen and limelight. It's not the first time that Congress has supported those who have made anti-India and anti-army remarks. Senior Congress leader Shashi Tharoor had compared the legendary freedom fighter Bhagat Singh with the hero of the leftists Kanhaiya Kumar. By doing so, he insulted all the great freedom fighters, who placed the nation above their own lives. On one hand, we have a legend who sacrificed his life for the freedom of the country and on the other, there is this spoilt youth leader supposedly studying in a university that is funded by the taxpayers of the country, is a sympathizer of terrorists and separatists and has an issue with the Indian Army. 
This time the party's act of supporting a person such as Papri Banerjee who used derogatory words for the security forces is really despicable and nauseating, to say the least. One should not forget that the Congress party's leader had once made an insensitive remark against the Army general. One of their party leaders called Indian Army Chief Bipin Rawat 'Sadak Ka Gunda'. Also one cannot forget how their leaders occupied Adarsh Society flats meant for the martyred soldiers of Kargil war.
While the whole nation mourns the death of CRPF jawans in a dastardly terrorist attack in Pulwama, the Congress mouthpiece National Herald is busy in humanizing the suicide bomber, Adil Ahmad Dar. National Herald has tried to portray Dar, as a normal kid who was a cricket freak. Without going much into the details of Dar's 'deeds', it seems, the Congress mouthpiece has made a deliberate attempt at humanising the terrorist's story. 
National Herald article goes on to describe the 'hardship' of terrorist's family wherein his father uses terms such as 'responsible kid', 'militant' and 'martyr' to describe him. His father also calls him an 'innocent kid' whereas the truth of the matter is that Adil Ahmad Dar has been involved in terrorist activities since very long. Dar actively participated in the 2016 Burhan Wani uprising and had even been shot once by the security personnel. Dar was also involved in stone pelting activities in Jammu and Kashmir. National Herald despite going much into the details of Dar's terror activities have only stated how Adil Ahmad Dar was 'beaten up' and 'harassed' by the troops. Not only that, the media house further alleged that in May last year, the security forces had attempted to torch Adil's house in the darkness of the night.
Moreover, Dar was not the only member to join militancy from his family as his cousins had also been involved in anti-national activities which his family terms as 'pro-freedom politics'. The family also complained that when one of Adil Ahmed Dar's cousins, Tauseef Ahmad Dar returned from militancy, he was locked up under the Public Safety Act instead of being issued a passport to go to Dubai. Were they expecting the country to set him free and wait for another attack? According to Dar's family, the blame for Kashmir's plight is on the politicians, the army and the government whereas their sons have chosen a 'path of valor'. The media, on the other hand, seems to be defaming the army and humanizing a terrorist through these humanizing pieces.