If there is one thing that defines the Congress in the post-independence history of India, then it has to be the contribution of the grand old party in encouraging nepotism and promoting dynastic politics in the Indian democracy. The Congress has always been instrumental in promoting dynastic politics, whether it is in the form of imposing incapable leaders from the Nehru-Gandhi family upon the country or by naming every possible national or state level scheme after the members of the first family of the Congress.
One of the biggest contributions of the Modi government has been to rid the nation of this form of politics. However, the Congress government in Chhattisgarh has now given us a glimpse of dynastic politics that is central to Congress. The Congress government that came to power in the state of Chhattisgarh towards the fag end of the last year has renamed five schemes that had been launched by the previous government and named after the late Jan Sangha leader Pandit Deendayal Upadhyaya. The Congress has made a naïve attempt at rebranding and repackaging these schemes mostly in the name of former leaders from the Nehru-Gandhi family. Four of the schemes have been named after Indira Gandhi and Rajiv Gandhi, while another one has now been named after Dr. B.R. Ambedkar.
As per an official, Pt Deendayal Upadhyaya Swavlamban Yojna has been renamed as Rajiv Gandhi Swavlamban Yojna while Pt Deendayal Upadhyaya Sarvasamaj Manglik Bhavan Yojna will now be known as Dr B R Ambedkar Sarvasamaj Manglik Bhavan Yojna. Similarly, Pt Deendayal Upadhyaya LED Path Prakash Yojna has been rechristened as Indira Priyadarshini LED Path Prakash Yojna, Pt Deendayal Upadhyaya Ajivika Kendra (livelihood centre) Yojna is now Rajiv Gandhi Ajivika Kendra Yojna while Pt Deendayal Upadhyaya Shuddh Peyjal (clean drinking water) Yojna has been named as Indira Priyadarshini Shudhh Peyjal Yojna.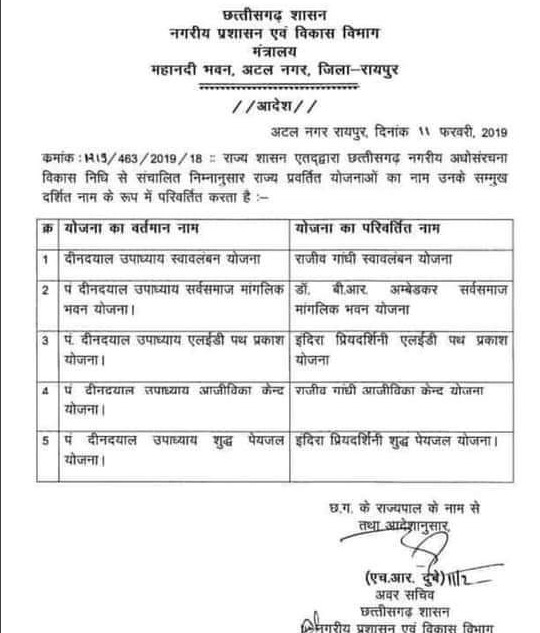 From this desperate attempt by the INC to somehow bring the Nehru-Gandhi family at the centre stage of Indian politics, it is clear that the Congress has remained adamant on imposing the Nehru-Gandhi family and dynastic succession upon the Indian democracy. Congress seems to be highly vindictive in nature and is concentrating more on changing the name of existing schemes rather than thinking positively and constructively about the welfare of Chhattisgarh and its people. This attitude of the Congress has already been responsible for India's below expectation progress in the post-independence era. The grand old party is trying to erase the legacy of Pt. Deendayal Upadhyaya, but it does not understand that such naïve political tactics are not going to make much of a difference.