In the recent assembly elections of five states, BJP was not able to get a clear majority in any state. But what 'caught the eye' was the humility of PM Modi. He came out and accepted his defeat, unlike the leaders of Congress who are quick to blame EVMs as an excuse for their failure.
PM Modi congratulated the Congress party, KCR and Mizo National Front (MNF) as they secured victory in the state assembly election through a tweet.
Congratulations to the Congress for their victories.

Congratulations to KCR Garu for the thumping win in Telangana and to the Mizo National Front (MNF) for their impressive victory in Mizoram.

— Narendra Modi (@narendramodi) December 11, 2018
He also thanked BJP supporters and workers for their dedication and hard work and consoled them by saying, "Victory and defeat are an integral part of life".
The family of BJP Karyakartas worked day and night for the state elections. I salute them for their hardwork.

Victory and defeat are an integral part of life.

Today's results will further our resolve to serve people and work even harder for the development of India.

— Narendra Modi (@narendramodi) December 11, 2018
In another tweet, he humbly accepted the mandate and thanked the people of these states to give the BJP an opportunity to serve them.
We accept the people's mandate with humility.

I thank the people of Chhattisgarh, Madhya Pradesh and Rajasthan for giving us the opportunity to serve these states. The BJP Governments in these states worked tirelessly for the welfare of the people.

— Narendra Modi (@narendramodi) December 11, 2018
Despite losing in all 5 states, not a single leader from BJP side came out saying the EVMs were malfunctioning. This shows the faith of the BJP toward the democratic structure of the nation and the organizational structure of the Election Commission.
Whereas when Congress was not able to get a mandate in Telangana elections they submitted a letter to the Chief Electoral Officer, Rajat Kumar, requesting counting of VVPAT papers in all the constituents' assembly of the state. According to Telangana Congress, EVMs had been manipulated.
Hyderabad: Congress delegation submits a complaint to Telangana Chief Electoral Officer (CEO) Rajat Kumar raising suspicions that Electronic Voting Machines (EVMs) have been manipulated in the state. #AssemblyElections2018 pic.twitter.com/XTCL0Dcmnb

— ANI (@ANI) December 11, 2018
In the states where Congress won, they called it "People's mandate", "Victory of democracy" or "Rahul Gandhi's magic had worked". But wherever Congress lost they made the lame excuse of "EVMs were tampered". Congress should learn to accept the defeat with humility. People have rejected their party in Telangana and they should respect the mandate. It's sad to see political parties as old as Congress, behaving in an immature and irresponsible way instead of going for self-introspection; they are putting the blame of their defeat on EVMs. Even the party President Rahul Gandhi was guilty of the aforementioned mistake. 
Hinting at EVM tampering, he tweeted, "Congress party workers, it's time to be vigilant. In MP, EVMs behaved strangely after polling. Some stole a school bus and vanished for 2 days. Others slipped away & were found drinking in a hotel. In Modi's India, the EVMs have mysterious powers. Stay alert!"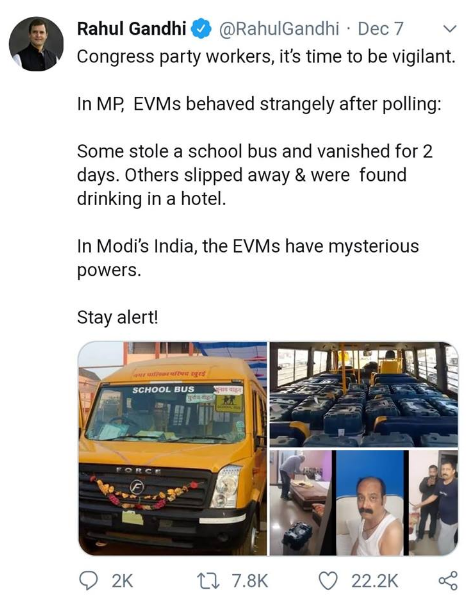 India today also conducted a sting operation exposing the misinformation regarding the EVM tampering in Madhya Pradesh.
India Today special investigation nails misinformation campaign around EVM tampering. Madhya Pradesh Congress election agents are caught on camera admitting that EVM conspiracy theory was fabricated. pic.twitter.com/o7QhAdKqgK

— BJP (@BJP4India) December 10, 2018
The Election Commission of India (EC) has always conducted free, fair and unbiased elections. It is shocking on the part of Congress leaders that they are making a mockery of such a reputed constitutional organization. India is the largest democracy of the world and the EC has the responsibility of conducting elections in such a diverse nation. Painting such an esteem organization in a bad light is something that is abominable and political parties should refrain from doing it. BJP and PM Modi surely deserve to be praised for accepting the defeat gracefully, unlike their Congress counterparts.