The Supreme Court on Tuesday asked the Chhattisgarh government to give details about the proceedings in the status of investigation in the murder case registered against Delhi University Professor and controversial social activist Nandini Sundar and others in three weeks. Nandini Sundar is the wife of The Wire's founding editor Siddharth Varadarajan.
Supreme Court was hearing a plea of Nandini Sundar where she wanted her name to be excluded from the FIR that was filed two years ago. Supreme Court has refused Sundar's plea to quash the FIR.
According to Sundar, Chhattisgarh government has done nothing in the case and hence her name should be removed.  
In November 2015, the Chhattisgarh police registered a case against Sundar, Archana Prasad (JNU Professor), Vineet Tiwari (from Delhi's Joshi Adhikari Sansthan), Sanjay Parate (Chhattisgarh CPI (Marxist) State Secretary) on the charges of murder of a tribal named Shamnath Baghel in the Sukma district. Baghel along with some other villagers were protesting against Naxal activities in their village since April.
They (Sundar and her allies) were booked under section 120B (criminal conspiracy), 302 (murder), 147 (punishment for rioting), 148 and 149 of IPC at Tongpal police station.
Sundar's advocate Ashok Desai said that the state has not taken any action in the case filed against her client due to which she has to face lot of problems whenever she has to go abroad and hence her name should be removed.
On this, the SC bench responded to Desai that, "Eliminating names from the FIR virtually means quashing of FIR and FIR cannot be quashed exparte without hearing the other side".
Tushar Mehta, Solicitor general appearing for Chhattisgarh government, in response to the claims made by Sundar and Desai said that statements of various people have been recorded under section 164 CrPC and considerable amount of progress have been made in the case.
Another plea of Sundar was disregarded by the court wherein she had proposed that the state should first take permission from the court before the arrest or interrogation and other activities in the case.
Nandini Sundar is known for her controversial and often anti-state remarks and her affinity and sympathy with the Naxal movement. As the security forces gunned down 37 Naxals in Gadchiroli, Maharashtra, she took to twitter to voice her concern for her fallen brothers as her tweet mentioned her sadness caused "by the deaths of Maoists in Gadchiroli."
I am deeply saddened by the deaths of the Maoists in Gadchiroli as I am saddened by the deaths of the security forces who are fighting them. This senseless war must come to an end. If the Govt can talk to Nagas, why not to Maoists. The adivasis of India need peace.

— N S (@nandinisundar) April 26, 2018
This wasn't the first time that she had shed tears and lent her support to maoists. Her activities in the Maoist and Naxal dominated jungle areas of Chhattisgarh have been highly suspicious. She also moved to the Court against the Salwa-Judum movement of Chhattisgarh which had enabled the local population to fight against the Naxals with arms. Her rants against the government's move to end Naxal terror have also come in public eyes many times in the past.
Sundar is the wife of Siddharth Varadarajan, founding editor of The Wire, a publication known for dubious stories and blatant manipulation of facts.
Siddharth Varadarajan was also in the midst of a controversy today. Currently, Siddharth Varadarajan is on a visit to Pakistan to attend the ground breaking ceremony of the Kartarpur Corridor. It seems that Pakistan's preferable media outlet is The Wire as they invited 3 of its journalists, Varadarajan being one of them. Notably, Pakistan only invited those media channels which have kept an anti-India stand and have vociferously spoken against the Indian government.
The list of the journalists that was approved by the Pakistan High Commission for attending the ground breaking is as follows: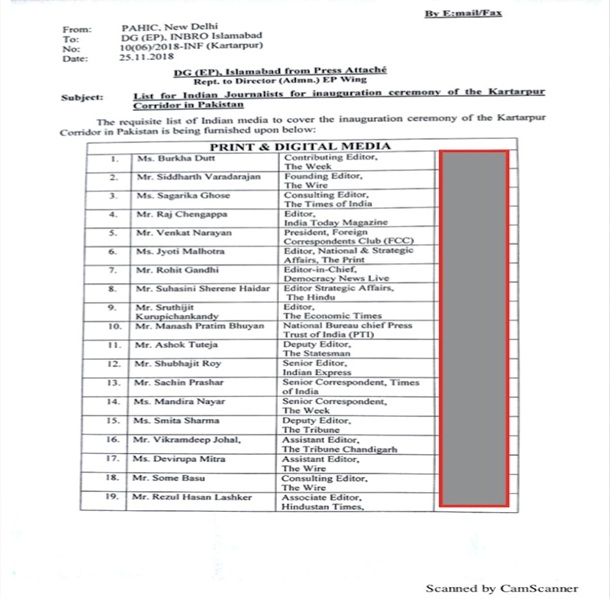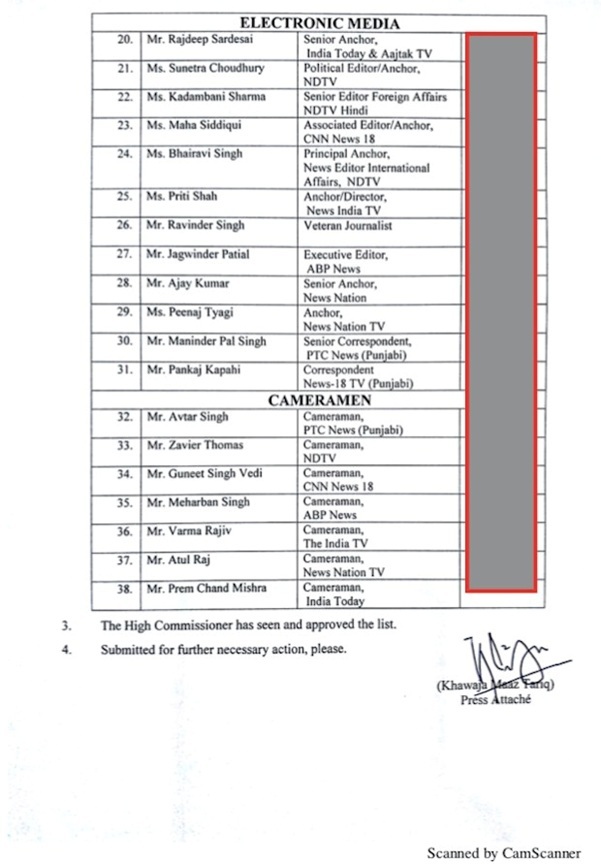 In addition to this, Varadarajan also submitted his US passport to the Pakistani High Commission to obtain the visa. This clear proclamation of his US citizenship has raised questions on social media as many people doubted his intentions behind Varadarajan 's and The Wire's affinity for misleadingly India critical editorial line. Another pertinent question on everyone's mind was why three journalists from The Wire were invited by the Pakistani establishment which did not deem it fit to invite anyone from of South Asia's leading news agencies, ANI.
Considering the husband and wife duo's affinity to raise questions, it would be interesting to see whether they would be answering these critical questions raised against them or dismiss it the way The Wire almost gave a clean chit to one of its leading voices after #Metoo allegations were leveled against him.