Out of all existing social media platforms, Twitter is the one that has drawn the most attention in recent years. Supposedly a digital town hall, Twitter has become a place where ideological battles are taking place, where political entities are engaged in mudslinging, where misinformation and disinformation campaigns are run with full intensity, and where the course of modern nation states is decided.
With so much at stake, it is foolhardy for Vijaya Gadde to go on the rampage, banning accounts left, right, and centre. Sorry, not left. Because George Soros won't permit her to do that. Now that Musk has taken charge, the dirt is coming out in the open. In India, people generally associated with Hindu causes were the main target.
The Trump ban changed the tides
In the latest release of "Twitter Files", the focus is on India. A few days ago, Matt Taibbi's investigation revealed the names of organisations involved in scuttling the voices of Hindus in India. Not surprisingly, these people came up with detailed documents in order to get Twitter to do the job for them. Their shrewdness can be gauged from the fact that it happened after Donald Trump's account was banned at the beginning of 2021.
The precedent was set. After that, it became politically easier for Twitter and their trusted allies to go on rampage against anyone or any organisation bearing even the remotest resemblance to Trump. Trump is derided by this lobby for raising nationalist sentiment in the USA. The same treatment is meted out to anyone speaking for the renaissance of Hinduism in India. The left-wing lobby in India knew that if they fed fake information to Twitter, the company would be swift in banning these accounts.
Also read: George Soros' India's safehouse uncovered by authorities
It started from The Wire
The Wire, infamous for hatemongers like Siddharth Varadrajan, Arfa Khanum Sherwani, Karan Thapar, and not to forget Rana Ayyub, decided to take the charge. The Wire allegedly conducted an investigation into coordinated disinformation and online harassment in India.
Its reporters decided to associate all kinds of evilness with the ruling Bharatiya Janata Party (BJP). They went as far as collecting 40,000 Twitter accounts and submitting them to the Atlantic Council's Digital Forensic Research Lab (DFRLab).
Before we get into the nitty gritty of this organisation, it is worthwhile to decode the sleight of hand played by The Wire. What they did was collect the biggest possible dataset of accounts. They know that even the most ardent of investigative agencies won't go deep into checking every account and their tweets.
It is impossible for Twitter, since its staff capacity has never been large enough to reach a conclusion within a few days. The only viable option for them is to trust the source and ban all of them.
Also read: There is a commonality between Hindenburg and George Soros
American hands involved
It was to increase the trust factor that the publication decided to contact DFRLab. On its LinkedIn page, DFRLab describes itself as "the world's leading hub of digital forensic analysts tracking events in governance, technology, and security,". Its job is to supposedly expose falsehoods and fake news, document human rights abuses, and build digital resilience worldwide.
The 'Lab' is owned by the Atlantic Council, which is an American think tank. It has a 6-decade-long history and is headquartered in Washington. From there, it strives towards building a trust bridge between North America and Europe. Funders of the Atlantic Council include foreign governments as well.
With such a heavy institutional backing, the trust factor comes automatically for DFRLabs. The fact that the American government itself is one of the funders of the lab just buttresses it. The money is sourced through the US State Department's Global Engagement Center (GEC). The Center was formed in the heyday of the Obama administration.
Also read: Leftist lord George Soros is frustrated with the failure of Hindenburg fiasco
The American Department of State oversees it. GEC works in close coordination with reputed agencies like the FBI, Department of Homeland Security, National Security Agency, CIA, Defense Advanced Research Projects Agency, Special Operations Command (SOCOM), and others.
Clearly, there is a credibility risk for the US government in publishing any investigative piece done by tainted organisations like The Wire. In their latest Medium post, the lab has revealed that it went a bit deep into investigation and found it to be unauthentic.
Quote: "One of their reporters at the time collected the dataset and shared it with our team; he attributed the tweets to the BJP, but his analysis failed to meet our research standards". To put it simply, it was shoddy research by a self-proclaimed journalist at The Wire.
DFRLab's double cross and Soros angle
However, the DFRLab seems to be playing a double game here. We have reasons for the doubt. Apart from the American government, there is another famous, or rather infamous, entity that pours money into this organization. It is none other than George Soros. Talking about Soros, have you seen the picture called "Vulture and Little Girl"?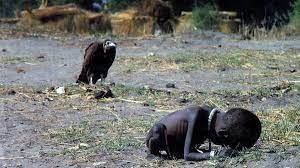 PC: Businessline
The vulture is waiting for the little girl to die so that it can eat her flesh.
Drawing parallels, George Soros is the vulture, and that little girl is the national economy all across the world. The man has made fortunes out of disturbing the economic equilibrium in countries like South Korea, Indonesia, Thailand, Hong Kong, Laos, Malaysia, the Philippines, Brunei, mainland China, Japan, Singapore, Taiwan, Vietnam, and even the United Kingdom. He looks at growing economies, bets against them, uses his influence to bring turmoil to those geographies, and finally makes fortunes by short selling.
Also read: Why raid on Harsh Mander is a huge blow to George Soros
How it transpired
His next target is India, and he has been trying it for years now. PM Modi and the people who support him, which include the majority of India, are big obstacles to his dreams. That is a big reason why, even after finding it inauthentic, the DFRLab found it appropriate to forward it to Twitter.
What? Isn't it ironic? How can I recommend something that I myself don't find authentic and original? Isn't it dishonesty? Yes, it is. It is the very definition of cheating. Apparently, loyalty to Soros matters more than truth in this post-truth world.
In the mailing list sent to Twitter, one of the analysts at DFRLabs cutely wrote, "Hi guys. Attached you will find… around 40k Twitter accounts that our researchers suspect are engaging in inauthentic behavior… and Hindu nationalism more broadly." In its defence, DFRLabs has claimed that it was only following, and here is the funny part, "due diligence."
1. TWITTER FILES #17
New Knowledge, the Global Engagement Center, and State-Sponsored Blacklists pic.twitter.com/8LuoKY9zzA

— Matt Taibbi (@mtaibbi) March 2, 2023
1. TWITTER FILES #17
New Knowledge, the Global Engagement Center, and State-Sponsored Blacklists pic.twitter.com/8LuoKY9zzA

— Matt Taibbi (@mtaibbi) March 2, 2023
Basically, The Wire and DFRLabs want you to believe that 40,000 people were coordinating on Twitter to advance the cause of Hindu nationalism. Either we are actually stupid to believe them, or they think 1.4 billion Indians are stupid to make fun of. Just a cursory reading of the list will tell you about their understanding of the average Indian mind.
Also read: USA is on fire, Black Lives Matter has been hijacked,' As the left goes berserk, Americans blast George Soros
The basis on which Hindus were bashed on Twitter
A few prominent names on the list include the National Crime Investigation Bureau of Uttar Pradesh, the Office of Commerce Minister Piyush Goyal, IPS Sandeep Mittal, Olympian Manu Bhaker, and BJP leaders Ashok Goel and Baby Kumari. It is a classic case of finding evidence with a conclusion in mind rather than reaching a conclusion by neutrally looking at the available evidence. You can expect them only from leftists.
Thankfully, Twitter staff were in a good mood that day. They went into details about a few of these accounts. Lots of the people operating these accounts were settled in the United States of America. One of them, named Bobby Hailstone, said that he is a Republican supporter, and that too of the Ronald Reagan version of the party. Twitter's trust and safety officer, Yoel Roth, one of the main leads in banning Trump, also found them inauthentic.
3. DFRLab said it suspected 40,000 accounts of being "paid employees or possibly volunteers" of India's Bharatiya Janata Party (BJP).

But the list was full of ordinary Americans, many with no connection to India and no clue about Indian politics. https://t.co/B5L8KsY6ZH pic.twitter.com/vqijzp9BR2

— Matt Taibbi (@mtaibbi) March 2, 2023
4. "I have no connection to any Hindu folks… Just a Reagan Republican here in CT," replied "Bobby Hailstone."

"A Hindu nationalist? I've never even been out of this country. Let alone the state of NJ," said "Lady_DI816."

"These people are insane!" said "Krista Woods."

— Matt Taibbi (@mtaibbi) March 2, 2023
The document, though inauthentic, established a bias among Twitter staff regarding the connection between the American right wing and PM Modi's support base. It became the basis on which Twitter went on an anti-Hindu spree. Prominent Indian accounts spreading awareness about Hindus had been banned. Few of them have been restored by Musk, while many still remain in oblivion.
Support TFI:
Support us to strengthen the 'Right' ideology of cultural nationalism by purchasing the best quality garments from TFI-STORE.COM
Also Watch: