In less than 6 months after Walmart acquired 77% stake in Flipkart (which owns Myntra, PhonePe and Jabong), in partnership with Alphabet Inc. (parent company of Google), the US major has started making changes in top management. Chairman and Group CEO of Flipkart, Binny Bansal who was contracted by the Walmart to stay in the company till 2020, resigned over allegations of 'personal misconduct'. However, people close to development said that Binny Bansal was informed about probe findings, which gave clean chit to Bansal over allegations were made public. The investigation by independent US law firm brought the issue of transparency is Binny's response to the company and thus he decided to resign. "The investigation, however, did bring to light lapses in judgment, particularly a lack of transparency, related to how I responded to the situation," wrote Binny Bansal in last letter to group employees.
Kalyan Krishnamurthy, CEO of Flipkart was appointed as Group CEO. "Binny Bansal announced his resignation as CEO of Flipkart Group, effective immediately. Binny has been an important part of Flipkart since co-founding the company, but recent events risked becoming a distraction and Binny has made a decision to step down," said Walmart in a statement. After the resignation of Binny Bansal, Kalyan Krishnamurthy reached out to employees through emails and wrote "unfortunate and challenging for Binny, his family and Flipkart". Now there will be no major changes in upper management of the company as new group CEO Krishnamurthy strengthens his hold over the company. "Ananth Narayanan and Sameer Nigam will continue to remain the CEOs of Myntra and Jabong, and PhonePe, respectively. They both will work under Kalyan, who will report to the company," said the statement by the board of Flipkart.
After Walmart acquired Flipkart a company handcrafted in India will now move into foreign hands. However, Flipkart owners Sachin Bansal and Binny Bansal will end up being billionaires with this deal. The company was founded in by the duo in 2007 and soon it became poster boy of the Indian startup ecosystem. It soon become largest e-commerce company in the country and gave confidence to many new entrepreneurs who wanted to innovate. The ecosystem for venture capital funding also got a fillip after the rise of Flipkart. The rise of Flipkart created a whole new segment of e-commerce in the country which was in nascent stage back then.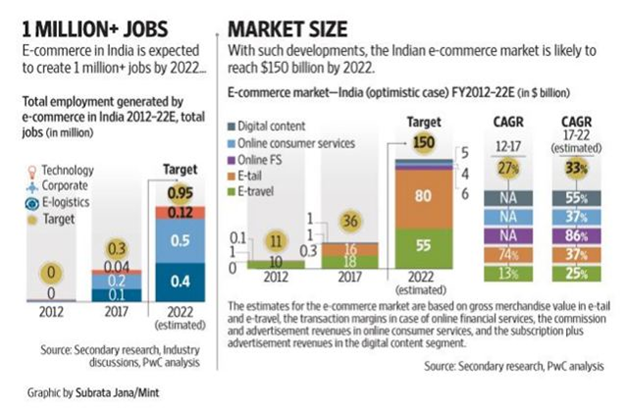 E-commerce market in the country has created lot of buzz in recent months. Investment by global players in domestic companies, the new regulatory framework, cut throat competition, anticipated entry of Reliance all this has led to lot of churn in the e-commerce market. The exponential rise in the number of internet users and demographic dividend of the country prepared base for this churn. Now, interesting thing to watch is where this entire churn will take Indian e-commerce in the next 4-5 years. According to a report by Nasscom and PwC, the e-commerce market could grow to 150 billion dollars by 2022, riding on rising middle class and surge in the number of internet users. The e-commerce market was estimated to be around 36 billion dollars last year, dominated by Flipkart and Amazon. "A 'Make-for-India' solution approach along with conducive policy environment can potentially make e-commerce a $150 billion market by 2022 with a globally leading compounded annualized growth rate of 35%," said the report. The exponential growth of e-commerce is also expected to create more than 10 lakh jobs in the sector by 2022.