Three trains that changed the image of Indian Railways were Rajdhani, Shatabdi and Duronto Express. These trains were introduced in late 1960s, late 1980s and late 2000s and played a major role in changing the public perception of Indian railways. These are the fastest trains in India with speed ranging from 100 km/h to 160 km/h which is almost double the speed of an average express train in the country. Shatabdi runs over short and medium distances while Rajdhani connects New Delhi to other major cities of the country. Duronto series is for long distance connectivity between major cities of the country.
प्रधानमंत्री @NarendraModi के मेक इन इंडिया अभियान को आगे बढ़ाते हुए भारतीय रेल ने विश्वस्तरीय T-18 ट्रेन का निर्माण किया है, यह ट्रेन आधुनिक सुविधाओं से परिपूर्ण है व यात्रियों को एक विश्वस्तरीय सफर देने के लिए तैयार है। आइए देखते है इसकी खासियत : pic.twitter.com/jxVvrfCkcC

— Piyush Goyal (@PiyushGoyal) October 25, 2018
The Indian Railways has decided to bring another major change by replacing Shatabdi Express to 'Train 18'. The ultra-modern 'Train 18' is engine less, the coaches are self propelled like metro and are indigenously made at Integral Coach Factory (ICF), Chennai. The train is equipped with digital platforms, onboard Wi-Fi services and high-end interiors. The train will hit the tracks on 29 October and its future run could be between Patna-Lucknow and Varanasi-Patna, due to the political importance of the states of Uttar Pradesh and Bihar. "Train 18 will be able to attain speeds of 160 kmph which means travel time will come down by at least 15 per cent, when compared to Shatabdi. The new technology will also save around 20 per cent in terms of life cycle cost and will require less maintenance as compared to Shatabdi. The weight of Train 18 is also considerably less since no locomotives or power cars are required, the net energy required is less," said S Mani, General Manager Integral Coach Factory.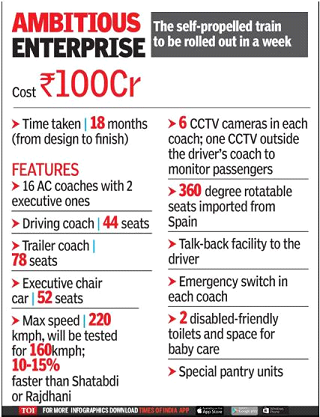 The 'Train 18' is expected to cost around 100 crores. However, the price of the train is expected to go down as the orders increase. Currently, there are 25 Shatabdi trains on tracks and majority of them are expected to be replaced by the much efficient and sophisticated 'Train 18'. "It is a matter of pride that India has made such a train for the first time and that too within 18 months," Railway Board Chairman Ashwani Lohani told reporters after he unveiled the train on Monday. "Within the 2018-19 production year. another unit of the train would be manufactured and four more units would be manufactured by end of 2019-20 production year," Mr Lohani added. The 'Train 18' has 16 chair-car type air-conditioned coaches — 2 executive and 14 non-executive, built with stainless steel. This is the first train in India that has been built with stainless steel, the use of stainless steel is being encouraged by the government. The manufacturing of this state-of-the-art train in India, at half the import cost and in less than two years, is a great achievement for railways and 'Make in India'. "It is a step towards manufacturing bullet trains at ICF," said an employee. "It will be a game-changer for the Railways," said a senior ICF official.
Train 18 has many features of Metro and Bullet Trains. The expertise gained, while building these trains would be useful in manufacturing metro and bullet trains in the country itself. As of now, India imports a majority of its Metro train equipment and is years behind in manufacturing Bullet Trains. But looks like Piyush Goyal's stern resolve will definitely go a long way in making Indian railways, "world-class", very soon.