The methods of farming are diverse across the world. We have countries which still use negligible post-industrial era machines and there are some other countries which have shifted to modernized agriculture with negligible human labor. India, the land of diversities has very diverse farming practices like any other practice when taken in the Indian context. There are states and regions which have adopted ultra-modern practices of farming like Punjab, Haryana and also many communities which still practice agriculture with inputs of human and animal labor like Bihar and large parts of UP. Some states are in between two extremes of the spectrum and are trying to move towards modernized agriculture like Rajasthan.
The state of Rajasthan is at the forefront of making efforts in order to have a set up of modernized agriculture. The state with the largest portion of land in the country had lagged behind in agriculture for decades. This was due to the fact that major portions of land in the state are not suitable for mainstream Indian crops. There are other structural deficiencies like small and marginal landholdings which constitute 21.90 percent and 40.12 percent of the total agricultural land in respectively. 60 percent of the state's land is under arid or semi-arid climate zone. However, with the introduction of revolutionary technologies and mechanization, the Rajasthan government is trying to revive agriculture in the state. To make the desert bloom, the state has partnered with Israel which had faced similar problems and triumphed over them.
The state wants to focus on horticulture because the land is not suitable for mainstream crops like wheat, paddy or cash crops like sugarcane or cotton. The Rajasthan government has set up six hi-tech centers outside major cities of the state to disseminate Israeli horticulture technologies to farmers. These centers located in Kota (citrus fruits), Bassi (pomegranates), Jaiselmer's Sagra Bhojhka (date palm), Devravas in Tonk district (guavas), Jhalawar (mandarins), and Khemri Dholpur (mangoes). Three more upcoming centers are planned to start working in : Chittor (pumpkin), Boondi district (vegetables) and Sawai Madhopur (flowers). "We have got the best technologies from countries such as Israel and Netherlands for these centres of excellence," as according to agriculture minister Prabhulal Saini.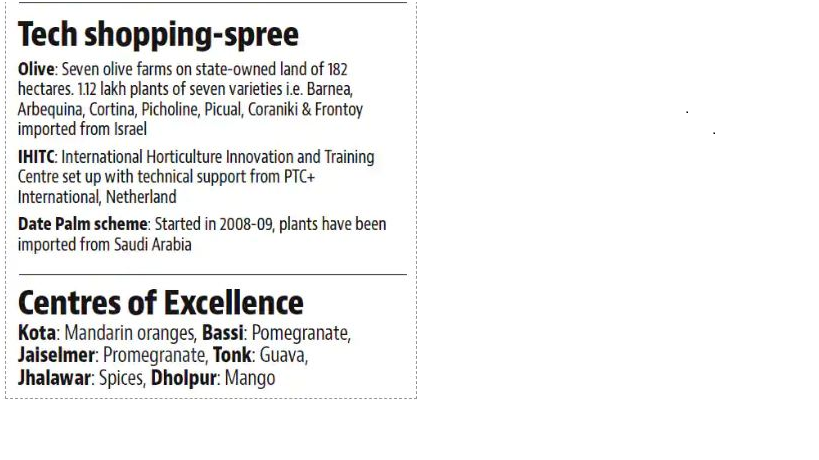 The state wants to focus on horticulture produce and pulses rather than traditional crops like wheat and paddy. "We can't do all that here. Rajasthan should not be growing much wheat. Where is the water? But you can't ban it. All we can do is give them alternatives," says Neelkamal Darbari, the state's principal secretary. The climate of Rajasthan is very similar to that of Israel and the Jewish state had been able to increase its productivity only after adopting modernized methods of farming. Rajasthan wants to replicate the success of Israel in India, the idea is to grow fruits and vegetables which can be produced using less water, the input for traditional crops is also rising therefore horticulture will prove to be profitable for farmers.
The state government started Global Rajasthan Agritech Meet (GRAM) initiative to familiarize farmers of the state and bring agri-tech entrepreneurs and farmers on one platform.  So far three events have been organized under the initiative in last two year in the city of Jaipur, Kota and Udaipur.   "Approximately 1.23 lakh farmers participated in these events. They saw technology with their own eyes," says agriculture minister Saini.  These events led to a Rs 1,555.83 crore investment under 40 agreements. The share of agriculture in state GDP has grown in the last few years due to efforts of the government. Agriculture comprises a larger part of state GDP in Rajasthan than average Indian level therefore the well being of people of Rajasthan is heavily dependent on agriculture. The measures combined with the massive farm loan waivers announced by CM Vasundhara Raje government will definitely help to solve the farmer's distress in the state and will turn Rajasthan into a modernized and prosperous state.