Elon Musk is known for being informal in business practice. He has not been able to separate his personal life and business interests. Many of the big announcements of his company's come through his twitter handle. Recently he announced on twitter that he is taking Tesla private at 420 dollars per share and funding for this has been secured. However Securities and Exchange Commission (SEC) said that the company has no plans to go private and Musk tweeted about this 'only to impress his girlfriend'. "While leading Tesla's investors to believe he had a firm offer in hand, we allege that Musk had arrived at the price of $420 by assuming 20 percent premium over Tesla's then existing share price then rounding up to $420 because of the significance of that number in marijuana culture and his belief that his girlfriend would be amused by it," Steven Peikin, co-director of the SEC's enforcement division said.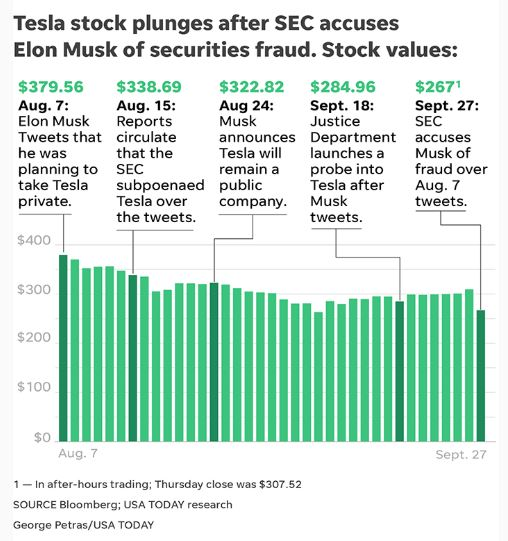 Musk chose 420 as the price of shares because 420, 4:20, or 4/20 (pronounced four-twenty) is a code-term in cannabis culture that refers to the consumption of cannabis, especially smoking cannabis around the time 4:20 p.m. and smoking cannabis in celebration on the date April 20 (which is 4/20 in U.S. form). After Musk tweeted about taking the company private on August 7, share price of Tesla rose sharply. But SEC later filed a civil lawsuit against Musk for misleading people and shareholders. After the SEC lawsuit, share price of Tesla fell down. Musk's lawyers negotiated a way out for him but he walked out of the deal. Now if SEC wins the case Musk could not be on the board of any public company in future. "In the absence of a settlement, the mere possibility that Musk could be removed as CEO (or entirely from Telsa) is likely to cast an overhang on the stock, and make it extremely difficult for the company to raise capital (either private or public)," Bernstein analyst Toni Sacconaghi said in a note Friday.
Musk walked out of the deal settled by his lawyers because it was against his 'morals'. "This unjustified action by the SEC leaves me deeply saddened and disappointed," Musk said in an emailed statement after SEC filed lawsuit against him. He further said, "I have always taken action in the best interests of truth, transparency and investors. Integrity is the most important value in my life and the facts will show I never compromised this in any way." The morals of Elon are taking a toll at fortunes of the investors and the matter has become a kind of a rivalry between Silicon Valley and Wall Street. Analysts think that if Musk had to step down from Tesla, it would hurt company stocks in short run. However it would be beneficial for the company in the long run. Musk has many great plans in automobile, energy and space exploration sector. He is seen as real life Iron Man who could push the world towards clean energy and colonize Mars for humans.