In a recent development, the Gujarat CID detained notorious dismissed IPS officer Sanjiv Bhatt over a drug planting case of 1998. The disgraced IPS officer is detained as per the directives from the Gujarat High Court. Two ex-cops along with four other people have also been taken into custody.
Dismissed IPS officer Sanjiv Bhatt has been detained by CID (Crime) of Gujarat in connection with Palanpur drug planting case of 1998. Probe underway after HC orders. Interrogation of Sanjiv Bhatt & seven others underway. 2 more former police officers also involved.

— ANI (@ANI) September 5, 2018
The Palanpur Drug planting case took place in 1998 when dismissed IPS officer and now an abusive twitter troll, Sanjiv Bhatt, was serving as the DCP of Banaskantha. He was then accused of trying to frame a lawyer from Rajasthan, Sumshersinh Rajpurohit, in a fake narcotics case. The lawyer was arrested by Banaskantha police in May 1996 from his native place in Pali, Rajasthan, after the recovery of 1.5 kg opium from a local hotel. He was later released by the police.
Later on, Rajpurohit filed a case in Rajasthan alleging that plain clothed policemen abducted him at the directions of the then Gujarat High Court Judge R.R Jain. It was further alleged that this was done in order to vacate the property occupied by Rajpurohit, which belonged to one of the family members of Justice Jain. 
The Rajasthan court accepted his claims and found fault in the actions taken by Banaskantha police. Rajasthan Police maintained that Rajpurohit was kidnapped from his home and was booked by Gujarat Police in a fake narcotics case.
In June this year, Justice J.B Pardiwala of Gujarat High Court ordered an investigation by SIT of CID-crime. He also ordered that the investigation should be completed within three months. The High Court's order stated, "It was shockingly mentioned that if the said advocate vacates the property, the Palanpur police would release him from jail in the said drug case. In fact, within only three days of Sumshersinh Rajpurohit remaining in police custody, the property was vacated by his brother, and on vacating the property, the Palanpur police filed a report under Section 169 CRPC saying that the person occupying the room at Lajwanti City Hotel where 1.5 kg narcotics was found was not Rajpurohit and that he may be released."
In this entire episode of abduction and falsely framing a lawyer in a fake drugs case, dismissed IPS officer Sanjiv Bhatt allegedly played the key role. In 2015, Sanjiv Bhatt was dismissed from Indian Police Services. Earlier, in 2011 he was suspended for remaining absent from duty without permission.
Sanjiv Bhatt is notorious for running anti-India propaganda on Twitter. This tweet shows the mentality of Sanjiv Bhatt.
When such a young kid aims his slingshot at a policeman, we must realize that we have comprehensively failed Kashmir pic.twitter.com/U10fHcjBbs

— Sanjiv Bhatt (IPS) (@sanjivbhatt) July 31, 2016
However, reality is far from his claims. ANI editor asked Sanjiv Bhatt to present proper facts as his false claims could hurt the image of India.
what a shame that you once wore a uniform. Did you check about the photo from former colleagues? The cops were playing with kid

— Smita Prakash (@smitaprakash) August 1, 2016
correct your tweet if you have least bit of respect for facts. This is from Indian Express dated 31/7 pic.twitter.com/06n8oxdDl2

— Smita Prakash (@smitaprakash) August 1, 2016
He is an abusive twitter troll and he has posted many derogatory tweets targeting PM Modi.
कभी गंगा बुला रही है, कभी गोमती बुला रही है. . .
नालायक, अहमदाबाद लौट जा, तेरी बीवी बुला रही है!
????

— Sanjiv Bhatt (IPS) (@sanjivbhatt) July 1, 2018
Is this what the jokers meant by "Har Har Modi, Ghar Ghar Modi" ? :) pic.twitter.com/reI1xIozJE

— Sanjiv Bhatt (IPS) (@sanjivbhatt) September 4, 2017
This is blasphemy in the name of freedom of expression. The least every Indian citizen can do is to respect our PM on social media; despite ideological differences. I request @TwitterIndia to block @sanjivbhatt handle for his derogatory tweets.
Friends pls RT & spread the msg pic.twitter.com/bEmGTiFPjx

— Manjinder S Sirsa (@mssirsa) February 11, 2018
Why do most people use 'ji' with Modi? Do we ever say Pig ji or Donkey ji ??

Disclaimer: No offence, intentional or unintentional, meant to pigs or donkeys.?

— Sanjiv Bhatt (IPS) (@sanjivbhatt) September 4, 2018
Not just PM Modi, he also made disrespecting tweets targeting Smriti Irani.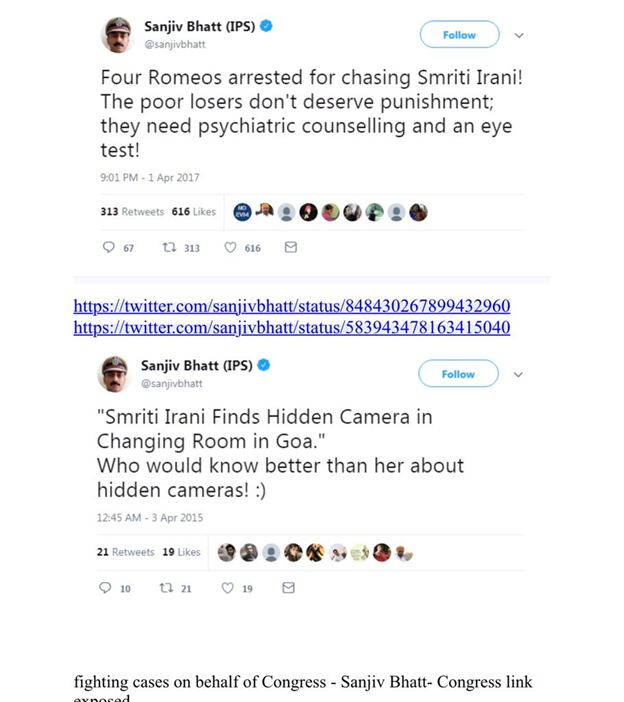 Many have called out the RW trolls who abused Sushma Swaraj ji…

Sanjiv Bhatt was part of Rahul Gandhi's key team for Social Media & recently met him at 15GRG office uses Nalayak & Fuck-eer for @narendramodi & atrocious language for @smritiirani

Nobody will call this out? pic.twitter.com/SxpSjxOLhW

— Shehzad Jai Hind (@Shehzad_Ind) July 2, 2018
Overall, Sanjiv Bhatt is a controversial person and is mostly in news or discussions for all the wrong reasons. But still the liberal-leftist cabal and lutyens' media projected him as the crusader of freedom of speech and expression.