According to the former chief economic advisor, Arvind Subramanian the Non-performing Assets (NPAs) are the most critical economic problem faced by the country. In his twin balance sheet analysis, he made the government aware of the scale of the issue. The previous government also faced the same problem but it did not initiate any ways to solve the problem and sticked to the old methods of forming the asset management companies to solve the problem. So the honest taxpayers of the country kept paying for the wrong deeds of the bank management and the defaulting companies.
The Modi government after coming to power brought the Insolvency and Bankruptcy Code (IBC) to solve the NPA problem. The IBC has clear-cut provisions for the dissolution of companies which could not pay back their loans. The banks were told to clear their balance sheet as soon as possible through write-offs, compromise settlements, and IBC resolutions. As a result of this the public sector banks NPAs were declined by Rs 1, 28,229 crores in FY18. The state-owned banks that saw substantial reduction in NPAs due to a jump in write-offs, including compromise settlement, in FY18 include IDBI Bank (Rs 12,515 crore against Rs 2,868 crore in FY17), State Bank of India (Rs 39,151 crore against Rs 20,339 crore), Corporation Bank (Rs 8,228 crore against Rs 3,574 crore), Canara Bank (Rs 8,310 crore against Rs 5,545 crore), Oriental Bank of Commerce (Rs 6,357 crore against Rs 2,308 crore) and Indian Overseas Bank (Rs 6,908 crore against Rs 3,066 crore),  Union Bank of India (Rs 3,477 crore against Rs 1,264 crore), United Bank of India (Rs 1,867 crore against Rs 714 crore), Syndicate Bank (Rs 2,400 crore against Rs 1,271 crore) and Indian Bank (Rs 1,606 crore against Rs 437 crore) as per Finance Ministry data.
Banks write-off NPAs as part of their regular exercise to clean up their balance-sheet, tax benefit and capital optimisation. Borrowers of such written-off loans continue to be liable for repayment. "Recovery of dues takes place on an ongoing basis under legal mechanisms, which include, inter alia, the Securitization and Reconstruction of Financial Assets and Enforcement of Security Interest Act, and Debts Recovery Tribunals. Therefore, write-off does not benefit the borrower", said Shiv Pratap Shukla, Minister of State for Finance.
.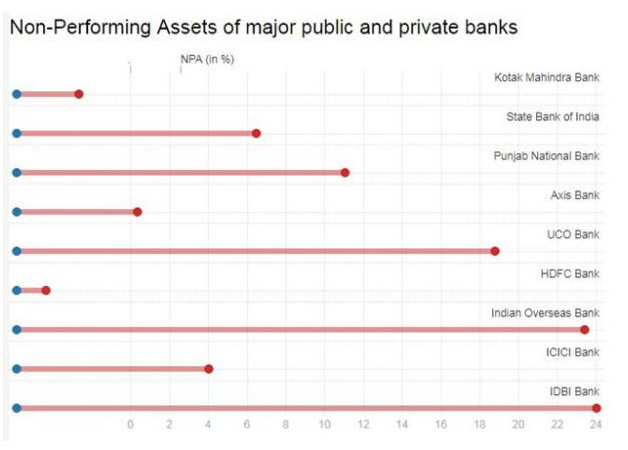 India has the second largest share of bad debts in the world with 9.6% gross NPA. Only Italy is ahead of us with 16.4 % of NPA, while other major countries like the US, China, and Japan have 1.1, 1.7, and 1.3 % of NPA respectively. Most of the NPAs in India are with public sector banks, and countries like America do not have large NPAs because their banks are private. Private Banks generally do not develop bad debts because if their management lent to a client who is a potential defaulter, then the liability would be on their shoulders, not the governments. In the case of public sector banks, the government keeps pumping money into them from the taxpayer's pocket, and hence, these banks keep getting bailed out and revived rather than shutting down operations. Recently SBI chairman Rajnish Kumar said that the bank expects to recover 50 percent of loans from the initial 12 NPA cases identified by RBI for resolutions under Insolvency and Bankruptcy Code (IBC). So there is confidence among the bankers that IBC will solve the bad loans problems forever. The problem of 'entry without exit' has come to an end because the loss-making companies no longer remain insolvent. The era of 'stigmatized capitalism' is over and a rule-based system has been established.