A few months ago at the ceremony of the inauguration of Navi Mumbai International Airport, PM Modi said "We want people wearing 'Hawai-chappal' to be able to fly in a 'Hawai-jahaz'… the aviation sector has huge potential of giving over three-and-half times returns as from investment of Rs 100, we can get Rs 350 in a period of time by boosting trade and commerce, movement of people, tourism, and all-round development."
Now with the latest data released by Civil Aviation Ministry, it seems his dream is coming true. According to the data, Indian airlines carried more than 12 crore passengers in the fiscal year 2017-18 against 6.1 crore passengers in the fiscal year of 2013-14. The compound annual growth rate (CAGR) in the number of passengers is a whopping 19 percent. There was a rise of 18.1% over the corresponding month from the previous year. Growth in international and domestic air traffic over India for the month of April 2018 was 5.8% and 21.1% respectively.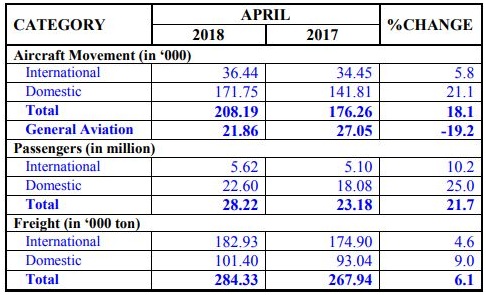 Under the Regional Connectivity Scheme (RCS) launched in April 2017, the government is working to make air travel affordable and increase the connectivity in tier two and tier three cities of the country. As many as 43 cities are expected to get regular connectivity under this new scheme and a dozen airports where limited but irregular flights operate will be connected. 31 destinations which were not connected earlier despite having airports will now become active. In an attempt to make air tickets more affordable, the airfare for a 1-hour journey of approximately 500 km on a fixed-wing aircraft or for a 30-minute journey on a helicopter would be capped at Rs. 2,500. The much talked about Udega Desh Ka Aam Nagrik (UDAN) scheme is part of the National Civil Aviation Policy (NCAP) which was released on June 15, 2016. The airfares dropped by 18 percent in 2017 over average airfare in 2015, making air travel more affordable for everyone in the country. It must be noted that this development is against rising fuel prices over the last two years. The government gives various concessions to airlines having flights to smaller cities under this new scheme, therefore, places such as Shillong, Shimla, Bhatinda, Ludhiana, Bhuntar, Pathankot, Mysore and Salem among others, saw a good number of passenger traffic movement in April as opposed to the corresponding period last year. Shimla, where PM Modi flagged off the UDAN scheme saw a whopping 549.4 percent growth with 1,117 in April as against only 172 during the same period last year.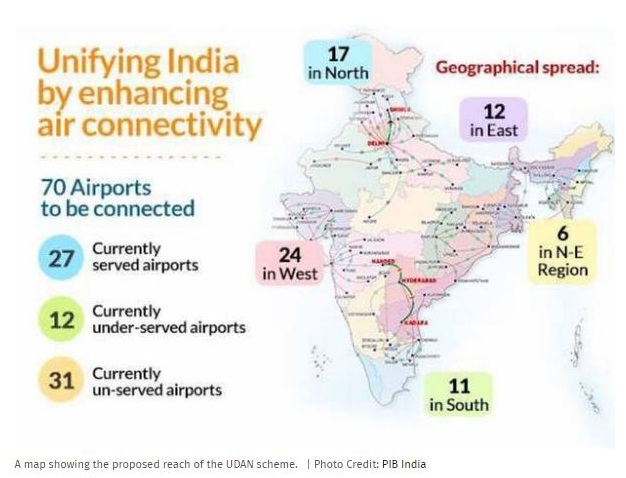 The Civil Aviation minister Suresh Prabhu informed people about this scheme with a series of tweets with the hashtag of "SaafNiyatSahiVikaas".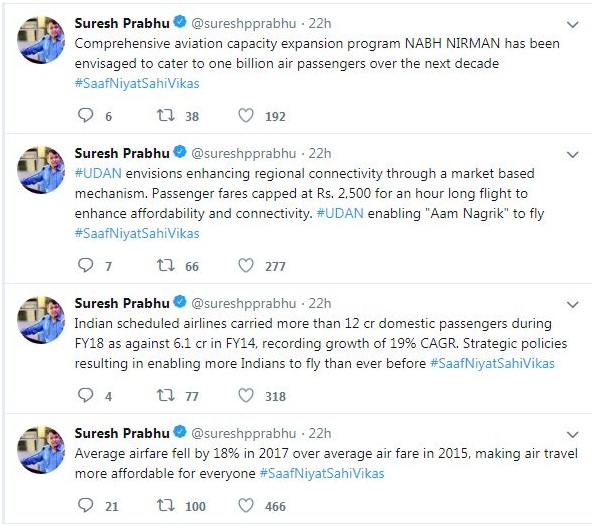 "Preparing roadmap under #makeinIndia to eventually manufacture Aircraft,beginning with components, creating ecosystem,part of global supply chain. Create jobs, SMEs. Appeal @Airbus @Boeing participate," Prabhu tweeted further. India is witnessing a double-digit growth in air traffic since the last 44 months due to lower airfare, capacity addition, and increasing connectivity, all thanks to the UDAN scheme. This sustained growth signifies that people find air travel more comfortable and time saving, and they are willing to pay some extra money rather than travel via rail or by road.
Air travel was considered a luxury in the country since independence, and the previous governments made little efforts to increase air connectivity or to make it cheaper. The air passenger traffic was limited to metropolitan cities like Mumbai, Delhi, Kolkata, Chennai and Bangalore. Since private airlines have been allowed to operate in the market, they have brought airfare to a significantly lower level due to healthy competition. The exponential increase in domestic passenger traffic coming from non-metropolitan cities is a prime example of how the government could positively support private industries and companies to serve the common public under the UDAN scheme.