What is the first thing that strikes your mind when you hear the word Indian airports"? Long waiting lines for luggage? Entitled behavior of airport staff? unspoken rule against carrying your own food? Or foreigners' happy faces after landing in India? Chances are that you have seen all of them at least once. The problem is that negative headlines generally dominate the narrative roost in the media. Leaving a controversial past behind, Indian airports have seen a remarkable shift in their image in the last few years. Global rankings are now identifying that.
Indian airports rise to the occasion
Recently, Airports Council International (ACI) World partnered with Amadeus, a travel technology company, for Airport Services Quality Awards. It derives its authenticity from the methodology. People hired for the survey look for live responses from the consumers. Survey questions are asked on the day of travel. It means that variations such as memory clotting are minimized. Ease of wayfinding, check-in, shopping and dining offerings are some of the main performance indicators.
Airports surveyed have been divided into 3 categories according to their capacity to handle less than 20 lakh passengers, between 20 and 50 lakh passengers, and between 50 lakh and 1.5 crore passengers, and so on. The upper threshold is above 4 crore. Airports from across the globe were rated according to customers' satisfaction.
You will be glad to know that Indian airports have scored phenomenally on that front. Indian airports fall under the Asia-Pacific zone. In the under 2-million category, Kerala's Tiruchirapalli International Airport has been rated 2nd best in the region. The feat could not be repeated by any Indian airport in the categories ranging from 2 million to 15 million passengers.
Also read: Indian Airports are not yet ready for big push, but the government has a plan
However, three of our airports made up for it in the higher categories. Hyderabad's Rajiv Gandhi International Airport was ranked third in handling 15 to 25 million passengers per year. Rest 2 airports, namely, Chhatrapati Shivaji Maharaj International Airport in Mumbai and Indira Gandhi International Airport in Delhi, made names for themselves in the over 40 million passengers category.
Mumbai Airport in fact topped the chart, while IGI Delhi came in 3rd, beating reputed ones like Shanghai and Singapore's Changi Airport. It is pertinent to note that IGI was placed in the top position in 2018, 2019, 2020, and 2021. One of the reasons for it is cleanliness. The airport, which was recently in the news over controversy and chaos, has in fact been rated as the 2nd cleanest airport in the Asia-Pacific region.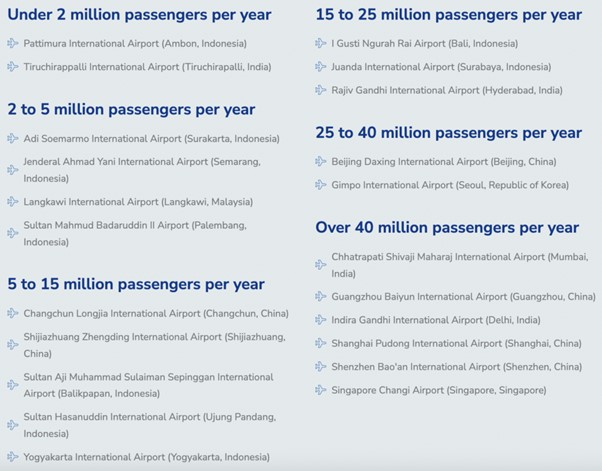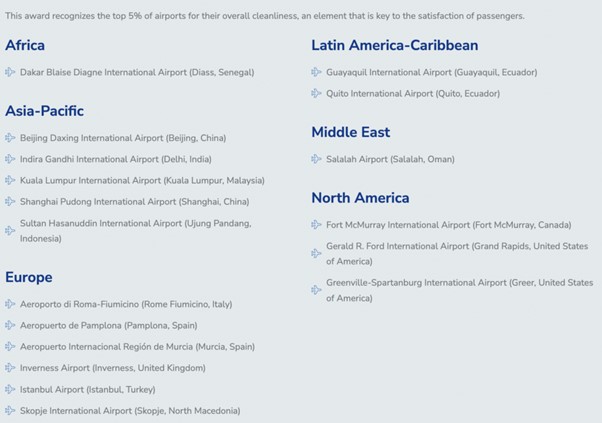 Bengaluru's Kempegowda Airport was ranked third in the world in terms of arrivals.

Government's initiatives towards airport development
These are not easy feats to achieve, especially given the fact that scrutiny is always around the corner. Air travels are more under the radar than, say, bus or train journeys. There are structural reasons behind it. For one, the average person can't afford to regularly travel by air. Not so long ago, air travel was reserved for people at the top of the Pareto distribution. These people are proactive and take the matter to the authorities even if there is a minor inconvenience. That is not the case with rail and bus travelers.
There are ways to change the scenario. Those travelling through rail and roads can also be empowered for air travel. Increase in per capita GDP and efforts towards minimizing the cost of air travel are few of suggestions. In fact, this is what the government has been trying to do. In his Budget 2018 speech, former Finance Minister Shri Arun Jaitley had said, "Even those who wear 'hawaii chappal' can now travel by 'hawaii jahaj." He had also announced an ambitious goal of expanding the capacity of Indian airports so that they could serve 1 billion trips a year. At the time of my speech, Indian airports could cater to only 20 crore trips.
Jaitley Ji was confident because at that time, lots of groundwork had been done. In 2016, the Modi government came up with its National Civil Aviation Policy. It covers 22 areas of the civil aviation sector. Regional connectivity, safety, air transport operations, the 5/20 requirement for international operations, bilateral traffic rights, fiscal support, maintenance, repair, and overhaul, air cargo, and aeronautical "Make in India' are some of the broad areas of policy.
Also read: The face of Adani-run airports is all set to change
Liberalised rules for investment
There are loads and loads of regulatory-level reforms included in it. There is a 100 percent tax exemption for airport projects for a period of 10 years. Customs and countervailing duties are completely waived for Indian aircraft maintenance, repair, and overhaul (MRO) service providers. The government has permitted 100 percent FDI under the automatic route for greenfield projects and 74 percent FDI under the automatic route for brownfield projects.
On the other hand, greenfield airports are those that are built from the ground up on an undeveloped site. Brownfield airports are those where there is already a structure or another airport that is being renovated for a new airport.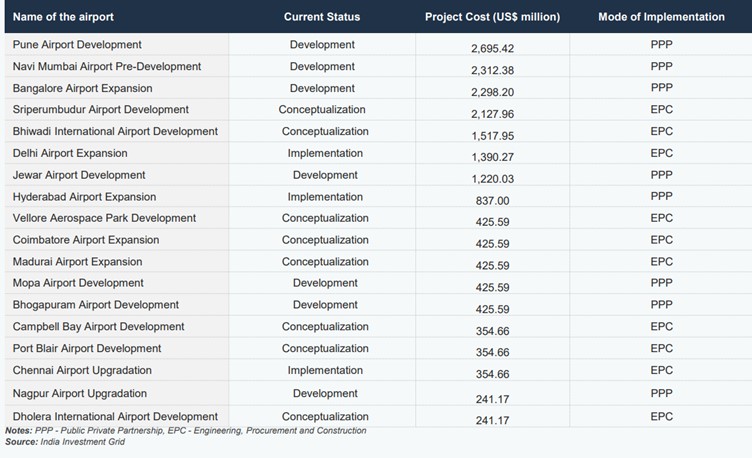 PC: IBEF
Under the automatic route, 100 percent FDI is permitted in scheduled air transport service, regional air transport service, and domestic scheduled passenger airlines. Over 49 percent of FDI would require government approval. After the opening of the airport sector to private participation, six airports are being developed under the public-private partnership (PPP) model. Currently, 60 percent of air traffic is handled under this model, while the Airport Authority of India (AAI) manages the remaining 40 percent.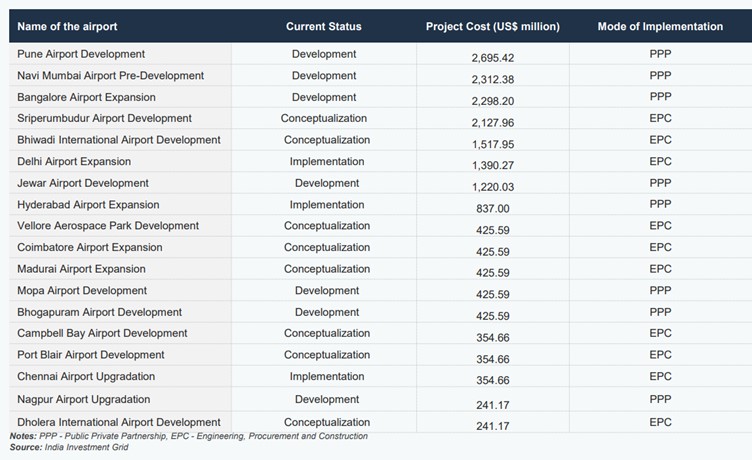 PC: IBEF
AAI has planned to invest Rs. 25,000 crore ($3.58 billion) in airport facilities and infrastructure over the next five years. By 2026, the Indian government intends to invest $1.83 billion in airport infrastructure and aviation navigation services.
Also read: India is building 4 airports and 37 helipads in Ladakh. PM Modi is gearing up to take back Aksai Chin
Hawai'i chappal to Hawai'i jahaj 
In all of these initiatives, there is a hidden message for those who really want to decode it. These are in line with the scheme called Ude Desh ka Aam Nagrik (UDAN scheme). It was launched in October 2016 by Prime Minister Modi himself. The scheme envisages bringing the cost of air travel down to Rs 6 per kilometer.
For context, a 300-kilometer cab ride from Delhi to Jaipur costs you anywhere between Rs 2,500 and Rs 3,000. The time taken is more than 4 hours. Under the UDAN scheme, the cost would be around Rs 1,800, and the time taken would be 75 percent less than that. Multiply that to 148 airports and estimate the cost savings. Clearly, the value addition to the total GDP of a country is too big to ignore.
And that is why there is an emphasis on non-metropolitan airports. Tier-II and Tier-III are going to drive the next phase of India's civil aviation journey. Estimates suggest that due to increasing developmental activities, India will need at least 200 new low-cost airports. The government is not worried about it. In fact, its own estimates are higher than that.
That is why, last year, civil aviation minister Jyotiraditya Scindhia announced that 220 new airports would be built to serve the country, and that too within 3 years. Though it will take time to operationalize them. Earliest estimates suggest that all of them will be fully operational by 2040. 50 of them were announced in this year's budget.
Also read: Now Kulhads in Railway Stations, Airports, Bus Terminals and Malls
At this point, it is pertinent to note that the Northeast has placed special emphasis on airport expansion. The region has been allocated 30 new airports. All of them are in various phases of development. In the next 5 years, AAI has envisaged building 20 new such airports in Tier II and Tier III cities in the region. Guwahati will be a central inter-regional hub, while Agartala, Imphal, and Dibrugarh are slated to be intra-regional hubs.
The focus on regional connectivity has worked as an incentive for the private sector to enthusiastically invest in India's civil aviation journey. This is the main reason behind the modernization of existing airports. Moreover, more than Rs 1.65 trillion are supposed to bring more refreshing changes.
At the same time, there is a bit of a worrying trend in airports. The decentralization is not picking up momentum. To solve this problem, cities and their administrators will have to rise to the occasion. Airports can't be allowed to become grazing grounds, as happened in 1990s Bihar.
Support TFI:
Support us to strengthen the 'Right' ideology of cultural nationalism by purchasing the best quality garments from TFI-STORE.COM
Also Watch: