Only a couple of days ago, Piyush Goyal, in a press conference conducted at Delhi, released some mails allegedly exchanged between Jayanthi Natarajan, the then Environmental Minister for UPA government from 2011-2013 and Rahul Gandhi.
Alleging that Rahul Gandhi was breaching his limits as a Parliamentarian and overruling even the Central Government's stance on various infrastructure projects, Piyush Goyal quoted, "During the rule of UPA, there was high political interference in matters of public policy." He also accused Gandhi of giving "guidance" and instructions to Natarajan over Lavasa issue.
As a matter of proof, he submitted clippings of various emails exchanged between Jayanthi and Rahul Gandhi, which clearly indicate that Manmohan Singh was just a 'rubber stamp' during UPA's rule, the real power lied in the hands of Sonia Gandhi and her son Rahul.
1.) Rahul Gandhi opposed Nirma and instructed Jayanthi Natarajan to deny environmental clearance to it
Email Snapshot: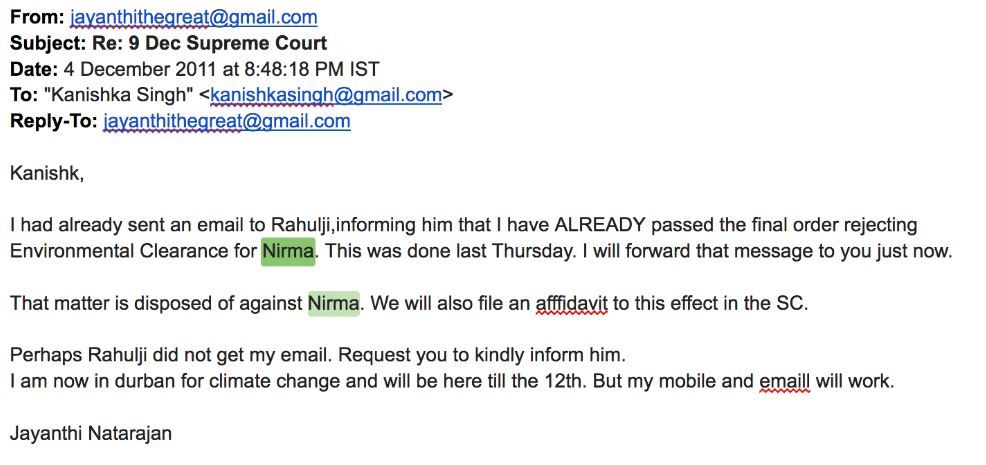 This clipping clearly suggests that Rahul Gandhi was willing to kill jobs in Gujarat, the reason for which is simple. Narendra Modi was leading the state to new glories and was turning into the principal challenger of the Congress Party. This move was intended to hurt the developmental agenda of Narendra Modi.
2.) Rahul Gandhi was guiding and instructing Jayanthi Natarajan on Lavasa issue.
Email Clipping: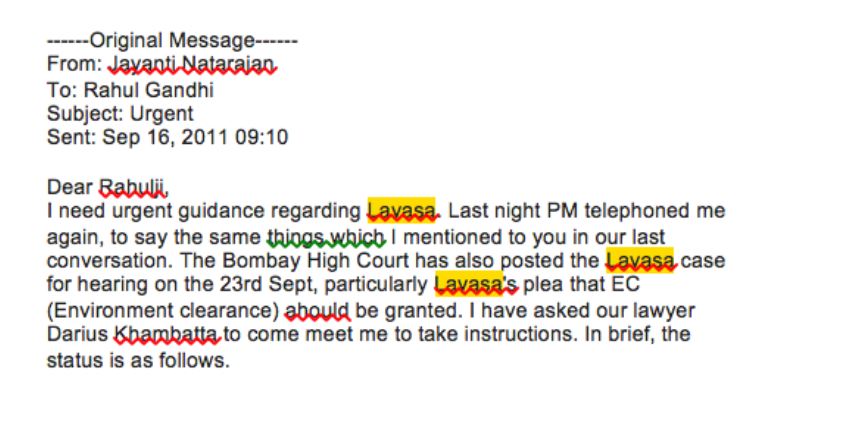 In this clipping Jayanthi Natarajan is seen seeking the guidance of Rahul Gandhi on the Lavasa issue. She goes ahead and tells him that PM (Manmohan Singh) has already spoken to her about the issue. A clear case of undermining of the office of the Prime Minister of India.
3.) Rahul Gandhi instructed Jayanthi Natarajan to clear on proposal on an Amethi- Rae Bareilly Highway
Email Clipping: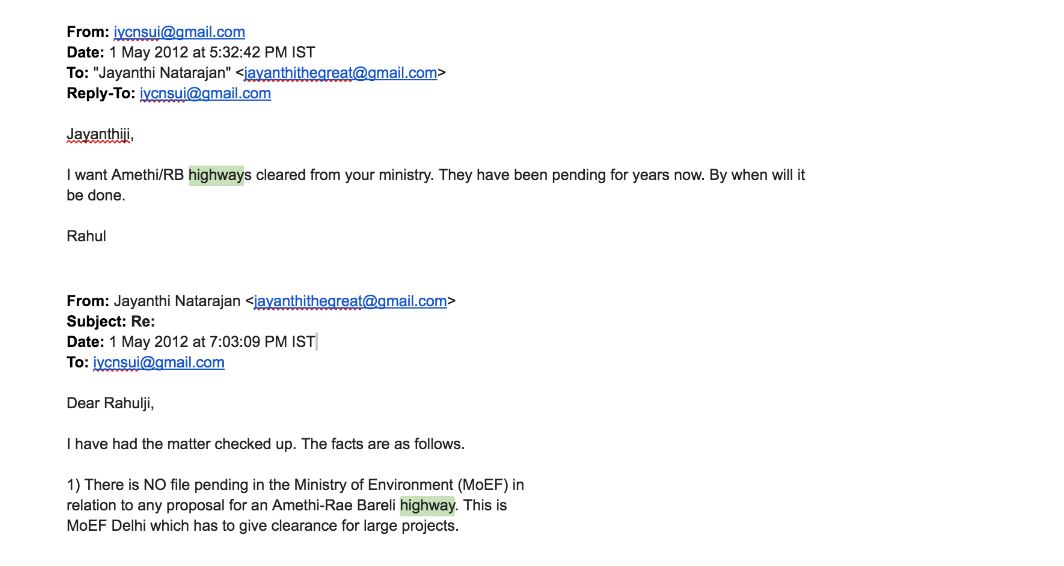 Rahul Gandhi did not know that there were no proposals on an Amethi- Rae Bareilly Highway pending in the environment ministry yet he was instructing Jayanthi Natarajan to clear it
4.) Rahul Gandhi overruled PM Manmohan Singh on GM Crops issue by directly instructing Jayanthi Natarajan
Email Clipping

As per this clip, Rahul Gandhi disrespected Prime Minister Dr. Manmohan Singh by giving counter instructions to Ministers. Jayanthi Natarajan shelved GM crops despite being personally told by Manmohan Singh to clear.
5.) Ministers were required to meet Rahul Gandhi's aides that held no position in the government or the party
Email Clipping:

Jayanthi Natarajan met aides of Rahul Gandhi, one of them was Kanishka Singh on priority. Kanishka has been a constant companion of Rahul Gandhi, ever since he won the Amethi seat in 2004.
Going by the nature of the issues discussed, it looks like Jayanthi was not a Minister in a Central Government, but some personal secretary of the Gandhi family, who could overrule any notification, even if it was issued by the Prime Minister himself. However, this is not surprising, though it does seem atrocious enough, for Rahul Gandhi is already notorious for such incidents. He was instrumental in stalling the Vedanta and POSCO projects, which involved mining in Niyamgiri hills of Odisha, and could have spurred the economic growth of the state on a massive scale, just because the CM [i.e. Naveen Pattnaik] was from an opposition party, and was seriously devoted then to the development of Odisha.
This is not all, he also tore up an ordinance issued by the Central government in 2012, which allegedly gave immunity to the politicians from any sort of prosecution. Though he did it with a purpose, it nevertheless undermined the post of the Prime Minister, and made Manmohan Singh the laughing stock throughout the world.
Manmohan Singh was just the face of the UPA Government, Real power was with Sonia and Rahul Gandhi. The Email Exchange between Jayanthi Natarajan and Rahul expose reality of UPA functioning!