jāko rākhe sāiyām̐ māra sake na koya
bāla nā bāṃkā kara sake jo jāga bairī hoya
One protected by Ram can't be destroyed by anyone, even one opposed to entire world like Ravan will fail to affect even a hair strand of such a surrendered soul.
Majority of the people are still unaware in our country about the unprecedented contribution of Dr. Subramanian Swamy in protecting Shri Ram Setu which the then UPA government was hell bent on demolishing. The VHP President Shri Ashok Singhal had requested Dr. Subramanian Swamy to continue the fight for Ram Setu when the latter was heading the Janta Party.
History of Setu Samudram Canal Project:
The Setu Samudram Canal Project (SSCP) recommends cutting a shipping channel across the narrow strip of land to connect the Gulf of Mannar and the Palk Bay with the object of providing a short-cut for ocean-going ships plying between the West Coast of India and the East Coast. 
The Government of India constituted nine committees before independence, and five committees since then, to suggest alignments for a SSCP. Most of them suggested land-based passages across Rameshwaram island, and none recommended alignment across Rama's Bridge. The Setu samudram project committee in 1956 also strongly recommended to the Union government to use land passages instead of cutting Rama's Bridge because of the several advantages of land passage.
Congress and DMK – The unholy nexus
In 2005, the Government of India led by UPA approved a multi-million dollar SSCP that aims to create a ship channel across the Palk Strait by dredging the shallow ocean floor near Dhanushkodi.
The Setu or bridge, which is believed to be built by Nala in Lord Ram's army to reach Lanka, is a matter of strong religious faith and the government decided to ignore the sentiments of Hindus and decided to move ahead with the project, which could have been one of the most severe setback to the faith of one-sixth of the world's population.
Despite of National Remote Sensing Agency (NRSA) studies published in a book which claimed that the Setu could be man-made, Ambika Soni, the then Minister of Culture replied to a question in Rajya Sabha (August 14, 2007) and made false claims that no archaeological studies had been made with respect to Ram Setu.
Karunanidhi went a step ahead with appeasement politics and quoted former Prime Minister Jawaharlal Nehru by saying Ramayana was a story based on the fight between Aryan and Dravidian races.
 "Lord Ram is an imaginary character and Ram Setu is not a man-made bridge. The Centre should not do anything to disturb the Setu samudram project," Karunanidhi said.
On 16th September, 2007, Karunanidhi added, "Some say there was a person over 17 lakh years ago. His name was Ram. Do not touch the bridge (Ram Setu) constructed by him. Who is this Ram? From which engineering college did he graduate? Is there any proof for this."
Self-proclaimed scholars Wendy Doniger's and Devdutt Pattanaik's claims on Ram Setu:
American Indologist Wendy Doniger, who had been heavily criticized for misquoting Valmiki Ramayan, also touched upon the topic of Ram Setu in her book 'The Hindus, an Alternative History'. She cites an archaeological report that the Congress government produced in court, claiming that the bridge did not exist and was mythical. Then she cites the Marxist historian Romila Thapar's statement that in the centuries BC, it was technical infeasible to construct the bridge. The entire section of Doniger's book is a continuation of her thesis that since the Ramayana is fiction, the bridge must also be mythical.
Doniger of course quotes her sources selectively. First, she does not point out that the Congress party was dependent upon the support of the Shri Ram-hating Karunanidhi's DMK party who sometimes threatened to withdraw their support to the government if the dredging through the bridge was stopped.
In a write-up for DailyO on Science Channel's video showing Ram setu as man-made by Devdautt Pattanaik (who is also close to Wendy), he said, "Based on astronomical information, such as the position of constellations and the time of eclipses available in scriptures, they (experts) have concluded that events in the Ramayana took place 7,000 years ago".
Meanwhile he cleverly tried to hide the legend of Shri Ram from Treta Yuga and the fact that same configuration of constellations repeat every 7122 years.
Subramanian Swamy 's entry in the case:

The following series of event will make it clear that it was Shri Rama's will alone that made Dr. Subramanian Swamy take up the case a day before Ram setu was all set to be broken under SSCP.
RDX explosive was ready to burst a portion of Ram setu the very next day. With only a day left, Dr. Swamy's petition came up for hearing against SSCP. KG Balakrishnan was Chief Justice in office. On the day of hearing, he had to leave urgently for a foreign trip. With CJI bench not working, petition would have become infructuous as Dr. Swamy's prayer was to put a stay on demolition of Setu and the government should consider other routes instead of straight away demolishing the legendary structure.
At this crucial moment & with clock ticking, Dr. Swamy approached Justice B.N. Agarwal who upon seeing Dr. Swamy asked why he had come to the court with no petition pending. Smart as always, Dr. Swamy said Supreme Court of India doesn't have Chief Justice present and he had a prayer listed before CJI. If it's not heard, petition would become infructuous.
Justice Agarwal said that in the absence of Chief Justice, next senior most judge will hear the prayer and Swamy should know it's him. Dr. Swamy immediately prayed that matter should be heard on that day itself as any further delay doesn't serve the purpose. 
Justice Agarwal fixed the hearing at 2 PM and the then Additional Solicitor General Gopal Subramanian rushed towards the court hearing that Dr. Swamy was pressing for stay and court had given immediate hearing.
When the hearing started, Dr. Swamy argued that government of India hasn't considered other routes and also faith of millions of Hindus was involved in the matter. Justice Agarwal's question was whether government has plan to demolish without considering other routes. Gopal Subramanian was going round about answering that while government will be mindful of faith and at the same will take precautions to ensure that demolition doesn't take place.
Upon being convinced about this ill thought out plan, Justice Agarwal granted immediate stay against demolition of Ram Setu. Dr. Swamy emerged victorious among those crucial moments & thus demolition was stayed.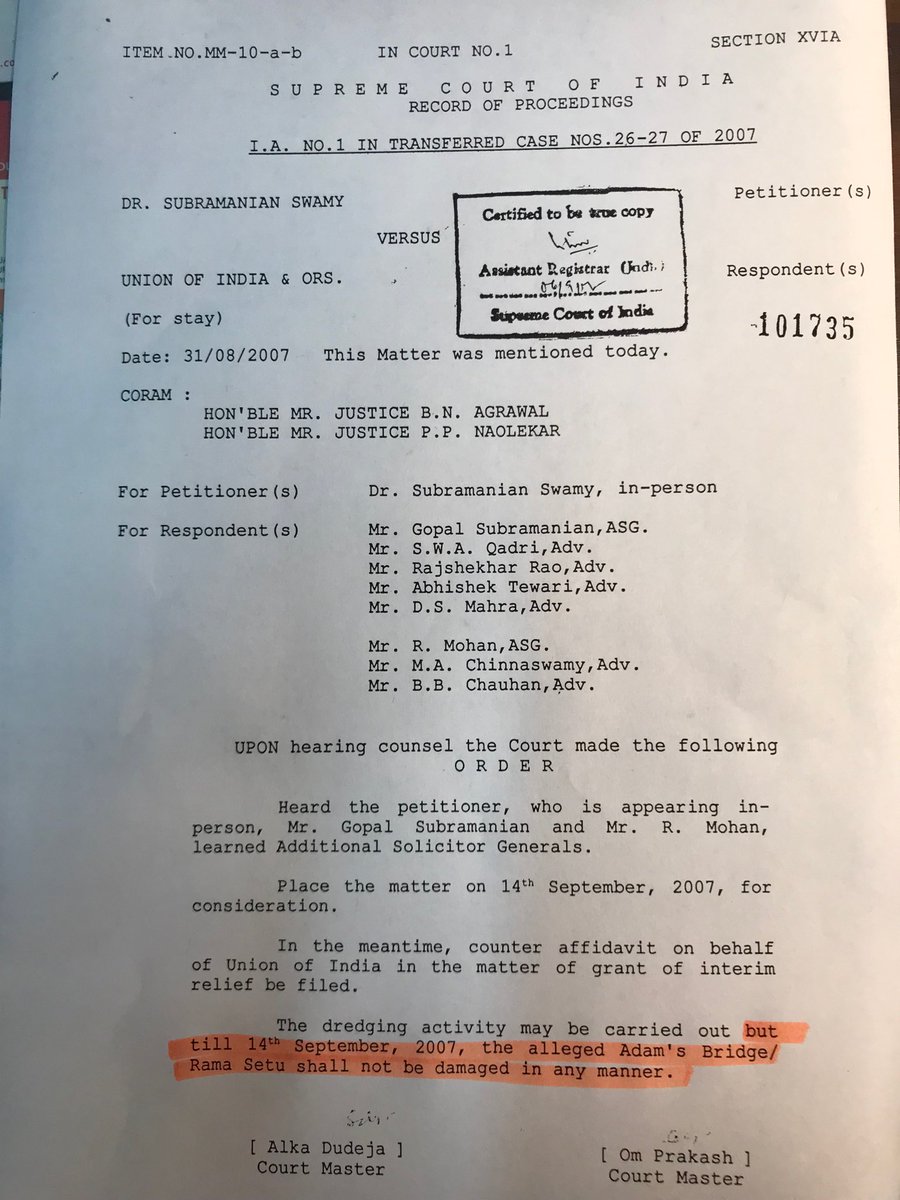 Second order after arguments, when government withdrew its affidavit stating Lord Ram as mythological, stated "We had passed an interim order dated 31.08.2007 directing that the dredging activity may be carried out but the alleged Adam's bridge/Rama Setu shall not be damaged in any manner. The said interim order shall continue to operate." Hence, Dr.Subramanian Swamy removed danger of Ram setu's demolition by getting a permanent stay.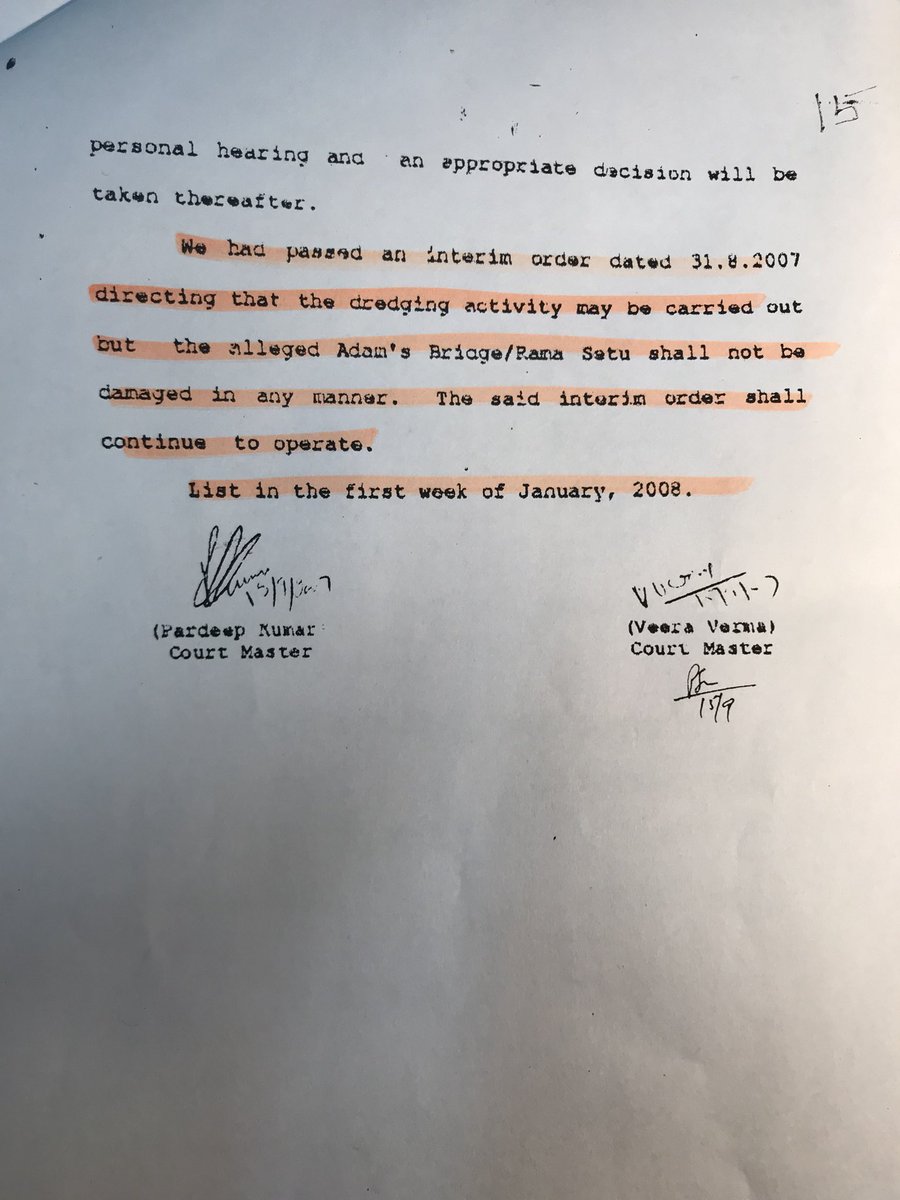 When Dr. Subramanian Swamy went to Supreme Court against Setu Samudram project, Karunanidhi personally called him and asked if Lord Ram had studied engineering to build Ram Setu.
The very next day, Karunanidhi was admitted to Ramchandra Hospital on accounts of ill health. Swamy, with his quick wit, took a hilarious take on the situation and called Karunanidhi asking whether Lord Ram studied MBBS.
BJP's Government's stand on Shri Ram Setu
In 2014, Shipping Minister Nitin Gadkari had categorically stated that the "sacred structure associated with Lord Ram" won't be damaged under any circumstances.
On 22nd November, Prime Minister of India, Narendra Modi, called a meeting of few cabinet ministers and came to a conclusion that no project affecting to integrity of Ram setu will be approved.
Dr. Subramanian Swamy, the only petitioner in 2007 who appeared in court for protecting Ram Setu thanked Narendra Modi government with a special mention of Nitin Gadkari.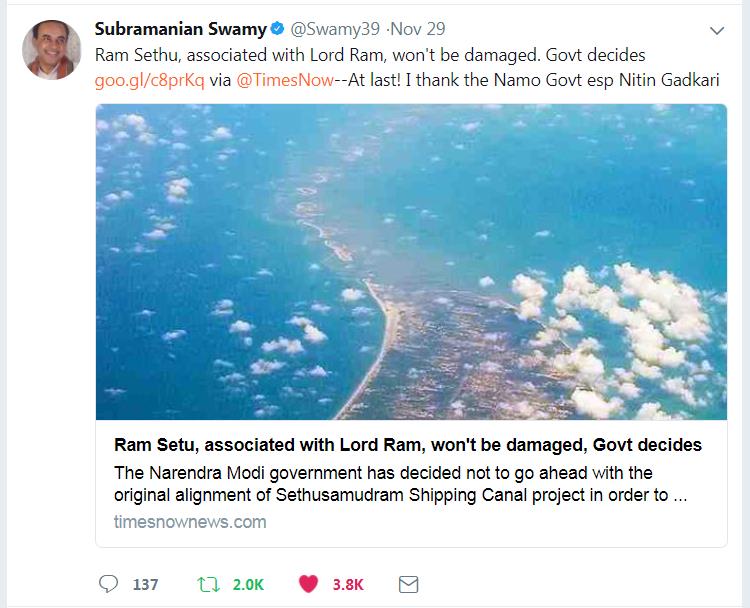 National Heritage
Recently, on 11th December, Science Channel released a video stating that Ram Setu is man-made, the stones to build it have been brought from far and the bridge stands on sand. There is a massive outburst in Hindus as well as a pressure on current government to declare Shri Ram Setu as a National Heritage. Hope this happens soon!
References:
https://web.archive.org/web/20071014012322/http://sethusamudram.gov.in/History.asp
Ram Setu: Symbol of National Unity – by Subramanian Swamy
http://www.rediff.com/news/2007/sep/15setu.htm
http://ia.rediff.com/news/2007/sep/17sethu2.htm
http://hindureview.com/wp-content/uploads/2014/03/thaah-wd-review-va-24.pdf
https://www.dailyo.in/variety/ramsetu-is-real-us-science-proof-channel-bjp-hindutva-congress/story/1/21120.html
http://www.timesnownews.com/india/article/ramsethu-adams-bridge-lord-ram-narendra-modi-nitin-gadkari-supreme-court-sri-lanka-india-sethusamudram-shipping-canal-project/131348