Who should the BJP credit for its mammoth victory at the hustings in 2014? Some would say Narendra Modi, others would applaud the BJP organization, some would thank the RSS and others the cunning of master strategist, Amit Shah. Unfortunately though, as much as BJP would be unwilling to admit it, it was Congress leader and 'Psycho'phant par excellence, Mani Shankar Aiyar who propelled Narendra Modi to the Prime Minister's chair.
Had it not been for Aiyar's now reviled and ridiculed statement declaring that Narendra Modi could never be India's Prime Minister but was welcome to sell tea at Congress HQ, Modi would have never been able to capture the nation's imagination through innovative campaigning techniques such as Chai pe charcha.
It was the pea-brained Mani Shankar Aiyar who gave Narendra Modi the club he could beat his opponents with.
In rally after rally thereafter, Modi underlined his modest beginnings, his struggles, his travails and stuck an emotional chord with the electorate. The more his opponents ridiculed him, the stronger Modi grew, until in the end he romped home with some 280 odd seats, forming the first single party majority government in nearly 3 decades. Therefore, if anybody deserves a medal for having brought Modi to power, it is Mani Shankar Aiyar.
It is amply clear, even for a political novice that Modi thrives on insults and opprobrium that are heaped on him. He has the unique ability to turn insults to his advantage. Simply put, they way to beat Modi is not to insult him. And yet, almost all political parties continue to employ the technique of targeting Narendra Modi personally. From Sonia Gandhi's infamous Maut ka Saudagar in 2007 Gujarat polls, to 'Gujarat ke Gadhe' by Akhilesh Yadav during UP polls in 2017, Narendra Modi has used each epithet to his advantage, to drive better connect with the electorate and denigrate his opponents as heartless, arrogant people lusting after power. That is precisely how Modi swept Gujarat in 2007 and how he left no opportunity to exploit Akhilesh Yadav's rant in his speeches across UP in 2017.
Modi's opponents, it seems, have a unique knack of not learning from their mistakes. On the eve of Gujarat elections, being billed as Semi finals to the national elections in 2019, a Twitter handle linked to Youth Congress has put up an offensive tweet which mocks Narendra Modi's language skills ( he refers to meme as MayMay, only to be corrected by Trump when the British Premier Theresa May asks Modi to focus on selling tea instead).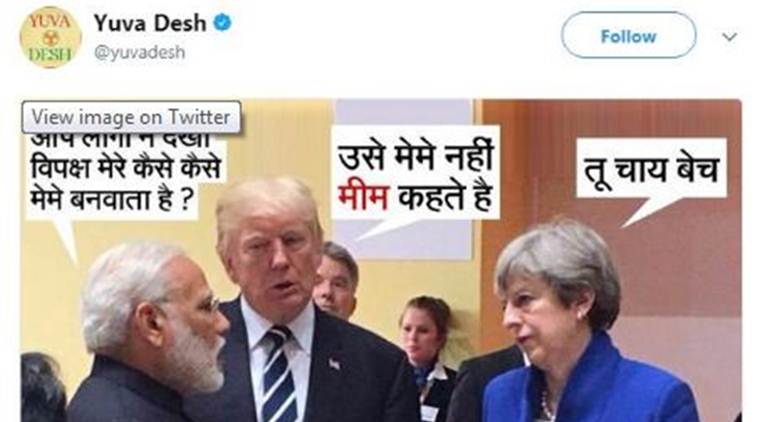 One could laugh off the tweet as the work of an embittered soul, but the tweet is offensive at so many levels that it is impossible to dismiss it. Firstly, the tweet pertains to an individual who is the Prime Minister of the nation, secondly, it mocks a person's style of speech, his imperfect pronunciation and thirdly, it mocks an Indian in front of foreign westerners, one of whom belongs to a nation that ruled India for over 2 centuries.
This Particular Congress handle is notorious for tweeting absolutely atrocious and disgusting tweets about PM Modi. Take a look yourself: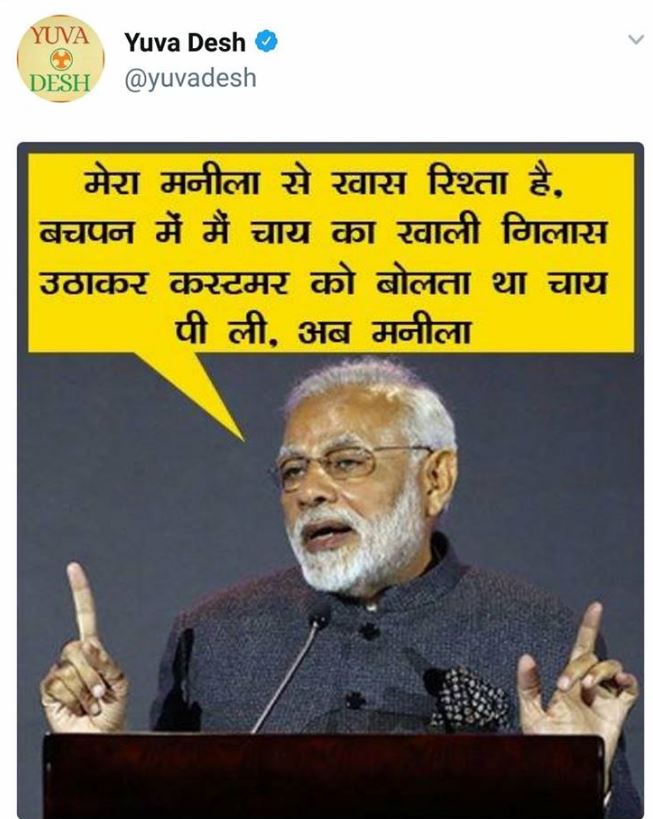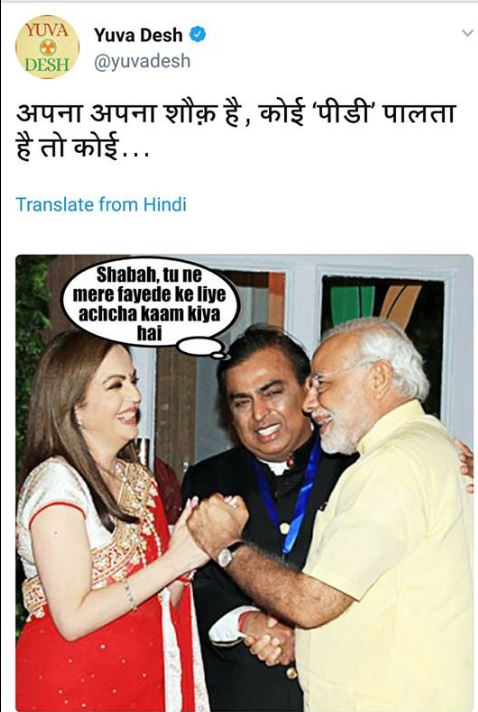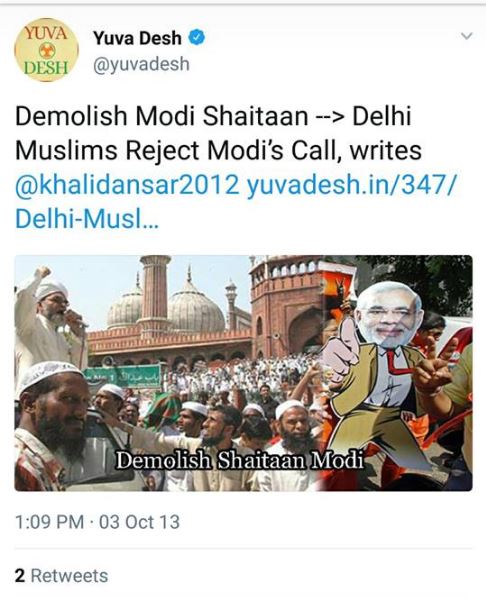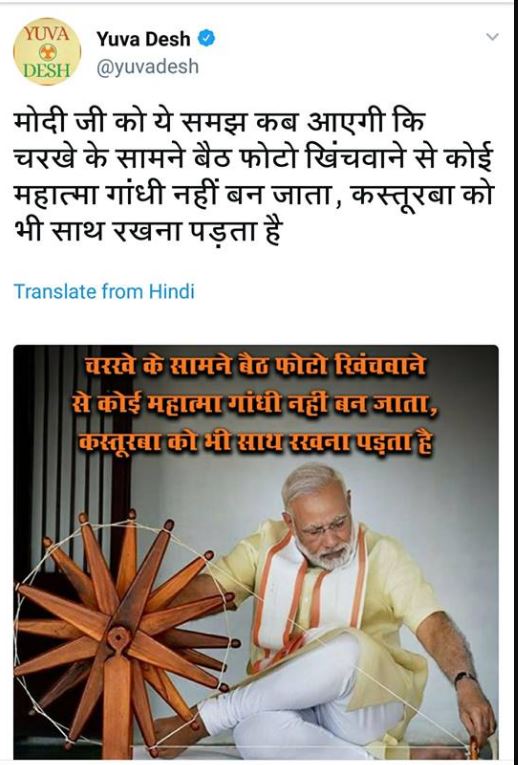 Narendra Modi is the butt of such uncharitable comments only because he comes from a humble background, because he is a self made man who did not get opportunities to study Queen's English at Oxford or Cambridge, because he had to sell tea to make ends meet. In some ways, Narendra Modi's life story is the story of millions of common men and women of this country who have risen in spite of constraints placed on them by society and destiny. The tweet is deeply offensive to millions of such Indians.
Congress Party's Permanent President-in-waiting, Rahul Gandhi has lately been moving heaven and earth to deny BJP the chance to return to power in Gujarat. Poor soul, he has even been visiting temples and seeking intervention of the almighty to displace BJP from power. But it seems his partymen aren't keen on Rahul Gandhi's hard work to translate into results.
Nothing other than the fear of alienating the electorate had led Congress leaders to quickly condemn the tweet.
Mere denunciations of the offensive tweet won't do. Even before this tweet, there was an entire campaign on 'Vikas Gando thayo chhe' (Development has gone mad), that had to be culled after it was evident that it was counter productive. Congress it seems is hell bent to lose whatever little it could have gained on account of anti-incumbency, Patel protests, lack of strong local leader in BJP etc. By mocking Narendra Modi, India's Prime Minister and a son of Gujarat, the Congress has hit another nail in its coffin. For Narendra Modi, this is a god sent opportunity.
As his opponents descend into calling him names, or even openly threatening him (as did Rabri Devi when she said the Prime Minister's throat will be slit and hands will be cut off), he will find himself a familar turf to play on. In the coming days, it is more than likely that Narendra Modi would make reference to all derogatory remarks made against him in recent times and ask the electorate to hold them to account.
In the aftermath of Congress's latest blunder, its seems BJP's Mission 150 in Gujarat is not so far after all.