Less than a month after PM Modi visited Canada in April 2015, more than 1,50,000 Canadian Sikhs unanimously passed the Punjab Referendum Resolution in Toronto. These Sikhs called for global support to Referendum 2020, the vicious demand of a separate country of Khalistan- ruled and governed by the Sikhs only. On the 30th anniversary of the military operation at Golden Temple, Sikh separatists gathered in front of UN and announced the holding of a referendum among the Sikh diaspora in 20 countries in the year 2020. The nature of the referendum is evident from the contents of Sikh Referendum website, which calls the state of Punjab as Indian Occupied Punjab and Sikhs the indigenous people of Punjab.
The demands for a separate Khalistan is still burning like a Hellfire and its heat can be felt in the state of Punjab. On May 21 2017, BSF captured to two Nihang Sikhs named Maan Singh and Sher Singh from the India-Pakistan border with illegal weapons, a .315 rifle and a revolver. On June 4, Punjab police's counterintelligence unit arrested Gurdial Singh, Jagroop Singh and Satwinder Singh, key Khalistani hitmen suspected to be part of a widespread assassination plan in Punjab and Delhi. Since April 2017, 6 Khalistan terror modules have been busted and 23 Khalistani Terrorists have been arrested.
The state is suddenly witnessing the spilling of the blood of the members of Hindu organizations in Punjab. The most recent case is the murder of Preet Nagar (Amritsar) resident Vipin Sharma (45), who was the district President of the organization Hindu Sangharsh Sena.
He owned a TV cable business and ran Jai Shankar Welfare Society that organises free 'langar' on Batala road for the poor and needy. On October 30, Vipin went to Bharat Magar to meet his friend Ramesh Kumar Monu, the state president of Hindu Sangharsh Sena. When he was about to ride off, two masked people came and apparently abused him before shooting him seven times. While shooting the Hindu leader, the mask of one of the assailants came off and his face was captured in a CCTV recording.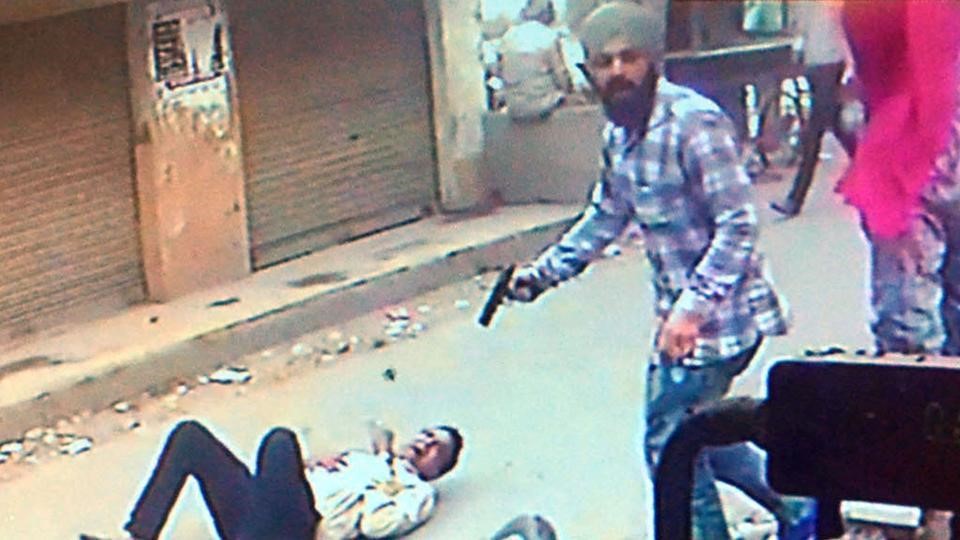 Vipin died on his way to hospital. According to the police, two other men accompanied the killers and took them away from the crime scene on bikes. A Special Investigation Team (SIT) has been formed to investigate the matter and two suspects were taken into custody for interrogation. Police Commissioner SS Srivastava said that police is looking for involvement of Sikh militant groups as well as gangsters in the murder.
Only 14 days ago, two unknown assailants killed 58 year old Ravinder Gosain, a Mukhya Shikshak of Mohan Sakha of RSS in Ludhiana. On the morning of October 17th, Ravinder Gosain had just returned from RSS sakha and was about to enter his house at Kailash Nagar Road, Basti Jodhewal when he was killed by two unidentified assailants who came on a yellow Honda-stunner bike and were wearing turban and masks. When Ravinder was shot, he was holding his granddaughter Dikshita in his hands and his grandson was standing near him. He received two shots and died on the spot.
The murders of Hindu leaders have become a common affair in Punjab, especially since last two years. The slow but vicious growth of radical extremism is engulfing the state quietly. It can be ascertained by the deaths of these 5 prominent Hindu leaders:
Apr 23, 2016: Shiv Sena leader Durga Prasad Gupta shot dead in Khanna.
Aug 6, 2016: RSS leader retired Brigadier Jagdish Gagneja (retd) shot dead in Jalandhar.
Jan 14, 2017: Shri Hindu Takht district president Amit Sharma shot dead in Ludhiana.
Oct 17: RSS leader Ravinder Gosain shot dead in Ludhiana.
Oct 30: Vipan Sharma of Hindus Sangharsh Sena shot in Amritsar.
Two bike-borne assailants pumped 4 Bullets inside Amit Sharma (35), near Jargaon Bridge in Ludhiana. Two more men on bike were tailing the killers. As per Rohit Sahni the state publicity manager of Shri Hindu Takht, Amit Sharma had been receiving death threats from Khalistani terrorist organizations.
In case of Punjab RSS Vice-President Jagdish Gagneja (70), two bike-borne assailants wearing yellow turbans shot him on August 6, 2016. 47 days later, he succumbed to his injuries. Gagneja was with his wife in a car when he was attacked in Jalandhar's Jyoti Chowk area around 8.15 PM. Eyewitness Parmod Kannojiya and his friend Ravi took Gagneja to Satyam Hospital at Kapurthala Chowk, which is around 3 km from the crime spot. Similarly, two unidentified bike-borne assailants shot Punjab Shiv Sena's labour wing chief Mr. Durga Prasad Gupta (28) at his office in Lalehi Chowk in Khanna. He died on the spot.
The Sikh Militant group called "Dashmesh regiment" had taken the responsibility of the murder of the RSS vice-president and the Shivsena leader. The militant outfit had sent emails to media houses in Jalandhar claiming the responsibility of the attacks. The email id used was regimentdashmesh@gmail.com and the emails read- "Gangneja was killed because he was involved in anti-Sikh activities. He was taking the RSS Shakhas to village after village and was trying to make Sikhism a part of the Hindu religion. The Shiv Sena leader, Durga Prasad Gupta, too was doing the same thing".
The most surprising part regarding the murder of Gagneja and Durga Prasad was how the media channels reported the news. When journalist Gauri Lankesh was killed, media was quick to hold Hindu outfits responsible for the murder even before SIT announced their findings. But in case of Gagneja and Durga Prasad, the style of media reporting can be seen from this two article:-
The media is already claiming that "Dashmesh regiment" is an unknown or little-known militant group. However, Dashmesh regiment is indeed a Sikh Militant outfit, which was founded in 1982 by Major General Saheg Singh and Surinder Singh Gill, associates of Bhindranwale. The group is notorious for carrying out attacks on Hindus, moderate Sikhs and political leaders.
In fact, the intelligence agency itself stated that Dashmesh regiment is an old militant outfit. Punjab Police had transferred the case to CBI instead of NIA, which specializes in terror related matters. However, the investigation of Rajinder Gosain was transferred to NIA when an RSS delegation requested the CM of Punjab.
There is possibly a terror group behind these calculated and systematic assassinations. Apart from these five deaths, there were similar attacks on members of Hindu outfits where the victims were lucky to survive. In a similar case, two bike-borne masked assailants tried to kill RSS pracharak Naresh Kumar Chauhan in Kidwai Nagar, Ludhiana on January 18, 2016.
In all the three attacks in Ludhiana, Police found a systematic pattern. According to the police, the weapons used in all the previous four incidents were the same- .32 bore and 9mm guns. The assailants, however, rode a different motorcycle in each case. In all three attacks in Ludhiana, the assailants sped away in narrow lanes of Basti Jodhewal region after the incident. Also, as per the recent updates from TimesofIndia, Police has arrested a person in Ravinder Gosain murder case and the person is suspected to have links with notorious gangster Sukhpreet Singh alias Sukha Barewalia.
Congress MP from Ludhiana Ravneet Singh Bittu claimed that the mastermind of recent killings is a Canadian resident and a pro-Khalistani. He said that the Central Bureau and Pujab Police will expose the conspiracy soon. Police believe that pro-Khalistani groups might be behind the murders because they are upset with the growing influence of Hindu outfits like RSS, Hindu Sangharsh Sena, etc. The pro-Khalistani groups run propaganda stories claiming that Hindus are acting against Sikhism, while in reality not a single Sikh person was ever converted to Hinduism.
To end the discussion with, let me share a valuable info. The Mazhabi Sikhs are Scheduled Caste in Punjab border belt. In December 2014, RSS had reconverted 40 Mazhabi Sikh families back to Sikhism, who had embraced Christianity earlier. These Sikhs were brainwashed to convert to Christianity. For example, Rajinder Singh, a rickshaw-puller, said he had become a Christian four years ago "because of an illness in the family" and "they told me they would cure my wife".
Dinesh, Punjab head of the Samanvaya Samiti of the RSS, told the gathering: "We have resolved we will not allow even one gurdwara in Punjab to close because of Sikhs embracing Christianity." If RSS or Hindus are against Sikhs, then why did RSS reconvert these Mazhabi Sikhs back to Sikhism, instead of converting them to Hinduism?