Biopics on gangsters is not a new phenomenon in any film industry in the world. Hollywood began in the 1930s, with James Cagney portraying gangsters in many of his films, based on personalities like John Dillinger. Al Capone was the inspiration behind Scarface in 1931. The Sicilian mafia in New York during its heydays also inspired many literary and celluloid works, most notably among them the Godfather (1972) which remains a classic, whose sequel Godfather II too was one of the , Films like Goodfellas (1990), Casino (1995) , Donnie Brasco (1997) were examples of films based on true events involving Italian American mafia. There have been a lot of films about Hispanic mafia as well, notably Scarface (1983), Traffic (2000) or the ongoing TV series Narcos.
In India too, gangsters like Haji Mastan (Amitabh Bachchan's Vijay in Deewar ,1975 and later Ajay Devgan in Once Upon a Time in Mumbai  bb), Karim Lala (Pran's Sher Khan in Zanjeer, 1973), Vardarajan Mudaliar (A superb Kamal Hassan in Nayagan, 1987 and later an average Vinod Khanna in a much poorer Dayavan, 1988), Dawood Ibrahim (In several sub par films not worth remembering) have been lionized in the film industry, in addition to several non specific gangster films that keep churning out.
The latest to join the list is Shahrukh Khan starrer Raees, to be released soon.
Raees Alam i.e Shah Rukh Khan's character in Raees is a Gujarat based gangster who builds his criminal empire by bootlegging illicit liquor. Although not confirmed by film's makers, it is almost certainly based on real-life gangster Abdul Latif who was a terror throughout Gujarat. In order to prepare for the character, Shah Rukh Khan visited Abdul Latif's son Mustak Ahmed Abdul Latif Shaikh, at least twice, but backed out from meeting him more after his meetings began to be given a political colour. Mustak too has filed a case against the film's makers because they have shown the titular character running a brothel and using female bootleggers.
For starters, this is Abdul Latif's  great and inspirational legacy:-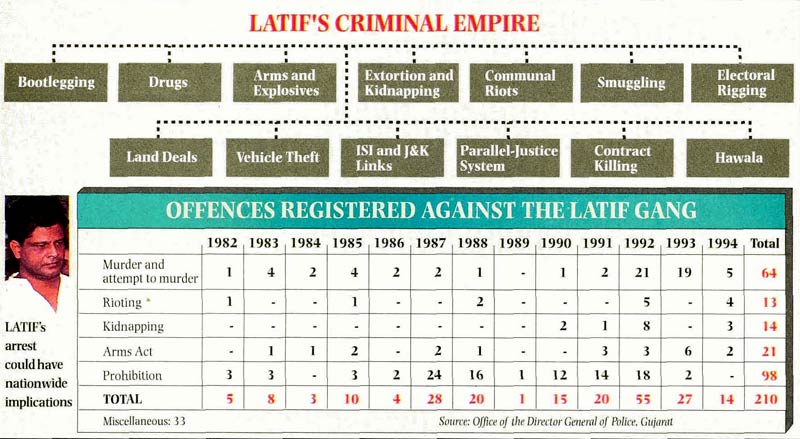 Born in Kalupur, Ahmedabad, in 1951 Latif , coming from a large and poor family, started out working in his father's shop but fell out with him in his 20s. He began his career as a delivery boy in 1980s for bootleggers,  waiting tables in gambling dens. Through murder, extortion and political patronage, he slowly grew big enough to monopolize the illicit liquor business of Gujarat. In his heyday, his criminal empire in Gujarat extended from bootlegging and hawala to land deals and contract killings. He was politically very well connected, and had a Robin Hood like image among the low income Muslims. According to anecdotes, Latif would help underprivileged and backward Muslim youth get jobs and would provide the needy among them with necessities. He ran a parallel justice system and always ensured that his gang were predominantly Muslim . In the words of a Gujarat police officer, after his arrest, "There were fireworks in the Hindu areas". In 1986, Latif was elected simultaneously from five municipal wards in Ahmedabad despite being in jail at the time of the polls. However, he was later disqualified from the post, but it showed the support he had among the Muslims. This caused him to be used by various politicians, especially those from the Congress, by helping to rig various elections and settle personal scores  and they returned the favour of them shielding him (Hasan Lala, the Gujarat Youth Congress President in those days was his childhood friend). His role in frequent communal riots during those days was very evident, and so was his role in breaking up anti Congress protests (Something that the news traders harping about 2002 are happy to sweep under the carpet).
Latif was much more than a mere bootlegger.
He was everything what any person joining the likes of Lashkar e Taiyabba and Hizb ul Mujahideen would aspire to be. From extortion to murders to riots , there was no crime which he did not have a hand in. He was especially known for his ruthlessness against his rivals, the most infamous being the Radhika Gymkhana. After his arrest, Latif revealed to investigators that during his 15-month stay in Karachi between August 1993 and December 1994, he would meet Dawood "almost daily." Its interesting to note that at one time in the early 1980s, he was involved in a gangwar against Dawood's gang, and peace between them was brokered by a maulana in Dubai in 1989. This was the beginning of Latif venturing into terrorism, and being seen as a name synonymous with crime and as a product of the Congress's minority appeasement.  Although his name wasn't among the 198 accused in connection to the 1993 Mumbai multiple blasts, Latif was heavily suspected to have been a conduit for the RDX smuggled into the country that was used in the blasts, since he is also alleged to have had a hand in receiving and distributing arms smuggled into the country through villages on the western coast regularly. He is also suspected to have supplied arms to Khalistani terrorists, and  received a consignment of 47 AK-56 rifles. 300 hand-grenades and 15,000 rounds of ammunition in 1993 from the Dubai-based arms smuggler Mustafa Majnu, a close Dawood aide. Even before the blasts, he was involved in several murders, the most notorious being the shooting in October 1992 of Raul  Waliullah, the then general secretary of the Gujarat Pradesh Congress. Waliullah was said to have been preparing a memorandum for the prime minister detailing the late chief minister Chimanbhai Patel's (Latif's allegedly biggest patron) alleged criminal links.
His brutality was well known for liquidating rivals, the most infamous being the Radhika Gymkhana multiple murders of August 1992. Latif sent his hitmen to the gymkhana to murder  Hansraj Trivedi, a rival bootlegger. Since the assassins couldn't recognise Trivedi, they shot all the nine people in the room.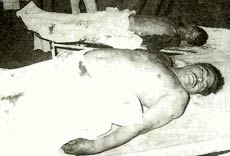 Late Haren Pandya who won the by-elections to the Ellisbridge assembly seat on a BJP ticket in 1993, used to tell only one thing to the voters: "When you go out to vote, don't forget Latif". "It would not be wrong to say Abdul Latif laid the foundations of the BJP's climb to power on its own strength in Gujarat," said  a retired director general of Gujarat Police. From then state level leaders like Narendra Modi and Shankarsingh Waghela to the eventual CM Keshubhai Patel, everyone in BJP  during the 1995 elections were sure to target Latif and his ties with Dawood Ibrahim and Congress. Latif fled Gujarat after BJP won the 1995 elections. He was arrested in Oct 1995 after a two month long operations from New Delhi because of one error he made : using the same telephone booth for all his calls.
Latif had been implicated in over 97 cases, 10 of them involving murder and a number of them relating to bootlegging. Since 1982, the Gujarat Police registered 243 cases against Lalif's gang, including 64 murders and 14 kidnappings.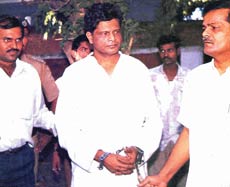 After Latif's arrest, Gujarat CM Keshubhai Patel was hailed 'Hindu Hriday Samrat'.  Latif, since his arrest, had been lodged in the Sabarmati Central jail. On November 29, 1997, Latif allegedly tried to escape after he was brought back to his jail following an investigation. He was shot dead by the police in retaliation.
Baniye ka dimaag aur Miyaanbhai ki daring is what Raees Alam, the titular character in Raees talks about, is the reason behind his "success''.
Baniya. That's one word in which a huge multitude of jihadi mindset encompass Hindus, implying that a Hindu can be nothing but a cowardly shopkeeper. That was the inspiration for Yahya Khan's rhetoric in 1965 that Pakistan will easily win the war as one muslim is equal to ten hindus .'Hindu baniye ki saazish' is what our beloved neighbor calls the 1971 war as in popular discourse. Under the twisted notion of secularism in India, this kind of derogatory remarks will be hailed as something great by various bunch of glossy fecal publications which go by the name of film magazines.
As evident from the film's trailer, Raees Alam is shown as a larger than life action figure, singing and dancing with his lady love, and looking at the sheer number of hits on this video, which come from public which has got zero interest in anything in a film except the actors looks and dialogues, we can see where this is going. Soon, we will have our leftist intellectuals crying on TV how a poor Muslim social worker was killed by BJP RSS goons in police uniform, and how secularism is in danger due to such arrests and encounters. We could also have biopics on Abu Salem , Burhan Wani and maybe once again Dawood Ibrahim, showing them as young men who were forced to take the wrong path due to injustice meted on them.
Because no stupidity is enough in this country.
Save