Never did one imagine that one of the non performing branches of the government machinery will now be galloping towards unprecedented growth, with new milestones set as each day progresses. But that's INDIAN RAILWAYS for you. Ever since Suresh Prabhu made it clear in his first rail budget that 'improving services is more important than populism', he is one of the few railways ministers who has religiously stuck to his quote.
Adding to the Ministry of Railways' overwhelming success story is the recent issue of the Indian Railway Tourism and Catering Corporation (IRCTC), which has registered an annual turnover for the financial year 2015-16 of Rs. 1506 crores, which is a staggering 32% more than the previous year's (2014 – 15) turnover of Rs. 1141 crores.
For a body of the rail sector, which was going downhill for almost the past one decade, since 2015, the recovery and progress is nothing less than phenomenal.
A major chunk of the turnover can be attributed to the internet ticketing (E Ticketing) services, which has registered an earning of over Rs.  600 crores, compared to a meager Rs. 308 crores in the previous year.
A segment wise diagram displays the share of various services provided by IRCTC, which contributed in the phenomenal turnover of IRCTC this year.
As described in the Annual General Report of the IRCTC, presented at the 17th AGM of Indian Railways, the situation is quoted as below:-
"Segment-wise, IRCTC's income was distributed among Internet ticketing, which accounted for 43%, followed by Tourism 26%, Departmental Catering 18%, Rail Neer or packaged drinking water 8% and Licensee catering 5%.
The company earned Rs 255.5 crore from departmental catering, Rs 76.49 crore from licensee catering and Rs 375.02 crore from tourism (earned Rs 362.37 crore in FY15)."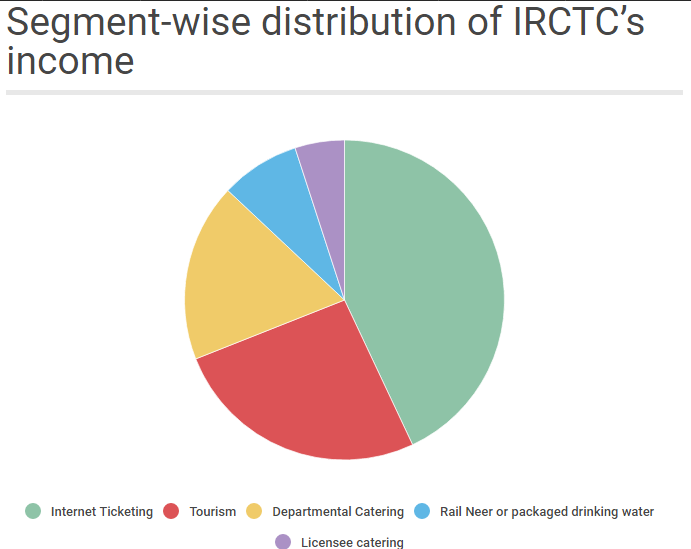 This is not just it. According to the Report, IRCTC has also registered a net profit of Rs. 181 crore, as compared to the previous figure of Rs. 131 crores.
As per the report, the net worth of IRCTC rose by 22% in FY16 to Rs 542.07 crore while it was Rs 444.25 crore in the previous fiscal year.
For people like ex Railways Minister Lalu Prasad Yadav, who questioned the authority of Suresh Prabhu as the Railways Minister, this should be a fitting reply, because Indian Railways nowadays just doesn't like to talk with only figures.
A major portion of IRCTC's success can also be attributed to its largely improved customer interface, and the systematic overhauling of the catering services.
Once irritated by the bland, sometimes rotten food from IRCTC, passengers now have access to clean, quality food from any caterer, right at his / her seat.
A tweet to the Railways Minister solves problems like never before. Still doubting the railways' improvement? Think again, mate!
Also, in a record for fourth year in a row, IRCTC has received nil in the Comments section of the Report from the Comptroller and Auditor General of INDIA, Mr. Shashikant Sharma. A nil from C & AG means a lot to any industry in INDIA, since any comment means that there is a problem with the concerned firm.
Pleased by the growth success, AK Manocha, Chairman and Managing Director, IRCTC, said, "The Company witnessed sustained growth and high performance during FY 2015-16. It also earned 'Excellent' MoU rating from the Govt. of India in 2015 and is poised to retain this rating for FY 2016. If the company continues with its present pace of performance, it would be part of Fortune India 500 list of companies in the next two years."
Besides the growth, the popularity of IRCTC is also growing among the masses by leaps and bounds.  Within a month of the launch, IRCTC has reported that over one crore users have applied for the Rail Travel Insurance Scheme.
The optional insurance scheme has elicited an extremely favourable response from the rail passengers. In less than a month, the passenger-friendly measure has been opted for by around one crore passengers till Thursday (September 29)," AK Manocha said.
For those, who don't have a clue about it, the radical scheme, announced in the Railway Budget 2016-17, allows a passenger to get an insurance cover of up to Rs 10 lakh on booking a train ticket online by paying just 92 paise.
The scheme offers the following salient benefits:-
Travelers or their families shall receive compensation of up to Rs 10 lakh in the event of death or permanent total disability, Rs 7.5 lakh for permanent partial disability, up to Rs 2 lakh for hospitalization expenses and Rs 10,000 for transportation of mortal remains in the event of death or injury from a place of a train accident or an untoward incident, including terrorist attack, dacoity, rioting, shootout or arson, as well as for short termination, diverted route and Vikalp trains.
The facility is available for all railways passengers who book the e-ticket, excluding sub-urban trains, through the IRCTC's website, irrespective of the class of the ticket.
The insurance cover is uniform for all classes and the option is available through a checkbox at the time of e-ticket booking. The premium amount is automatically added to the ticket fare if the passenger opts for insurance. After the ticket booking and payment of premium, a message shall be displayed to complete the nomination details, which are necessary to settle the claims on timely basis.
Users wanting coverage for children below five years of age have to furnish details of the child at the time of booking and accordingly travel insurance premium is added to the total amount payable.
However, there are some conditions as well:-The coverage is valid from the actual departure of train from the originating station to actual arrival of train at the destination station, including the boarding and alighting process.
Post-accidental medical treatment and transportation of mortal remains are also provisioned for all insured under the scheme.
The scheme is being implemented by Indian Railway Catering and Tourism Corporation (IRCTC) in partnership with ICICI Lombard General Insurance, Royal Sundaram and Shriram General. For the same scheme, over 17 insurance companies have been shortlisted.
For a corporation, whom nobody cared a damn initially, the popularity in bookings for the scheme is to describe in one word: unbelievable.
If that is enough for you to be overawed, let me tell you something more. In a personal e mail trail to its subscribers, IRCTC has suggested the participation in following:-
What IRCTC is suggesting that its catering services be overhauled, and it needs suggestions from the subscribers of the online service to make it a better experience altogether.
To cut the long story short, IRCTC is now no longer the same old website with awfully slow connections, and easily hack able for enemy hackers.
With 32% growth all over, holistic, improvised services and a customer friendly attitude, IRCTC, backed by a resurgent Indian Railways, is bound to achieve new heights, making Indian Railways an experience to remember.
Thank you IRCTC, Thank you Suresh Prabhu, for making this possible.
Source:-
http://www.zeebiz.com/companies/news-irctcs-turnover-rise-by-32-in-fy16-e-ticketing-major-contributor-6612
http://www.ptinews.com/news/7927077_1-Cr-passengers-opted-for-rail-insurance-in-1st-month-.html
Save
Save