In a keynote address at an event by Japan India Association, Prime Minister Narendra Modi said "We are no longer snake charmers, we are now mouse charmers". He was referring to the fact that India is now one of the largest technological hubs in the world and among the top 5 software exporters globally. And he was right, Snake Charming is not a booming business anymore, but worshipping of Snakes on Nag Panchami is still very much an indispensable part of Hinduism.
And it's heartbreaking to see so many Hindus cracking jokes each year on the Nag Panchami day, comparing evil politicians with Snakes, and dedicating the day to twisted and vile people. It certainly reflects the lack of knowledge about this beautiful festival that underlines the Hindu Philosophy of Peaceful Co-Existence.
Nag Panchami – The Backstory
Pandav Scion Parikshit died due to the bite of a snake called Takshak. To avenge his father's death Janmejay, performed a Nag Yagya to annihilate all the snakes in the world. Vasuki, the King of the snakes, was extremely worried. He approached his nephew Aasteek who happened to be a great scholar of the Vedas. Aasteek agreed to go to King Janmejaya and request him to stop the Yagya.
When Aasteek reached the venue, he was stopped by the sentries. Aasteek then started to sing chants in praise of the Yagya aloud. His voice reached Janmejaya and he gave him permission to sit beside him and attend the Yagya. In no time, Aasteek impressed every single scholar in the gathering. Pleased, Janmejaya asked the boy for a wish.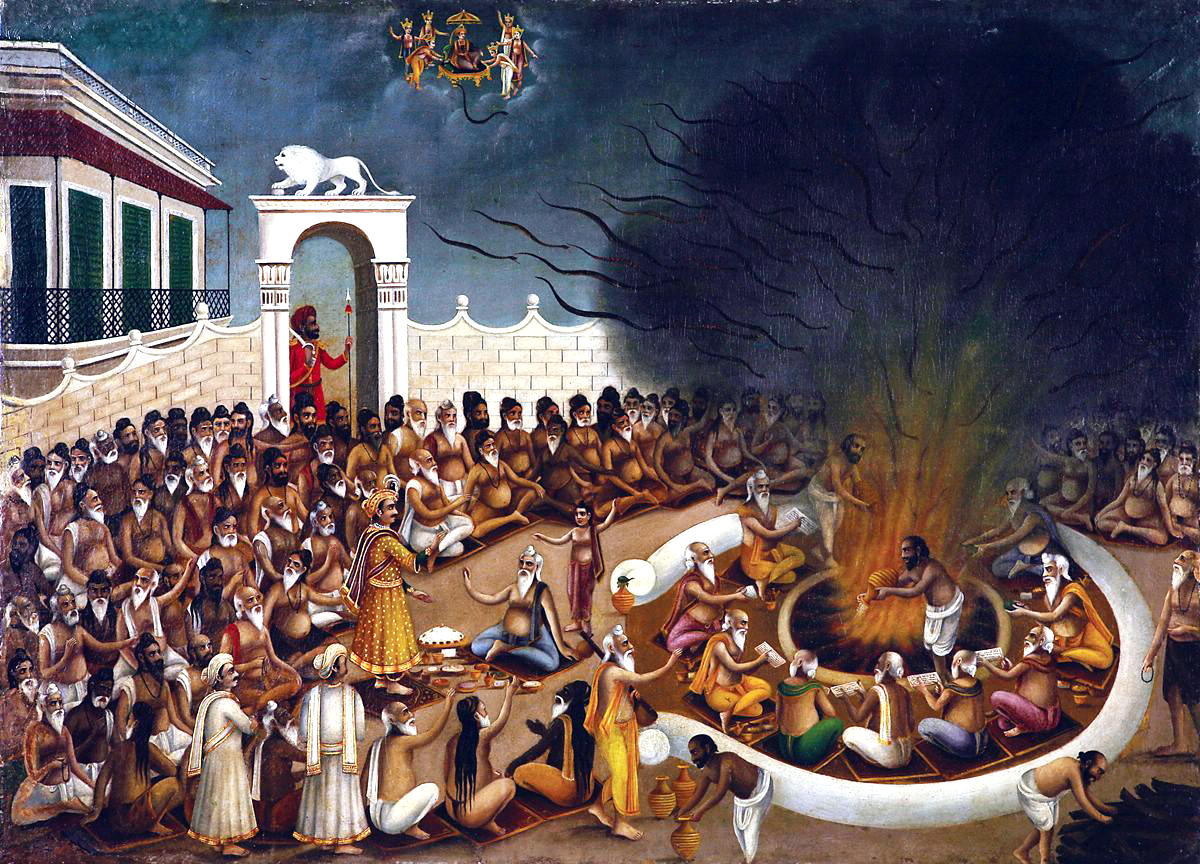 In the meantime, Takshak had gone to Indra and Indra had promised full protection to Takshak. The Rishis chanted such powerful mantras that even Indra started falling towards the great fire with Takshak. Indra left Takshak to fend for himself and Takshak continued to be pulled towards the fire with each passing minute.
Back at the venue Janmejaya turned to Aasteek and requested him to ask for anything that he wished for. Aasteek asked Janmejaya to stop the Snake Yagya so that the snakes who were left could survive. Janmejaya tried his best to persuade Aasteek to ask for anything other than this. Aasteek was not one to give up easily, he asked Janmejaya to stop the Yagya. He also explained why snakes are an important part of nature and without them Human Beings will find it difficult to survive. Janmejaya had to relent and he stopped the Yajna, putting the fires out. Aasteek stopped the rapid descent of Takshak towards the fire by chanting counter mantras. It was on Nag Panchami day that this incident took place.
Snakes: An essential part of Indian theology
Snakes are an essential part of Indian theology. All three gods of the divine trinity have direct association with snakes. Devadhidev Mahadev has the king of snakes Vasuki, garlanded around his neck. Lord Vishnu resides on Ananta or Adishesha, the infinite divine snake with its endless coils floating in the waters of the cosmic ocean in Vaikuntha Lok. According to Varaha Purana, Lord Brahma's son Kashyapa had four wives. Kashyapa's third wife Kadroo gave birth to Nags (snakes).
Nags Manasa, Vinata and Aasteek find important mentions in Hindu scriptures like Mahabharata, Padma Purana, Varaha Purana and Markandeya Purana. Shiv-Putra Ganesh wears snakes as Upavitam.
The symbolism of Snakes
While Christianity simply denounces Snakes as Evil and Satanic, the symbolism of snakes in Hindu Dharma is highly complicated, they are both evil and upright. While Kaaliya Nag harasses hapless villagers and is cowed by Lord Krishna who performs a celestial dance upon its hood, Nagraj Vasuki offers itself for the noble cause of churning the cosmic ocean. Hindu scriptures mention Nags are a class of demigods who live in Patala Lok – The Subterranean World. They are supposed to be the custodians of the treasures hidden in the earth.
Snakes are peaceful by nature, but they can be extremely destructive if provoked. The worship of snakes in Indian Theology can be accredited to this nature of the snakes. Ancient Indians were worshippers of nature. All Rig Vedic gods like Indra, Yama, Varuna, Mitra (Surya), Agni, Vayu etc. are manifestations of nature. They were both revered and feared. It is the distinctiveness of the Hindu Dharma that allows the veneration of objects that are by and large dreaded or loathed.
The Uniqueness of Nag Panchami
Nag Panchami is one such unique Hindu festival when snakes are venerated and worshipped and one of the strongest reasons behind the worship is a silent prayer to the snakes that their wrath doesn't curse the worshipper or their families.
The five Nag worshipped on Nag Panchami are Ananta, Vasuki, Takshak, Karkotaka and Pingala.
Now of course we have a cure for even the deadliest snake bites but the custom of worshipping serpents on Nag Panchami technically – Shraavan Shuddh Panchami (The fifth day of the Bright half of the Hindu month Shravan-July-August) stands.
The need to bring information in religious narrative in Nag Panchami
According to a report in The National snakes kill about 46000 people every year in India. And Snakes are slayed by lacs every year due to the fear of being bitten, majority of which are non-venomous and play a vital role in ecological balance. Nag Panchami can be used as a unique occasion to educate people about snake bites, their timely cure and the role of snakes in the ecosystem. There are some NGOs that are doing a commendable job in educating people about serpents but considering the population of India and rampant illiteracy, we clearly need more people and help from the government.