Comparison is natural. We do it all the time. That's how we judge something, all too often. And this weekend many such comparisons will be made. On quality, political orientation, star power, marketing muscle. And most of all on the box office numbers, the holy grail of commercial cinema.
But first, the cinema. Bajirao Mastani is the story of Peshwa Bajirao. The Prime Minister and military commander of Maratha Empire. And he's great at that. This is not a movie about those aspects, though. This is a film about his family life. He is happy with his w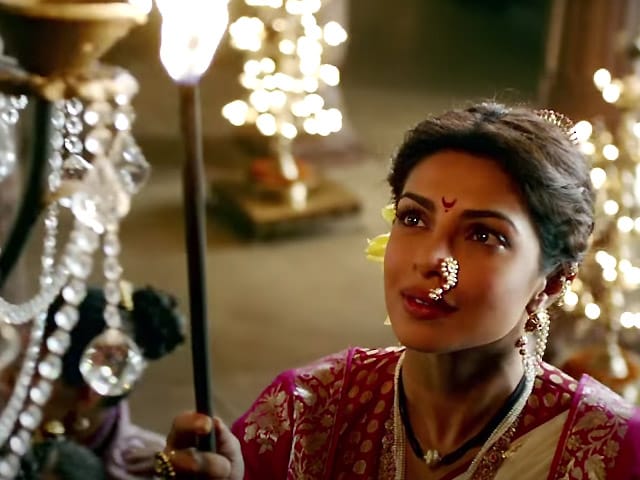 ife, Kashibai, and apparently not a philanderer. Till he falls, hard, for a Muslim daughter of a minor Hindu King. She is not accepted by the hierarchy of Peshwas. Of course. And Bajiao rebels against his own people and family. Very standard, right? Love versus the world, sweetness and purity against the rancid dirt of politics. Well, not quite.
This is the part that impressed me the most. This movie is not just about the love and passion of Bajirao & Mastani. It is also about the anguish of the family he left behind to pursue Mastani. His innocent wife, his growing son, his mother. Their pain is real, their complaints have a point, and the film is sympathetic to them. Especially to Kashibai, played by Priyanka Chopra in a m
esmerising performance.
But the scene stealer is Ranvir Singh as Bajirao. Ranvir infuses the character with a manic energy, combined with stability and at times pathos. Even when distraught, Bajirao exudes energy, but even at his most exuberant, he retains dignity and poise. This was a tough balance, and Ranvir has pulled it off with seeming ease.
Well enough of the good stuff. This is not a flawless film by any definition. The music left me cold, and the over designed sets and costumes were a distraction. The war scenes were, well, not what the director put his heart in. Not bad, but not sizzling either. And the movie was way too long. I forgive, however, the director, because he got many things right.
And so the comparisons start. How real is this? Frankly, I don't know. And crucially, I'm now curious to know. Not necessarily about the love triangle, but definitely about the history of the period, which seems fascinating. That's a good thing for a "historical" movie to inspire.
I was not so inspired b
y the other recent Hindu-Muslim royal love story: Jodha Akbar. That movie seemed like an overindulgent display of superficial feelings. This movie, overindulgent as it is, seems to come from a real place.
This has been a great year for Deepika, but alas, she is not whom you remember when you walk out of the theatre. For the first time since Cocktail, she is not the best thing in her movie. This is not to say that there's anything lacking, the other two are just so good. Priyanka Chopra, in another courageous career choice, makes the older, neglected wife the focus of attention, regardless of the writers intended.
And lastly, the comparison that will be made the most: Dilwale. Dilwale will certainly win the sprint. It will reach the easy, meaningless milestones first. But it will do so carrying the load of almost universal criticism. From critics to friends, nobody has much good to say about it. No one has recommended it. Does that mean that it will lose the race in the long run? Who knows, really, but I will say this: This is the time, Bollywood fans. This is the choice. You have a mega star with his own production designed and calculated to make as much money as it can. An insincere actor with an insincere director, looking to cash on. And on the other hand you have a sincere, serious director trying to make a movie he really believes in. A movie he has wanted to make for last ten years. You also have some actors giving their all to their roles. In a medley where an actor like Deepika Padukone comes third. An ambitious, risky project pitched against the superlative marketing machine of SRK Inc. Choose wisely.