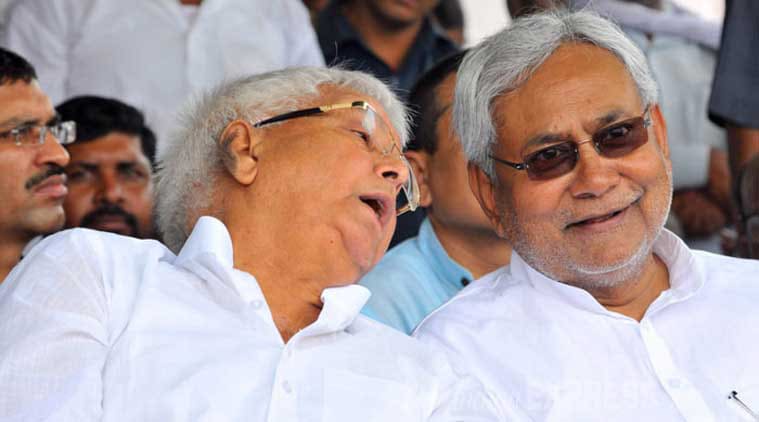 No more Modi Sarkar?
After months of cacophonous campaigning, Bihar has announced its decision to go with Nitish Kumar. Results pointed at an overwhelming desire of the electorate to give another chance to the Nitish Kumar(along with his secular allies). BJP on the other hand has been cast aside and its allies have been decimated. For the next several days, we will be subjected to detailed analysis on what these results mean and how this will impact national politics. Modi government is now 1.5 years old, it has another 3.5 years to prove to the electorate why it deserves another chance in 2019. Already as it is hemmed in by the lack of parliamentary support for its bills, a resurgent opposition and spitfires from within, the BJP will need to redouble its efforts to accord a sense of stability to the Modi sarkaar. If Delhi was a comma in the BJP's history march, Bihar is a full stop. The party will now need to examine the results carefully to ensure that it is able to turn the tide around in West Bengal, UP and other states that go to polls in the next couple of years. As a BJP sympathizer, who is fed up of 7 decades of Congress and Third Front misrules, I would like to see the party take the following 6 steps:
1. More of local Leadership and less of Modi
BJP must move away from overusing Modi in every election. This strategy dangerously exposes the PM to failure. I will not be surprised if analysts claim that Bihar has rejected Modi, or Delhi has rejected Modi, because it seemed like the contest was between Modi and the local leaders, and if the latter won, it is because people rejected Modi. It is essential for BJP to have a local prominent face, like Shivraj, Vasundhara or Raman Singh who can get BJP votes. This dependence on Modi can be likened to Congress' dependence on Gandhis, and is therefore something that must be done away with at the earliest.
2. Posiitve campaigns
Frankly, people are now tired of Modi's election rallies. Modi's speeches were fun in 2014, they were bold, abrasive and positive. That was when BJP was an opposition party and NaMo was Gujarat CM. Now that Modi is the PM and BJP is the party in power, Modi must choose his words wisely. He need not stoop to the level of regional leaders to win votes. His campaigns must center around his vision and his plans to execute that vision. He must talk about change that people can already relate to. He must stay away from attacking his political opponents, even though it is fun and makes a good election rally.
3. Local realities
BJP's ekla chalo re strategy might have worked in Maharashtra and Haryana, but there is no guarantee that it will work everywhere. In Bihar, for example, the arithmetic was clearly against BJP from the start, yet they chose to persevere with smaller allies like Manjhi and Paswan. BJP's high handedness in dealing with the allies is already rubbing allies the wrong way. BJP will need to realize that their 31% vote share in 2014, still pits them against an overwhelming 69% opposition that needs to be overcome with a combination of respect, dignity and love. Even in the states, where it is the strongest, BJP has seldom won more than 30-35% of the vote share. Accordingly, BJP will have to stop using the allies as disposable, else it is bound to have disastrous consequences for the party.
READ: An Unpleasant Advice to BJP, RSS and all Right Wingers
4. Motormouths within
There is a section within the BJP that wants to see Modi's downfall, that is the only way to judge people like Adityanath, Giriraj Singh and many others. With their controversial remarks, they are succeeding in derailing Modi's developmental agenda even better than the opposition. For BJP to continue as the preferred party for the electorate, it must control these rabid elements immediately. BJP must steer clear of all controversies in the present context. India's political set up demands a centrist government and the BJP must behave accordingly. Beef, Ghar Wapsi and other irrelevant issues must be dispensed with and all discussion must be focussed around development.
5. Media
BJP will need to sharply improve its media management skills. As I see it, our Media is inherently anti-establishmentarian, and now with the hated right-wing Modi government in power, it is succeeding in portraying the government in a poor light. Many of BJP's star spokespersons- Nirmala Sitharaman, Ravi Shankar Prasad, Smriti Irani etc. are now ministers and cannot attend News shows daily. The 2nd generation of BJP spokesperson have neither the finesse, nor the ability to put the party's line across clearly and end up losing points for the party. BJP needs to put in extra efforts to put across its point of view clearly on national Mainstream Media to stay on top of the battle of public perception.
6. Feet on the Ground
Elections are won in individual polling booths and not through Facebook and Twitter. BJP leaders will need to understand that they will need to maintain and strengthen connect with their electorate. For a party that has 7 MPs from Delhi to have 3 MLAs in the assembly is shameful and is symbolic of the lack of connect that local leaders have with the electorate. Similarly, BJP has 22 MPs from Bihar and yet needed Modi and Shah to hold hundreds of rallies symbolizes how confident the party is on the capability of local leaders. Unless the BJP cadres and local leaders make their presence felt in every constituency and poll booth, the dependence on central leadership will not end. And the fact is that central leadership cannot necessarily always win local elections.
BJP should do a frank introspection on why it lost Bihar. Coming close on the heels of the loss in Delhi, BJP must take urgent steps to turn the tide. Otherwise tragically, it will not take long for the countdown of Modi Sarkar to begin.