Late city edition                                                                                                                                21st October
-x-x-x-x-x-x-x-x-x-x-x-x-x-x-x-x-x-x-x-x-x-x-x-x-x-x-x-x-x-x-x-x-x-x-x-x-x-x-x-x-x-x-x-x-x-x-x-x-
Why Modi must stem the flow of Pakistani Hindus
By Sanwarika Bose
Pakistani Hindus in Slums
The latest menace in our already overpopulated capital city is the influx of Hindus from neighboring Pakistan. Estimates say millions of Pakistani Hindus have arrived in India ever since Modi took power last year. Everywhere you see, there are Pakistani Hindus, with their torn clothes, disheveled appearance, uncombed hair, living in their shaggy hovels that they have set up in posh localities in the capital city. For Modi, this may seem like a crowning achievement but for millions of denizens of the national capital, these dirty masses are a source of embarrassment. For years, the BJP has been crying itself hoarse over what it says are illegal Bangladeshi migrants. The same party is now bending over backwards in trying to legalize the stay of Pakistani Hindus. This in itself smacks of lack of secularism and double standards. My top 5 reasons why Pakistani Hindus must be sent back to Pakistan-
1. Say NO to double standards
Many of our Kashmiri youth have mistakenly crossed the border over the years. In spite of the fact that these youngsters are our citizens, no government has made any attempts to get them back from Pakistan. If we cannot support the rights of Kashmiri youth to repatriate to their mother country, why are we shedding tears over people who belong to Pakistan? Are these Hindus not Pakistani citizens? By allowing them to stay in India, do we not risk spoiling our relations with our neighbors?
Misguided Kashmiri Youth
2. National security
These Pakistani Hindus will serve as ready manpower to serve in communal Hindu terrorist organizations such as RSS, Shiv Sena, Bajrang Dal, VHP etc. They will create disturbances between Indian Hindus and minorities. I think this is nothing but a Pakistani ploy to destabilize India.
Hindu terror factory
3. Help those in need
Bangladeshi immigrants are more needy and deserving of our attention. Many of them come from one of the most impoverished places on this planet. They need our help and support in the form of houses, ration, cars, ACs etc. These Bangladeshis have never experienced even the basic luxuries, unlike Pakistani Hindus who come from Havelis and have historically been the landowning caste in Pakistan that has oppressed the economically weaker sections. Clearly, Bangladeshis need our assistance more.
True Friend- Indian voter I card for Bangladesh PM
4. Religious Balance
Modi government is deliberately fanning the flames of communalism by trying to import Hindu foreigners to upset India's delicate secular balance. It is trying to inflate Hindu numbers artificially to buttress its claim that India is a Hindu nation.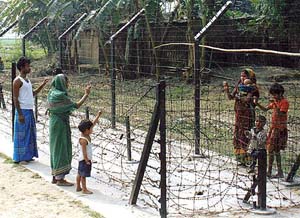 Illegal Hindu infiltration
5. Beauty
These Pakistani Hindus have no sense of cleanliness and hygiene and create slums wherever they go. This is a blot on our nation's capital.
-x-x-x-x-x-x-x-x-x-x-x-x-x-x-x-x-x-x-x-x-x-x-x-x-x-x-x-x-x-x-x-x-x-x-x-x-x-x-x-x-x-x-x-x-x-x-x-x-
Excerpts of Interview with Azam Khan
By Jainiwas Sen
JS- What is your view on Hindu radicalism and the issue of Beef ban
Azam Khan- Hindu terrorists beat up one minority member in J&K Assembly a few days ago. There was no outcry from media. Yesterday, the same minority member was attacked by Hindu fanatics in Delhi. This too has failed to get strong condemnation from the nation. That is why minorities are not safe in India. That is why I had to raise the issue of protection of minorities at the UN. And I stand by my decision. Minorities need protection from Modi government that is hell bent on straying us from our faith and converting us to Hinduism. That is why the whole brouhaha on Beef eating. I want to tell all my secular Hindu brothers that lies are being spread on the issue of Beef. It is only the RSS and VHP people who don't eat Beef.
A sickening sight
From Vedas to Upanishads to Bhagwat Gita, all extol virtues of Beef eating. In fact, centuries ago, a piece of Beef used to be put in the mouths of new born Hindu babies as a sign of good omen. Cows used to be sacrificed during ceremonies and Beef used to be served openly. It is only in the recent times that Beef eating was made taboo  by Brahmins of VHP and RSS. It is time that secular Hindus see through their nefarious designs and foil their motives.
I strongly recommend that every secular Hindu sacrifice a cow during Navratras to prove his loyalty to secularism. Not doing so would only embolden the government which may tomorrow ban even meat, chicken or even milk. All secular Hindus must unite in consuming Beef. This festive season, we must throw beeef parties to make our opposition to the government's plans clear.
Let us tweet #Cowisnotmymother till it reaches Modi's ears.
-x-x-x-x-x-x-x-x-x-x-x-x-x-x-x-x-x-x-x-x-x-x-x-x-x-x-x-x-x-x-x-x-x-x-x-x-x-x-x-x-x-x-x-x-x-x-x-x-
From our readers:
Yesterday, I saw a Hindu man walking on the street with a Tilak on his forehead. It was most unsightly. Why can't Hindus be modern like other communities? When will we get rid of our superstitious and unscientific thinking
-Committed Secular
100% yuckworthy