China BRI Project: When the Soviet Union collapsed in 1991, there was a hullabaloo all across the world. The Soviet Union was a heavily industrialised state with authoritarian response to every problem. It always remained in the top 5 economies. When it collapsed, the expectation was that the global economy would collapse as gross productivity would go down. Why not? 15 new nations were learning how to govern themselves. It's foolhardy to expect growth from them. The result was totally opposite of expectations. Global GDP went up after the collapse of the Soviet Union. It was probably more bizarre than the political collapse of the Union.
Apparently, book-keeping in Soviet Russia was never up to the mark. Their numbers were not accurate. Lucky for the world that statistical distortion proved to be good for it. It is not always going to be the same. The kind of statistical distortion that has been used to justify the Chinese Belt and Road initiative is proving to be apocalyptic. Its extrusive death is going to leave nations in debt, roads half-constructed, buildings empty, heads of states without any support, family heads without family, parents without children, destitute children without parents and many more. The mayhem is on the way and Pakistan has provided us with a snapshot.
Larger than life prediction for BRI of China
When the Chinese put forward their plans for the Belt and Road initiative, they got global support. Not even the Americans spoke against it. Multilateral financial institutions, private consultants and agencies were full of praise for it. The World Bank estimated that BRI of China has the potential to boost trade flows in nearly 150 countries by 4.1 per cent.
The cost cutting was estimated to be in the range of 1.1 to 2.2 per cent. Its impact on the GDP of East Asian and Pacific developing countries was supposed to be incredible. The average GDP growth in these regions was projected to be somewhere between 2.6 and 4.9 per cent. In its later reports, the World Bank informed 7 billion people that the China BRI would increase income by 3.4 per cent and bring 7.6 million out of poverty.
London-based consultants Centre for Economics and Business Research, estimated that by 2040, BRI would lead to an annual increase of $7.1 trillion by 2040. It also predicted that the project would invite more and more countries.
If we assume that institutions like these were not flooded with people with vested interest, then prima facie it makes sense. I mean, the project is spread all across the world. It encompasses continents like Australia, Asia, Africa and even Europe. Countries coming under its ambit include democracies, autocracies and dictatorship. Even the most gullible ones would assume that Chinese are doing it with some sort of preparation and risk analysis. China being well accepted as a WTO member is another point which would go in its favour.
Understanding BRI and its importance
The Chinese built the foundation pretty quick. In 2013, Xi Jinping officially announced the initiative. In later years, the project became so important for Jinping that he deemed it fit to put the project in the official Chinese Constitution. BRI was and in fact is crucial for Jinping's foreign policy.
Jinping has formed a Belt and Road Construction leadership group for this purpose. It reports directly to the State Council of China and is composed of several political heavyweights. BRI has different forums for different regions too. For Africa, it is Forum on China-Africa Cooperation (FOCAC) while for the Arab World it is China-Arab States Cooperation Forum (CASCF).
The project's financing is taken care of by nationalised Chinese Banks, Asian Infrastructure Investment Bank, Silk Road fund and other debt instruments.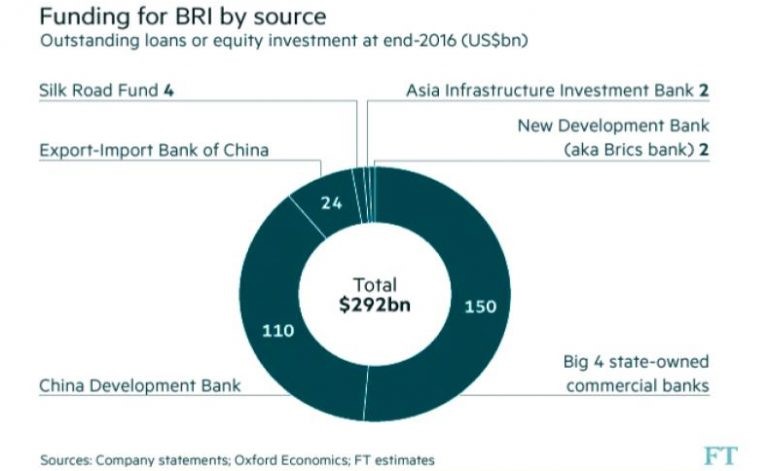 China has poured money into countries that need it most. In 2013, it invested $93.38 billion in countries under the ambit of BRI. With some minor fluctuations, the number kept increasing for a few more years, until Covid-19.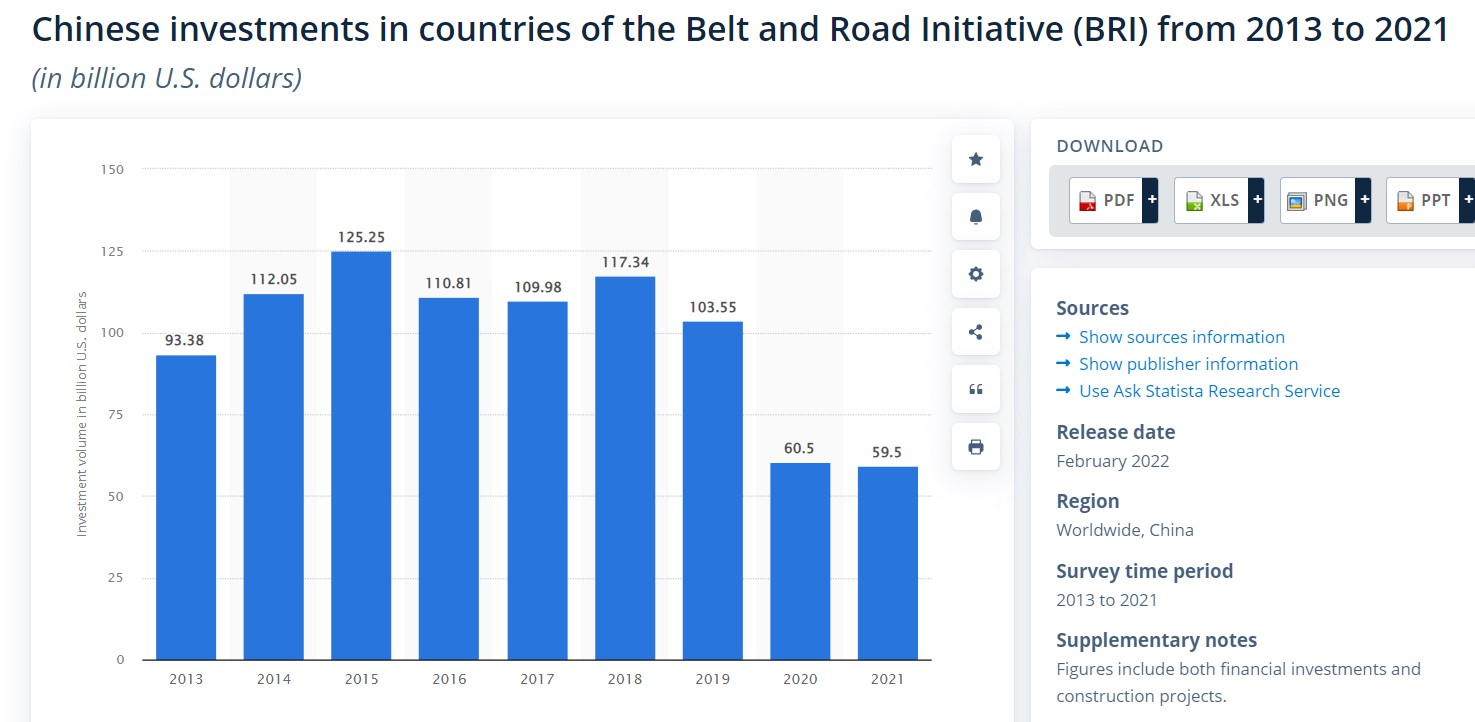 Chinese money in Project
The individual breakdown of Chinese debt exposure to these countries is a fair way to measure China's intentions. In Asia, countries like Pakistan, Sri Lanka and Bangladesh became the main target of China. In Sri Lanka, China has invested more than $15 billion. It has used this money to suppress the island nation rather than anything else.
Similarly in Pakistan, China has invested more than $65 billion for the overly ambitious and impractical China Pakistan Economic Corridor. In neighbouring Bangladesh, the projected cost of China's overall investment is well above $40 billion.
Talking about Chinese investment in Africa, between 2013 and 2020, sub-Saharan Africa comprised 21 per cent of total Chinese investment in BRI. Only China's neighbouring East Asia could topple it with 26 per cent of total share. Energy, transport, metals and real estate are the main sectors in which the Chinese invested.
Until 2021, China had poured more than 70 per cent of $1 trillion into the countries participating in BRI. With such a hefty amount, it is worthwhile to check the return on investment. That is more important than just a business analysis. The Chinese have been often accused of appropriating countries' sovereign powers in the name of BRI. Their control on lending institutions and opaque rates of interest are cited as evidence for these claims. Additionally, their hostility towards India, a country which chose not to participate in BRI chaos, does not give a good signal.
Mayhem in Asia
First, let's talk about what happened to Asian countries that happily participated in the Asian section of the project. CPEC is struggling to get going. Even those small projects that the Chinese have completed are turning out to be faulty. With floods leading to civil war in Pakistan, there is little to no possibility that CPEC completion could see light of the day. Why would they, if locals are not happy with it? So, where does it leave Pakistan?
Well, Pakistan is left with China occupying its territory and a massive national debt of nearly $29 billion. How big is it? Well, for context, it is more than double that of Pakistan's forex reserve. There is no way that Pakistan could pay it back and the Chinese won't ever be lenient towards it.
Pakistan had a chance to learn from Sri Lanka. Chinese involvement led to civil unrest in Sri Lanka. Sri Lanka's forex reserve nosedived while the Chinese kept mounting pressure on them for repayment. At last, India, US and other countries pitched in to save the island nation from tribalism. Similarly, Bangladesh is on the gates of IMF to save itself from the onslaught. And that is despite them beating India in per capita income.
Indonesia, Vietnam, Myanmar, Laos and Malaysia are some of the other countries in the region bearing the brunt of trusting China's BRI.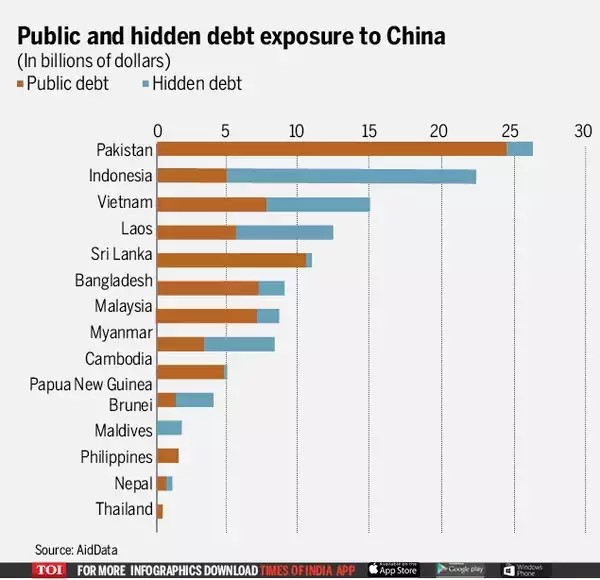 Severely affected regions
While these countries have strong neighbours, namely India, to protect them, non-Asian nations have literally very few avenues to go. Consider Djibouti. It asked China for support and in return, the Chinese buried it under debt. Between 2014 and 2019, China's debt to the country increased by a massive 569 per cent.
China now comprises over 50 per cent of external debt to the country. In Uganda, China comprises over 38 per cent of debtors. It recorded a 438 per cent jump in overall trade. Here is a graph depicting the full impact of the Chinese BRI on the national debt of countries facing worse of China.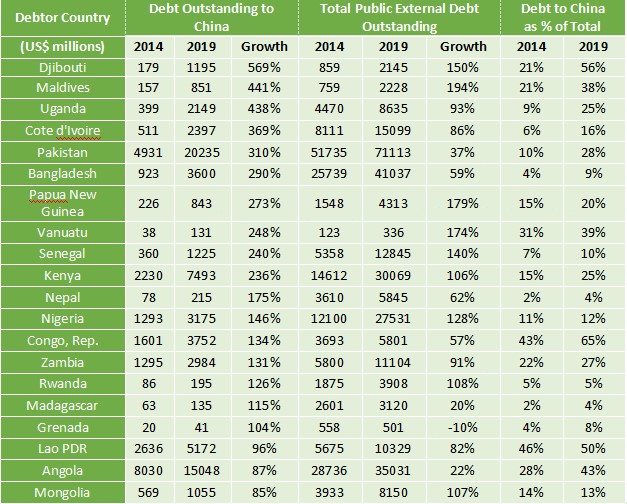 Countries severely affected by China's debt-trap include Djibouti, Maldives, Uganda, Côte d'Ivoire, Pakistan, Republic of the Congo, Bangladesh, Nepal, Madagascar, Nigeria, Rwanda, Mongolia and Grenada. China is now the highest bilateral creditor to 52 countries falling under BRI.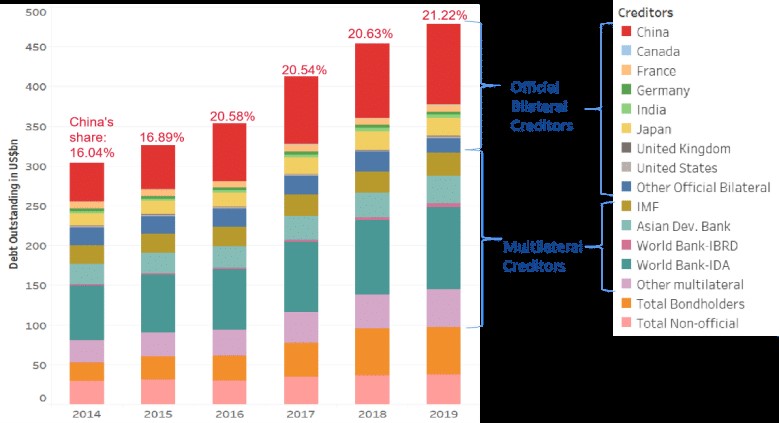 The height of tragedy is that, lots of countries could not get large chunks of promised money due to corruption and other reasons. These Include Russia, Indonesia, Pakistan, Iran, Nigeria and Egypt among others.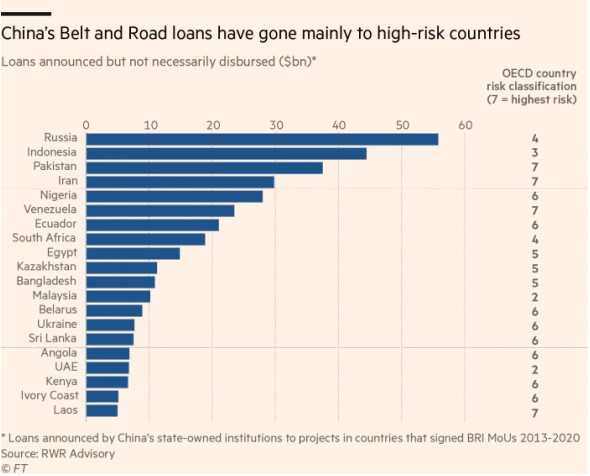 Also read: 'Poof…. and it vanishes,' India tramples upon China's BRI
The bubble has burst
China kept building asset bubbles and it had to burst one day. As soon as Covid-19 struck, lots of countries got an opportunity to rethink on the BRI project. They realised that they are neck-deep into Chinese debt. The demand for waiver, restructuring and rescheduling started to gain momentum. China tried to allay their fears by cancelling lots of non-substantial debts given to mini countries like Sudan, Angola, Zambia, Zimbabwe, Mozambique and Cote D'Ivoire. China also pledged its allegiance to the Debt Service Suspension Initiative (DSSI) under the G20 scheme.
Expectedly, the moral posturing has not proven to be good enough for maintaining China's credibility. The fact is that, Chinese establishment itself does not trust the viability of this project. At least, not the earlier established trajectory. In the year 2021, a large part of the destiny of its BRI investment shifted away from East Asia and Sub-Saharan Africa. Instead, MENA region and Europe got a boost in percentage share.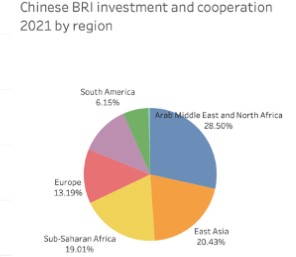 Is China not interested in BRI anymore?
Surely, there is a geopolitical angle to it as China is trying to replace America in both regions. But then, how would you explain reduced allocation for the dream project of Xi Jinping? In FY22, China invested only $59.5 billion in their flagship BRI project. The figure for FY21 was $60.5 billion, which was $43.5 billion less than the allotment for FY20. That is a steep decline, especially given the fact that BRI countries account for nearly 29 per cent of China's total trade.
China's declining interest is now impacting the on-ground reality too. The deal size of BRI projects has declined steeply. Compared to 2015, the deal size for FY22 was 21 per cent smaller. Similarly, the deal size of investment has declined steeply from $585 million in 2015 to $355 in FY22. It had its main impact on construction sector investment by China. It does not take rocket science to know that this sector is the horse that the project can ride millions of miles.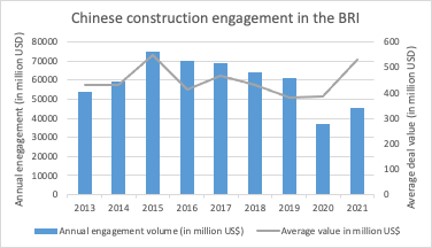 Somehow, it is becoming increasingly tough for China to get this going. There are multitudes of reasons behind it. For one, countries all across the world, especially in BRI territory, are now aware of the debt-trap diplomacy. Local population is also aware of it. Protests against China in Africa, Pakistan, Maldives, Sri Lanka are prime examples of their awareness.
The China collapse has worsened it
Then there is the problem of collapsing China. China's economic recovery from Covid is not yet complete. That is because Xi Jinping has started a war against Chinese oligarchs criticising his policy. Even someone like Jack Ma was not spared. Additionally, big banks are on the verge of collapse due to real-estate and other associated crises. They are the same that poured money into the project. Banks would expect that some return from these projects would help them.
That is next to impossible. The main reason behind it is that, most of the countries that have taken money from these banks are low-income ones. In FY23, they owe 37 per cent of their debt to China. Pakistan leads the pack with $77.3 billion. Angola, Ethiopia, Kenya and Sri Lanka are other big countries on the verge of default. In the case of Maldives, Chinese debt is way over Maldivian GDP. In terms of continent, Africa has to pay $150 billion to China.
Expecting this money to come back is an unrealistic. Glimpses of it are already visible. In October last year, it was reported that two countries were so fed up with China that they refused to pay loans, effectively catching China in its own debt-trap.
And that, ladies and gentlemen, is the destiny of China's BRI. The way their population is getting old and the economy is collapsing, the Chinese are going to be caught in their own debt-trap. BRI is dead! Make no mistake about it!
Support TFI:
Support us to strengthen the 'Right' ideology of cultural nationalism by purchasing the best quality garments from TFI-STORE.COM
Also Watch: