Last few years in the Indian business sector have been filled with news of mergers, acquisitions, amalgamations, capital accumulation and what not. That would mean TATA taking over the control of Air India would have been just another news. And so would TATA's decision to spend billions of Dollars for buying 470 new aircrafts. But this news is not. There are two reasons behind it.
Firstly, Air India is in the aviation domain and normally companies in this sector don't dissipate in thin air. The second reason behind it is that TATA is not a venture capitalist who just wants to increase the valuation of Air India and get away by selling its stake. It is in fact giving itself a compulsion in the form of debt to grind with and stand by Air India forever. Let us decode TATA's long-term strategy behind it. And by long-term, I mean a time period spanning over years. Also, by the end of this article, you will know why the revival will take years, if not decades to materialise
Business model of Airlines
If you analyse the business model of airlines, they have really limited sources of revenue. According to investopedia, 60 per cent of their revenues come directly from passengers' air fares. The other 40 per cent comes from travel partners like credit card companies, banks, hotels, rental agencies and others. But… and there is a big but, even those 40 per cent are dependent on customers. If the passengers are not happy with Airlines, ads will not come.
For instance, passengers were never happy with Air India. Broken entertainment system, delayed flights are just some of the problems faced by consumers. In a 2016 ranking, it was ranked as 3rd worst Airline in the world. And the humiliation was not new for the company. Apparently, Babugiri does not care.
The burden on TATA
The declining reputation is well-documented by its numbers. Between FY17 and FY19, its losses were worth more than Rs 16,000 crore. Mind you, these losses are before tax.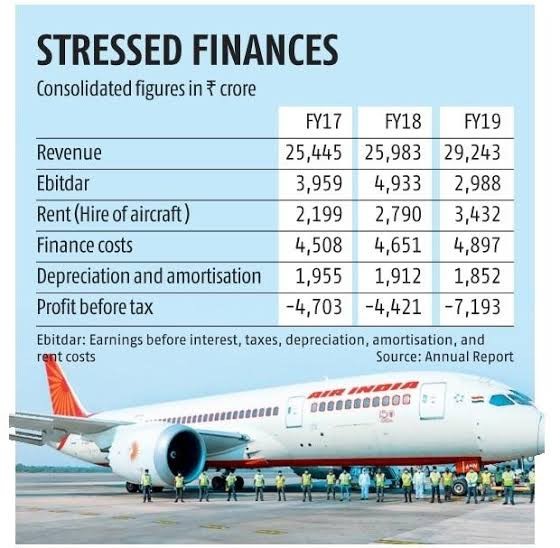 At the time when TATA group decided to buy it, total debt on the flagbearer of licence Raj was Rs 62,300 crore. When the deal was finalised, the government paid 75 per cent of the debt by transferring to a special purpose vehicle. Responsibility of rest Rs 15,300 crore fell on the shoulders of TATA group. Resultantly, out of total Rs 18,000 crore paid by TATA group, the government could get only Rs 2,700 crore.
Pros and Cons of deal
On the face of it, the deal made no sense for TATA. But, they had foreseen a greener side of the grass. Air India in their pocket came up with a total of 144 fleets, second largest in the country at the time and were not utilised at their fullest. Secondly, compared to its competitors, Air India has more bilateral presence, owing to the fact that its legacy has been connected to the government. Other benefits to TATA group include simulator, office space, own building and a trained human capital.
The less green side includes low value on perceptions, no management control and outdated equipment. To solve this problem TATA group decided to leverage its own experience of running 3 airlines namely AirAsia India, Air India Express and Vistara. One of them, Vistara, has been merged with Air India under a new chief executive Campbell Wilson.
Overhauling and need of it
Wilson has taken his own time and come up with his plan. In September 2022, the company released its new transformative plan called Vihaan.ai. There are six main pillars of the new plan namely, exceptional customer experience, robust operations, industry-best talent, industry leadership, commercial efficiency and not to mention profitability. The document also informed the audience that minor changes like refurbishing cabins, serviceable seats, and in-flight entertainment system were already underway.
These changes are the need of the hour as India's civil aviation is changing at unprecedented pace. Currently, it is the 7th largest market in the world. And that is when we only have 129 operational airports. Over the next few years, investments of more than Rs 1 Lakh crore are in the pipeline. The rules regarding FDI have already been liberalised. Country will get 220 more airports by 2025 and within 7 years, India is slated to be the 3rd largest civil aviation market in the world.
Sailing the domestic market
Clearly, the TATA group has lots of grounds to cover. The first target is the domestic market. In Vihaan, the Company itself says that over the next 5 years, it wants to increase its market share to 30 per cent in the domestic market. That is not an easy task. Simply because, India's domestic civil aviation is a kind of monopoly. Let us understand why by observing this latest chart on screen.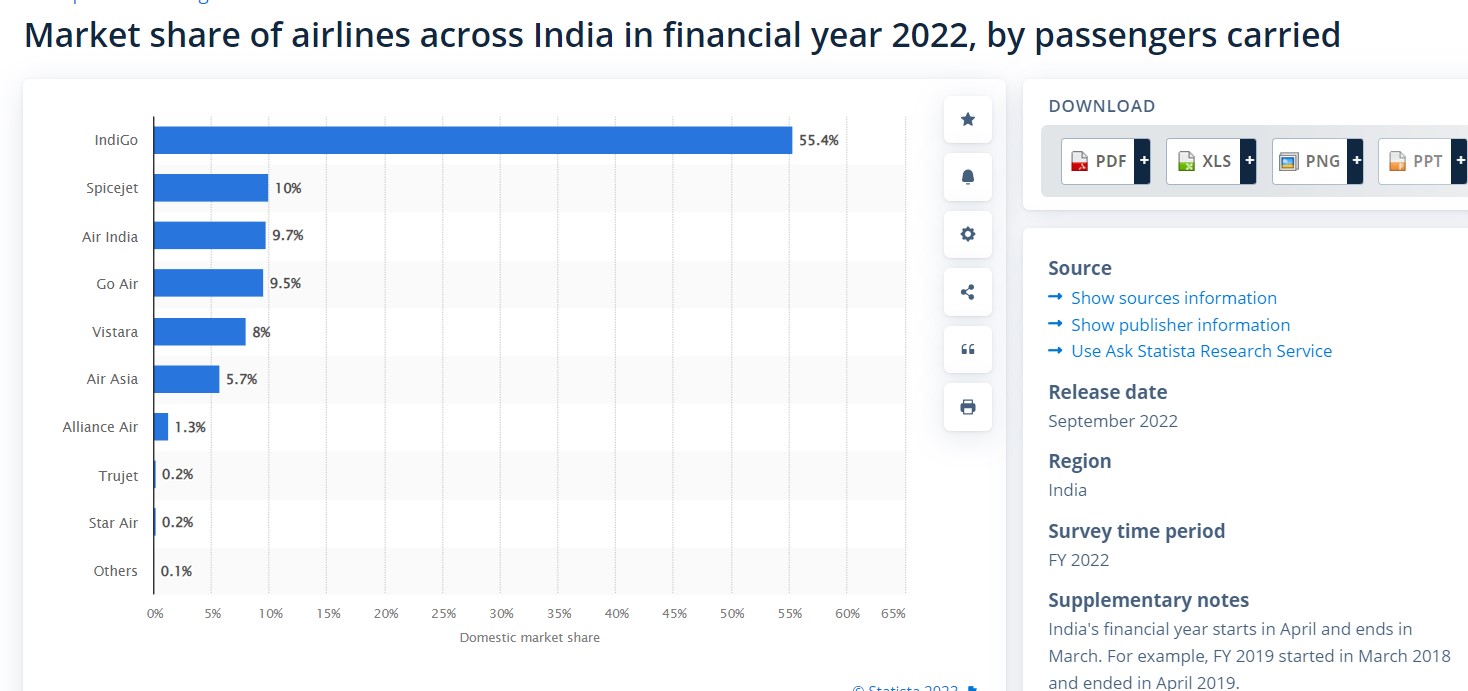 In the year 2022, in line with earlier established trends, IndiGo topped the domestic market with carrying over 55.4 per cent of total consumers. It operates in 76 domestic destinations. Its capability was mainly enhanced by 300 aircrafts it decided to buy in 2019. IndiGo mainly runs narrowbody aircrafts for passengers. These are single aisle aircrafts. Out of its total fleet of 308 aircrafts, IndiGo has 266 aircrafts belonging to narrowbody category.
Also Read: Air India Airbus Deal: The much-awaited revival of Air India is here
Given that Air India wants to counter IndiGo's dominance, it had to do something similar and it has done it. Out of 250 aircrafts TATA has bought from Airbus, 210 are narrowbody. Similarly, out of the remaining 220 aircrafts it has bought from Boeing, 190 belong to the narrowbody category.
Air India will utilise these 400 aircrafts in a total of 46 domestic destinations. With the tremendous rise in fleet size, it is highly probable that the TATA group will expand its footprints in uncovered areas of the country, especially new ones. Additionally, narrow sized aeroplanes will also be used for operations in countries falling in close proximity like Nepal, Myanmar, Maldives among others.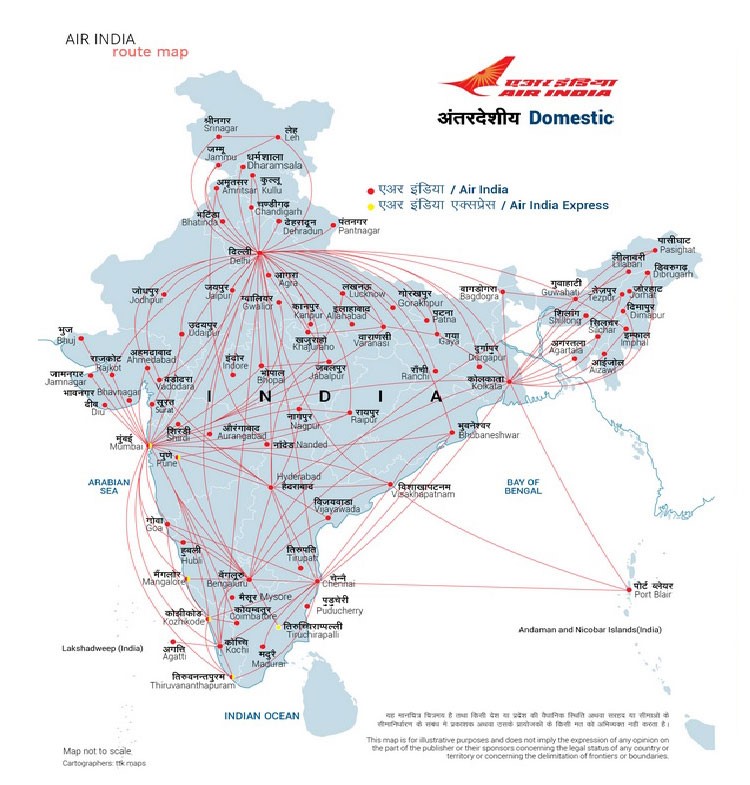 Bigger challenge in international arena
That leaves the countries located far away with serviceable by widebody aircrafts. With 70 widebody aircrafts in order, the fleet strength is set to go over 100. It also has taken aircrafts on lease for the purpose. That is a good number to compete in the international bound segment with IndiGo. To be honest IndiGo is not Air India's competitor here. Simply because, most of its 26 destinations are in nearby countries, so no chance of long-haul flights and narrowbody aircrafts are good enough for them.
In long-haul flights, such as those landing in Europe or America, Air India is a clear winner among Indian operators. It operates in 5 continents. Air India has more than 2738 slots available on its global network, which connects it to 46 locations, including some of the busiest airports in the world, like London Heathrow, New York JFK, Singapore Changi, and Hong Kong. Its subsidiary Air India Express currently controls 651 weekly slots, including ones at crowded airports like Singapore and Dubai.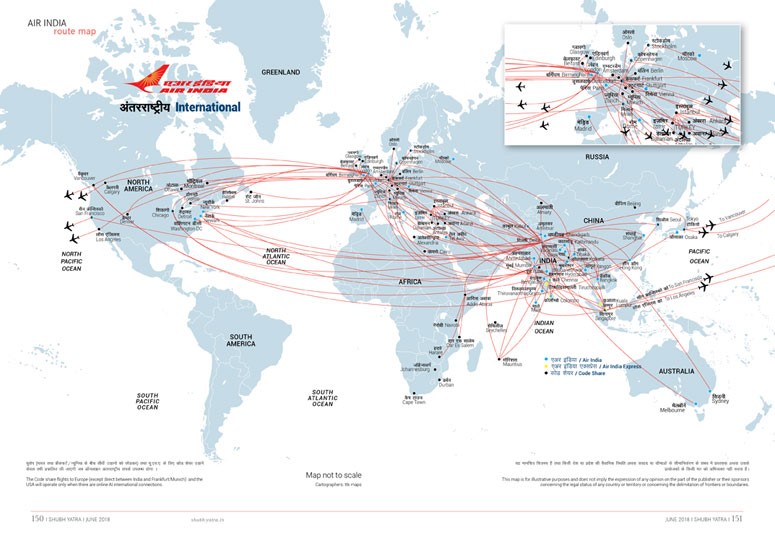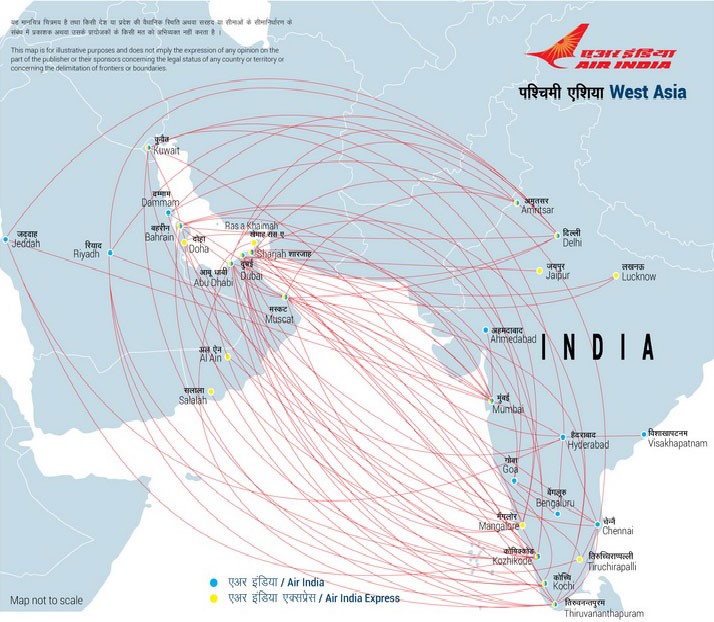 However, it is getting some serious fights from competitors who do not even have their headquarters in India. They include Air Arabia, Qatar Airway, Emirate Airlines, Fly Dubai among others. All of these airways have virtually uncontrolled state support from their respective heads of states. These airlines are a source of soft power for the Middle Eastern kings. It is highly unlikely that they won't increase their fleet size amidst growing competition. TATA Group will have to buckle up more if it wants to fulfil its promise of capturing 30 per cent market share of  international flights emanating from India. Especially, given the fact that, global aviation market is set to grow at CAGR of 25.5 per cent.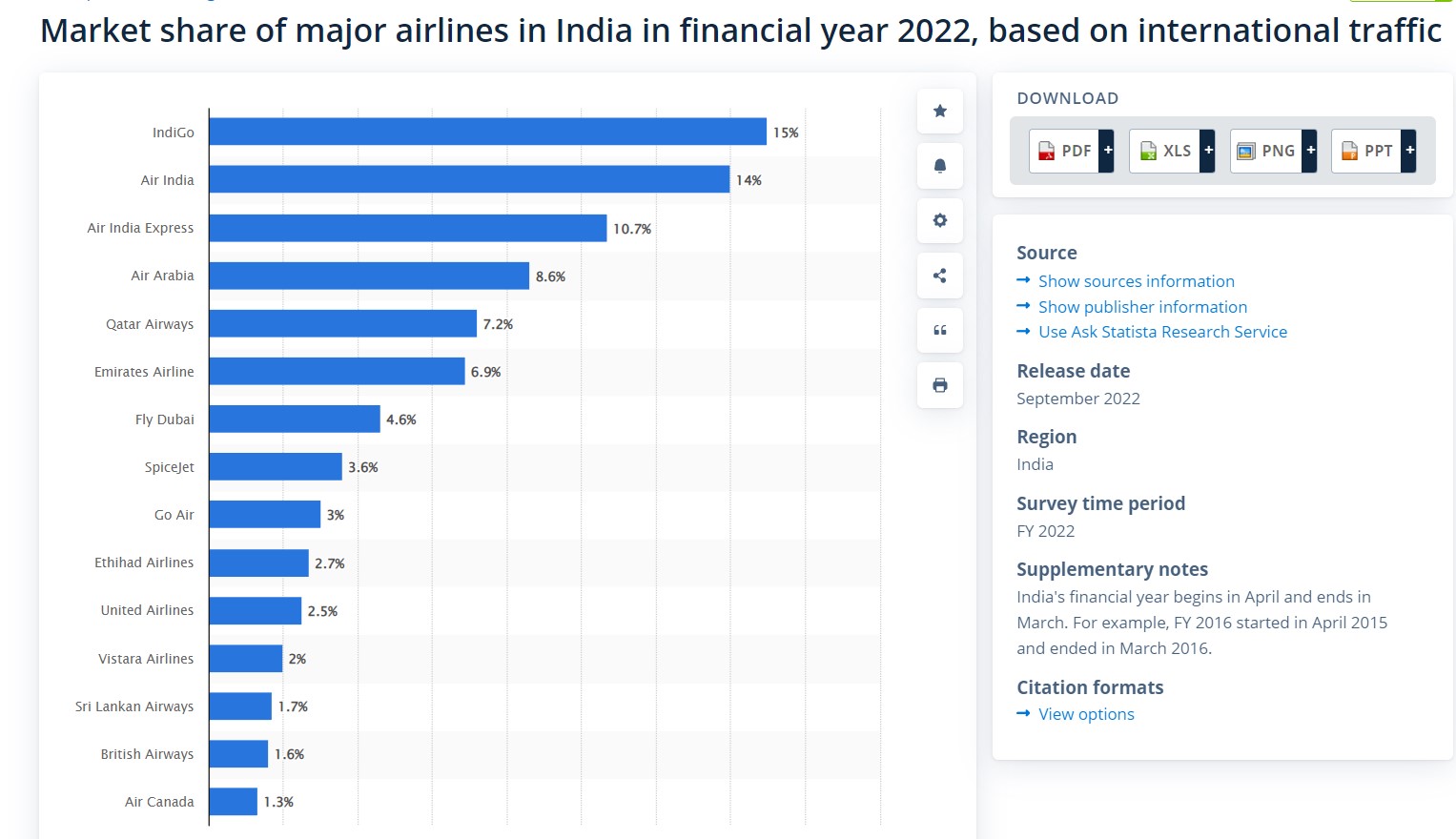 Reason for delay
Now, let's address the elephant in the room. Why will it take TATA years to revive the pre-Nehruvian glory days of Air India? One reason lies in its history. The company was nationalised by the Nehru government in 1953. After that, it was constantly ravaged by crony capitalists sporting the socialist politicians. Remember when Mayawati sent a private Jet to bring her slippers? Air India suffered misuse of more gargantuan proportions than that. It completely corroded the work culture. Since it was connected to the reputation of the government, rarely would any media cover its destruction for the fear of inviting government's ire.
The company kept taking loans, mostly from PSBs, without worrying about repayments. One would expect that LPG reforms of 1991 would reform it, only to get bigger shocks in decades spanning that. Senior employees just completed their formalities as they enjoyed full protection.
Even when TATA bought Air India, the deal has a clause which prohibits the company from firing employees for one year. The new management had to ask a lot of them for voluntary retirement. Thankfully, a lot of them did opt for it. With old members getting accustomed to new ways and new members taking their time for training, it is bound to delay the rejuvenation process.
Hopefully, when the last plane from this contract is delivered by the end of this decade, there is not an ounce of slouch in the company. Big changes take decades. TATA group has to do it in years.
Support TFI:
Support us to strengthen the 'Right' ideology of cultural nationalism by purchasing the best quality garments from TFI-STORE.COM
Also Watch: