Raghuram Rajan first rose to public fame when the news of his accurate prediction of the global financial crisis came to the fore. Following that, he established his image as an economist, which earned him many laurels, including the most coveted post in India's economic space, that of RBI governor. After his governorship ended, the man has often been accused of having political aspirations, which is almost an unforgivable scene in the academic world.
Raghuram Rajjan and Rahul Kanwal in Davos
Recently, Raghuram Rajan was in Davos. Rahul Kanwal of IndiaToday fame interviewed him, mostly on economic affairs. He started with an appreciation of the Modi government's efforts on the hardcore infrastructure front, like roads and railways, among others. But Rajan is not happy with soft infrastructure. He is not happy with India using tariffs.
Rajan said that tariffs not only stop imports, but they also do the same for exports. The rationale behind it is that any country doesn't have cheap availability of every raw material, so availing raw materials at low cost should be the way forward for an efficient export.
#Exclusive
What's your assessment of Modi government's handling of the Indian economy?Former RBI Governor Raghuram Rajan responds. #Newstrack with @Rahulkanwal | #IndiaTodayAtDavos #RaghuramRajan pic.twitter.com/zaQxUnODwL

— IndiaToday (@IndiaToday) January 18, 2023
Raghuram Rajan is right, according to established wisdom. The problem is that India's import basket has shifted after it started to participate in tariff games. Take, for instance, our trade with China. After India imposed tariffs on its final product, China started to push raw materials into India.
The percentage share of capital and industrial goods is increasing in our Chinese imports. In FY22, China accounted for 40 per cent of all goods imported for use in our manufacturing industry.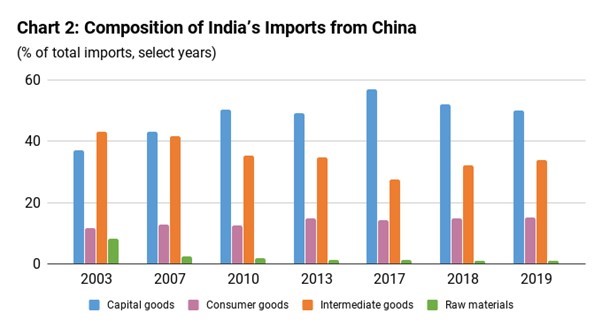 PC: theindiaforum
Raghuram Rajan doesn't find PLI wise
Rahul Kanwal also cited India's electronic manufacturing as evidence. Then Rajan countered it by saying that it is highly subsidy driven. He was hinting towards schemes like PLI. In Rajan's words, it is yet to be seen how many companies would come to India without subsidies.
The problem with Rajan's argument is that it's impractical. Initial years of every industry in a country is largely government subsidy driven. Examples include the British monarchy funding the industrial revolution, exorbitant American industrial growth after the 1880s, or China's unprecedented growth rate before Jinping started to wreck the economy.
Either it was direct government involvement or it was indirect support through authoritarian control over cheap labour and infrastructure like that of China. After a few years of support, democracies leave the private sector on its own, while autocracies like China don't.
Criticises semiconductor push
To refute Rajan's argument, Rahul told him that even Americans are doing the same for their semiconductor industry. Rajan quickly turned to India's semiconductor industry and questioned the wisdom of including big industrial conglomerates in the manufacturing process. He was oblivious to the fact that Foxconn, an established name, had joined hands with Vedanta.
Raghuram Rajan then criticised it on the basis of its low job-generating potential. Rajan concentrated solely on direct high-tech and high-quality job creation. He conveniently forgets that thousands of ancillary jobs are generated by it. A $3 billion semiconductor project in Mysuru is supposed to feed more than 11,500 families.
Rajan also thinks that India will produce bad semiconductors. He believes that India's semiconductor journey will meet China's fate. The problem is that China's journey was halted by first Trump's sanctions and then Biden's Chips Act. As of now, there is no such concern with India. Rahul's contention was that China failed because it is a closed society, while India has a democratic system that is open to innovation.
It is not clear whether Rajan agreed on China's failure, but he did pitch for innovation and research. The crux of his logic was to slow down on manufacturing and divert the massive fund somewhere else.
Rajan has been spending time with politicians
Even in the past, Rajan has not been particularly supportive of India's manufacturing dream. He once asked India to prioritise environmental concerns of the West over job demands of its own population. That assertion was in line with Rajan's established image as a constant critique of the Modi government's economic policies. There is now an internet meme about Rajan doing rounds in India.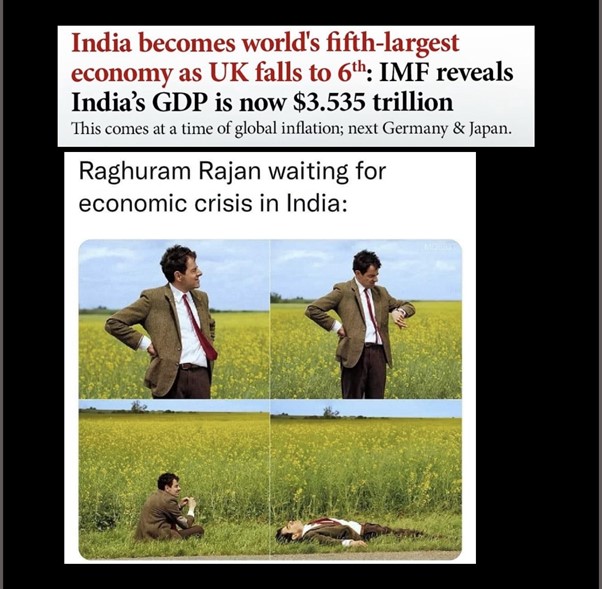 PC: Twitter
In the past few years, Rajan's economic prognosis has started to belie economic as well as common sense. Many believe that it is because Rajan has started to spend time with more politicians than economists. God only knows what is the truth. It is definitely not what Raghuram Rajan is saying in interviews. Because, facts stand opposite to it.
Support TFI:
Support us to strengthen the 'Right' ideology of cultural nationalism by purchasing the best quality garments from TFI-STORE.COM
Also Watch: