It may sound unbelievable, but reel-life glamour is the aftereffect of real-life exploits by professionals. Take, for example, Cricket. Only when Viv Richards pulled Australian quicks bowling over 95 miles per hour for a 120-yard six at the MCG did the glamorization around him begin. It's been decades since Kerry Packer introduced it to the game. Now, it is turning out to be counterproductive and killing it.
Nortje hit by spider cam

In the Boxing Day test match between Australia and South Africa, Proteas quick bowler Anrich Nortje was in for a surprise. While trekking through long ropes of MCG, the fearsome pacer was hit with a spider cam. He and Spider Cam were travelling in the same direction, the direction in which Nortje was stationed on the boundary line. The camera came from behind and hit him in the head. Presumably, it was travelling at its peak velocity of 36 km/hr, which made Nortje fall down.
Who said cricket isn't a contact sport?

South African player Anrich Nortje hit by the aerial camera at the #BoxingDayTest

Meanwhile Warner has his century & Australia only two wickets down and 2 runs away from SA's first innings total (Warner on 115 & Smith on 39) pic.twitter.com/ZafPYIJPue

— The Sage (@SarkySage) December 27, 2022
Thankfully, the injury to his elbow and left shoulder was not grievous, and Nortje was fine to scalp OZ's wickets, including that of double-centurion David Warner. Recovery did not stop him from demanding some control over the movement. In a post-play interview, Nortje said, "The one thing we've spoken about earlier is how low it is, and it probably shouldn't be unless for interviews or something. don't think it should be travelling at head height."
Also Read:  Indian test cricket team desperately needs a stable captain
It has been a big problem 
This is not the only time when the public's comfort and discomfort with players are at loggerheads. Spider cam is possibly the most contentious innovation introduced by broadcasters to spice up the game. The problem is that it ends up nullifying the hard work done by players on the ground. In the recent iconic T20 World Cup match, it prevented India from taking Shan Masood's wicket.
Masood played a mistimed shot that hit the spider cam. Before it hit the cam, Kohli and Pandya were encircling it for an easy catch. Indian fans were so fumed that they called for shooting down the camera. Similar incidents have been observed in international cricket as well as leagues all across the world, including the IPL final.
The only remedy that the ICC has been able to come up with is declaring the ball dead. It has not been able to balance out the needs of spectators and players.
Also Read:  Virender Sehwag, the man who invented Bazzball test cricket
Zing bails fail to dislodge 
The failure to do so has given birth to other deformities. One of them is LED lighting. The reason for introducing them in the game was to get a clear-cut idea about the dislodging of bails. In touch and go situations involving run outs and stumps, zeroing down on the exact moment when the bails were dislodged was a big tussle. The LED bails, called 'zing bails' spark when the ball hits the stumps. These are accurate by a fraction of seconds.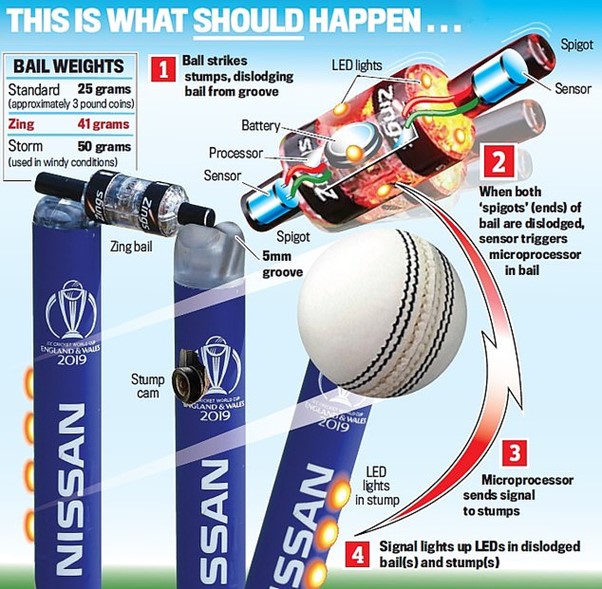 However, they possess a problem. These bails are too heavy. The heaviness of these bails makes it tough to dislodge. In cases when batsman miss the line and ball just touches the edge of stump, bails have been found unmoved. Many players including former Indian and Australian captains Virat Kohli and Aaron Finch have raised the issue, but ICC refuses to bring changes.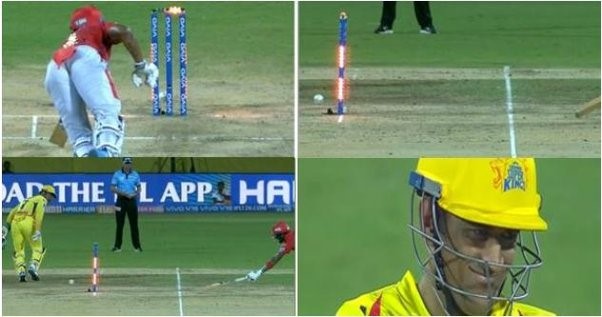 Small boundaries are detrimental
It is as if these bails add an extra layer of pyrotechnics to the game, which is also the reason why boundary ropes are getting shorter year by year. In earlier days, hitting sixes on grounds such as Eden Gardens, Wankhede, SCS, MCG, Adelaide, Brisbane, Lors used to bring in reputations for batters. Things have changed quite a bit. In order to give the audience an enthralling experience, ICC is shortening the boundary ropes.
70m long boundaries (a mediocrity in 70s and 80s) have become a norm. Even the Australian grounds known for their lengths are being shortened. Just before the 2022 T20 World Cup, former cricketer Wasim Jaffer lashed out at the phenomenon. The substance of boundary hitting is disappearing, and only camera friendly style like flexible innovations is making big hits glamorous.
Also Read:  How Pakistani cricketers push Islamist agenda on the field
Boundary cushions
More sixes means a more audience, which means more money. TV rights are increasing at a skyrocketing pace. Despite the record numbers, ICC continues to tamper with on-ground stationeries. Instead of a long rope, the ICC has been deploying cushioned rope on boundary lines. These boundary toblerones are not there for clarity. Instead, ICC earns revenue from them. Advertisers use these cushions to increase awareness about their products.
Resultantly, the thickness keeps increasing, constricting the scope for players to avoid injury. While fielding, if a player lands on these cushions, there is a grave risk of injury to the foot. It is doubly difficult for a pace bowler as their knee is their most vital asset. Recently, an English pace bowler was ousted from the T20 World Cup due to these cushions alone.
There is no doubt that the ICC always keeps the interest of the game in mind. At the same time, it should also look at the unintended consequences of its policies. Games are not just for spectators. The players and spirit of the game make cricket what it is.
Support TFI:
Support us to strengthen the 'Right' ideology of cultural nationalism by purchasing the best quality garments from TFI-STORE.COM
Also Watch: