Tik Tok, although many claims have emerged as a "democratic platform", is not more than a colossal cringe-fest of magnanimous proportions. For far too long, Tik Tok has been cunningly used by many to further their inherent sense of Hinduphobia, while glorifying their own religious fanaticism and values. Tik Tok is being used by individuals from a certain community to peddle their extremist views, as well as to normalise contentious practices and orthodox views. Now that rough demography of the platform has been established, it comes as a but given that crude Hinduphobia and anti-Hindu content will obviously make their way into the same.
Islamists have never shied away from displaying their radicalism publicly. But Tik Tok is banned in India, right? You might be thinking why we are talking about Islamists on the Chinese app, when the platform is itself banned in our country. Well, Hinduphobia knows no boundaries. So, hatred for Hindus is rather universal among extremists of one particular community. 
Tik Tok Amplifying Anti-Hindu Voices
Tik Tok is owned by a Chinese company called ByteDance. This company belongs to China's tech sector, and therefore, it feels a constant need to earn the goodwill of the Chinese Communist Party. Chinese President Xi Jinping has been massacring China's tech sector for over a year now, which is why ByteDance is trying to please him by allowing crude and brazen Hindu-hatred to be peddled on the Chinese app.
Indians cannot view the anti-Hindu content that is being peddled on Tik Tok these days. However, Hindus outside India can. And Islamists have gone berserk. From attacking Hindus for worshipping nature and idols to referring to them as 'cow piss drinkers' – it's all happening on the Chinese app. These are all historically tried and tested slurs. They are easily identifiable, and in today's age, they should ideally be reason enough for anyone to be de-platformed.
Leave alone legal action against such extremists, they are actually making a career out of such anti-Hindu content on Tik Tok! Around the world, Tik Tok is becoming a platform using which crimes are perpetrated against the Hindu community. Hindu TikTokers are doxed by Islamists and their sympathisers; beef is delivered to the homes of Hindu TikTokers while their comments section is infiltrated and used to mock the Hindu faith, culture and people.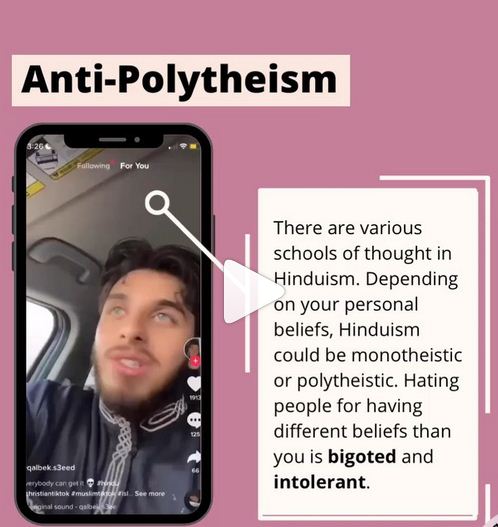 In what is an example of how anti-Hindu content is promoted on Tik Tok, positive representations of Hinduism receive not even a fraction of views and traction like anti-Hindu content does.
A serial Hindu abuser, who happens to be a TikToker, can be seen attacking Hindus incessantly from the Instagram post attached above. The Muslim man can be seen asking Hindus to identify their strongest god and not worship all of them; to stop worshipping idols and to rub cow dung on their faces to cure themselves of all ailments. No action has been taken against this man yet.
Tik Tok has a History of Anti-Hindu Content
For as long as the Chinese app was available in India, it was a den for Islamists. In one Tik Tok video, some Hasnain Khan was seen saying, "You may have killed the innocent Tabrez Ansari, but tomorrow, when his progeny takes revenge, do not say that Muslims are terrorists."Another Tik Tok star Faisal Shaikh aka 'Faizu' was seen glorifying terrorism in the wake of the killing of Tabrez Ansari.
So called Social Media Influencer with Millions of Followers trying to mislead people in the name Religion about Thief Tabrez Ansari

He has 3.8 Millions followers on Instagram & much more on TIKTOK pic.twitter.com/CkFufzwogM

— Motivism (@Motivism) July 7, 2019
On Tik Tok, Corona Jihad was a big hit until 2020, with many going to claim that this was in fact "Allah's NRC" upon India. Rape and acid attacks were continuously glorified on the platform. Tik Tok 'social-media influencer' named Faizal Siddiqui was caught trying to promote acid-attacks on women by jilted lovers. In the contentious video, he was saying, "Usne tumhe chor diya jiska liya tumna Mujhe choratha," after which he proceeded to throw acid on the girl.
Read more: TikTok is a mind control tool
Tik Tok is a menace to society and in recent times, it has become a safe-haven for criminals, sexual-offenders and profane individuals to broadcast vulgar, misleading, and outrageous content. For the CCP, it is a great spyware tool for surveillance on users around the world. The most worrying aspect is that any video streamed on the Chinese app reaches millions of people within hours.
Therefore, the anti-Hindu content – which is seemingly unavailable in India, is actually being viewed by millions across the globe.