Prime Minister Narendra Modi handed over the indigenous Light Combat Helicopter (LCH) to the Indian Air Force (IAF) during the 'National Defence Surrender' ceremony held in Jhansi to commemorate the 75th year of Independence. The event ran from November 17 to 19.
PM hands LCH to IAF:
IAF Chief Air Chief Marshal Vivek Ram Choudhary symbolically received the IAF LCH in the presence of several dignitaries. After the Kargil War of 1999, the need for an effective helicopter to carry out precision strikes at high altitudes was felt by the Indian Air Force.
Keeping this in mind, the design and development of an indigenously built and light combat helicopter was approved by the Government of India in October 2006. Hindustan Aeronautics Limited undertook the task to dedicate this resource towards the national interest. With their dedication and tireless hard work, HAL accomplished this adventure. The Indian Air Force then conveyed its requirements to the government in an official program held in December 2013, in which a total of 160 LCHs were sought. Now, HAL is committed to producing 30 helicopters per year keeping in view this demand of the army.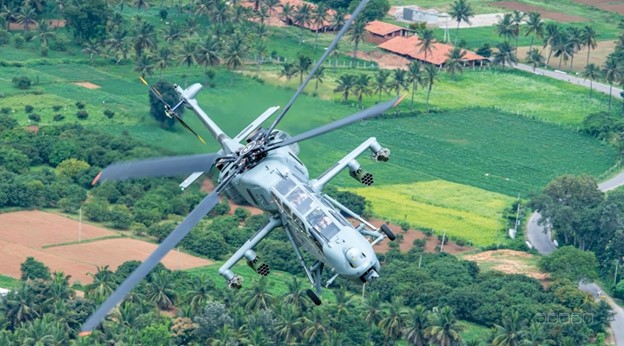 Some facts about the country's first Made-in-India LCH:
The twin-engine LCH, in the 5-8 tonne weight class, is the only attack helicopter in the world that can take off and land at an altitude of 5,000 m or 16,400 ft with a massive amount of weapons and fuel. Along with this, it can fly up to a height of 15 to 16 thousand feet. It is also effective in temperatures ranging from minus 50 °C on snow tops to 50 °C in the desert and is the only aircraft to land in inhospitable battlefields such as Siachen.
Read more: In a big step forward, India will soon be Aatmanirbhar in the manufacture of 90% of Defence products
Equipped with air-to-air and air-to-surface missiles, the LCH is fitted with a 20 mm gun, 70 mm rocket and also an air-to-air missile. Combined with its avionics and arm, it can find and destroy any target whether in the air or on the ground.
This attack helicopter is operated manually during the mission. It can be erected at 180 degrees and can be turned upside down if needed. It can spin 360 degrees, which means it can spin quickly and change its course in the air, which makes it invincible for a dogfight.
LCH: China's nightmare:
India is surrounded by enemies from all directions. India shares inhospitable borders with these enemies. These borders are likely to turn into battlefields going forward. Whether it is Kargil or Doklam, India has always felt the need for an advanced and light fighter aircraft. The fulfilment of these requirements was visible on 12 August 2020 when the Indian Air Force deployed two LCH prototypes in Ladakh to conduct armed patrols from forward air bases.
Specifically, for high altitude operations, a large portion of any aircraft or helicopter is made of composite materials and metals such as titanium to withstand exposure to extreme temperatures and the environment. This makes the machine expensive but capable of operating, and that too with high payloads from high altitude bases. LCH is truly a gem for Indian indigenous defence manufacturing capacity.