Elle India, the Indian subsidiary of France based women's lifestyle magazine has come under scrutiny by awakened Hindus of India. The magazine which decided to draw an equivalence between Islamic rulers' expansionist strategy and Hindus' response to the wokeism in the advertising world had to delete its anti-Hindu ranting post.
Elle India attacks Hindus
On October 21, 2021, Elle India posted a cartoon on its Instagram page. The cartoon was filled with anti-Hindu bigotry. The bigotry driven post written by some Ruman Baig condemned Hindus for protecting their religious and cultural heritage from wokeism and forced Islamisation. It cited the recent takedowns of anti-Hindu woke ads by FabIndia and Tanishq and sarcastically looked down upon Hindus' for protecting their heritage.
The caption read as "it's the recurring season where Indian fashion labels are schooled on how to creatively incorporate religion while designing their campaigns. Last year, @tanishqjewellery received a non-violent lesson on how to showcase jewellery without meddling with the ancient Hindu-Muslim narrative. Recently, @fabindiaofficial released and pulled down a Diwali campaign titled Jashn-e-Riwaz. Little did they know that the term means long-live Muslims in Urdu and is a secret ode to the Mughals."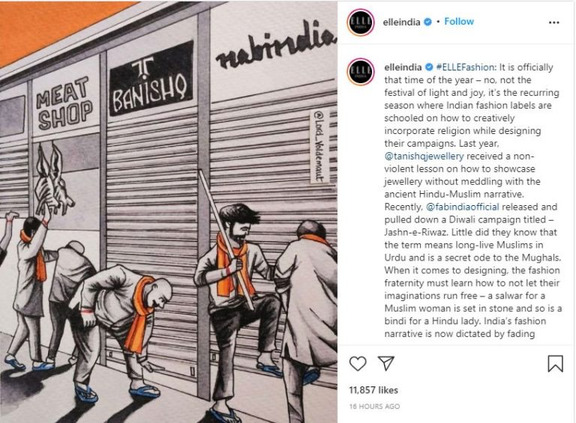 If the caption was an indirect hint towards castigation of Hindus, the cartoon whitewashed any doubt if left. The cartoon showed 3 shops which are being shut down by some people. One shop is a MEAT House and the other two belong to nabindia and Banishq, censored names for FabIndia and Tanishq. The people shutting down the shops are shown wearing saffron gamcha (a symbol for representation of Hindus for those who are not aware of Hindus' traditions) and beating the shop owners, while shop-owners are just lying down without any sign of repulsive force. The cartoon was supposed to be a pictorial representation of Hindus' civilised approach in countering the wokes' interpretation of their heritage. But, the cartoon compared Hindus with Islamic invaders like Ghazni, Mughals, ISIS, Taliban who pose terror in the minds of the people who do not agree with them.
Read more: Tanishq and Eros controversies have a message for corporates – Make immediate changes if you don't wish to lose money
The propaganda post gets what it deserved-Fierce counterarguments
However, as soon as the post started to make rounds on social media, it faced several backlashes from people all around the Internet.
A veteran Journalist Swati Goel Sharma criticised the post for factual error asking why they showed Hindus violently attacking shops to shut them, though the reality is completely opposite.
Did a mob attack any store of Tanishq? No
Did a mob attack any store of Fabindia? No

So why is Elle India showing men in bhagwa carrying lathis charging at these stores? This is fake news, not creative liberty pic.twitter.com/ZAGxT1AJvV

— Swati Goel Sharma (@swati_gs) November 1, 2021
Shefali Vaidya, a renowned author warned the magazine to trade only in their area of expertise, i.e. Fashion and not engage in imparting crooked knowledge about Hinduism.
Now @ELLEINDIA, a magazine meant for brain-dead bimb0s about fashion and make-up is giving gyan to Hindus! pic.twitter.com/GDWYaHCJrM

— Shefali Vaidya. 🇮🇳 (@ShefVaidya) November 1, 2021
Later more and more people termed the post as garbage and criticised the brand.
Absolutely disgusting by @ELLEINDIA https://t.co/WRRXXaBlqE

— जय श्री गणेश। (@sampavar) November 1, 2021
Post deleted
As soon as the post went viral and people started to counter Elle, the revelation that Elle stole a cartoon without the creator's permission also started to go rounds with it. The illustration was designed by 19-year-old artist Lord_VoldeMau, whose social media profile is currently locked. Later after being severely criticised for misrepresentation and copyrights, the fashion magazine had to take down the post.
Companies try to turn festivals into consumerism centred events
Though the magazine has now deleted the post, it is only after the factual and accurate counter by the Hindus. We are living in an era of woke capitalism, where companies will pretend anything to sell products ". The brutally honest fact is that companies do not care about Hindus' festivals, traditions, heritages. They only care about 1.1 billion consumers. They will hire a cultural Marxist to twist any tradition towards consumerism.
Read more: Fab India is not the first. Brands love negative ad campaigns because they work best until they backfire
However, as the Internet is making inroads, the knowledge about Shastras, Vedas, Upanishads, Ramayan, Mahabharat and other rich histories of India is also rapidly spreading like wildfire. The Marxist interpretation meant to benefit the companies do not stand the test of the above-mentioned literature. Its high time companies should either stop using festivals to increase their quarterly revenues or hire a deeply knowledgeable team to present the tradition on screen. If 1.1 billion people can make you take down your post, they can also make you a hero if you do not tinker with their Dharma.