The issue of religious conversion in India is interestingly more political than religious. There is one narrative that is constantly pushed in India's political discourse – conversion of Hindu Dalits to other religions as a means of upward mobility. This narrative is used to justify and promote religious conversions in many cases.
Take the case of Thol. Thirumavalavan, President of the Viduthalai Chiruthaigal Katchi (VCK). The VCK, earlier known as Dalit Panthers of India or the Dalit Panthers Iyyakkam, actively opposes caste-based discrimination in the state of Tamil Nadu and also carries trappings of Tamil nationalism. In 2019, Thirumavalavan was conferred a doctorate for research on the topic, "Religious conversion of Meenakshipuram Dalits – a victimological study" by the Manonmaniam Sundaranar University. Thirumavalavan's official Twitter handle too mentions the said doctorate.
This raises an important question – VCK is a part of the UPA in Tamil Nadu. So, does it believe in mass conversions and does it believe that promoting them will help in social mobility of the Dalits? Moreover, the M.S. University was established by the state of Tamil Nadu.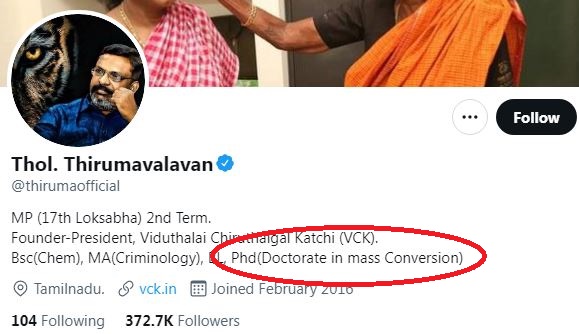 The religious conversion at Meenakshipuram
Thirumavalavan was granted a Ph.D. in person two years ago by the Manonmaniam Sundaranar University, from the state governor and chancellor of the university, Banwarilal Purohit himself. However, the incident about which he wrote his PhD thesis is nearly four decades old.
Also read: 'Forced religious conversions of Tribals,' MHA cancels FCRA license of 13 NGOs, freezes their bank accounts
A mass conversion of Dalits to Islam at Meenakshipuram in Tirunelveli district of Tamil Nadu in 1981 had then shocked the nation. Hundreds of Dalits were converted to Islam in this incident and an India Today report placed the number of convertees at 1,100.
India Today had also reported, "Chief Minister M.G. Ramachandran and many of his colleagues have been openly referring to the use of massive money from outside the state as the main force behind the conversions."
Thirumavalavan's thesis
The VCK President denied the allegation that the Meenakshipuram conversions had the backing of some Islamic nations. Thirumavalavan said that along with an affected Dalit youth, "180 families of Meenakshipuram embraced Islam as they believed that at least the new religion would ensure much-needed self respect for them. Though this mass conversion had not ushered in fortunes for them, they could, after embracing Islam, at least start an eatery, a shop or a teashop right on the main road, or go to the Gulf in search of a job. Hence, it (the religious conversion) had given them economic independence and ensured self-respect."
Also read: Forced conversions, murders, anti-CAA violence: Radical Islamist outfit PFI must be banned now
The VCK President also claimed that conversion to Islam boosted the social mobility of the Dalits in the village where the incident took place. He added, "Dalits in other parts of the country have experienced economic empowerment. Though they face discrimination on a regular basis, many do not nurture the idea of conversion. That is why I have come to the conclusion that State oppression was the major factor that drove Meenakshipuram conversions."
Evidently, there are greater questions of societal importance involved. How can it be established that conversion to Islam helped in social mobility? After all, Islam in India also has features of casteism just like Hinduism. So, does conversion really lead to social mobility? And finally, is there any reliable cause-and-effect relationship to uphold such findings in all cases of conversions?
Allegations of use of money
While Thirumavalavan claims that money was not the sole factor instigating Meenakshipuram conversions, tall leaders like former Prime Minister A.B. Vajpayee who had visited Meenakshipuram, former Tamil Nadu CM M.G.Ramachandran and even organisations like Arya Samaj had alleged that money was used to convert Dalits to Islam.
Religious conversions may be a politically contentious matter. But the legal position around it is pretty clear. In 1977 itself, the Supreme Court had held that the right to freedom of religion doesn't include the right to convert another person to one's own religion. The Supreme Court had observed, "What is freedom for one, is freedom for the other, in equal measure, and there can therefore be no such thing as a fundamental right to convert any person to one's own religion."
Also read: CM Yogi is all set to crack down on Love Jihad with an ordinance to stop forced conversions
There is clearly an attempt to push the discourse of justifying religious conversions on the allegation of oppression of Dalits in the country. And even educational institutions and academic research can be used to promote the narrative. However, this raises some really important questions including the ability of universities to distance themselves from such politically and socially sensitive issues.