After Kerala's  Syro-Malabar Church's long-standing charges on 'love jihad', now Pala Bishop Mar Joseph Kallarangatt has come up with allegations of a new method to convert youth belonging to the community called 'narcotic jihad', sparking sharp reactions from Muslim organisations.
On Wednesday, delivering the sermon on the eighth day of lent of St Mary at Kuravilangad, the bishop raised concerns that narcotic and love jihadists are victimizing Catholic girls and youths at an early age. He further said believers should ensure that young girls are brought up in a pious environment to imbibe values of spirituality.
"A lot of social and religious developments are taking place across the world including Kerala. The two main issues are love jihad and narcotic jihad used by jihadis to trap young non-Muslim girls," he said, adding that the recent statement by former DGP Loknath Behera on Kerala become recruiting ground for terrorist organizations reveals the gravity of the situation.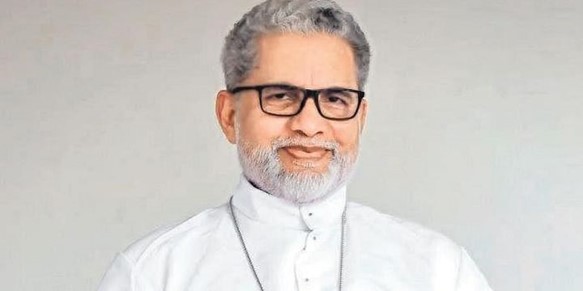 Read more: Christians and Muslims in Kerala are clashing as more Christians speak openly against Love Jihad
The bishop further warns that there is a section in Kerala that provides assistance for this, they are using such methods in places where weapons cannot be used and that Catholic families should be careful in this regard, as per a video released in a YouTube channel of the Kuravilangad Church.
Read more: After Syro Malabar Church, Kerala Catholic Christians body slams 'Love Jihad' and 'secular parties'
He claims that special groups are working in various parts of Kerala that are targeting Catholic and Hindu youths addicted to drugs and other addictions. They aim to destroy other religions through such conspiracies in areas where they cannot fight with weapons. Love jihad and narcotics jihad are two of the most important and noteworthy things. Former DGP Loknath Behera had stated that Kerala is becoming a recruitment centre for terrorists and that there are sleeping cells for terrorists here. He blames forceful religious conversion as one of the root causes for Kerala being a safe haven for terror groups.
In September 2019, a 19-year-old Christian girl in Kerala was allegedly forced to convert to Islam after being drugged, blackmailed, and facing sexual abuse. Earlier, the NIA had investigated 11 such cases including that of Hadia, a Hindu girl who married a Muslim, among 89 other inter-caste marriages in Kerala and found no basis for the allegations.
Back in April this year, speaking about the menace of 'love jihad' that has spread its tentacles in the southern state of Kerala, independent MLA PC George remarked that India must be declared a 'Hindu Rashtra' as 'Muslims plan to make India an Islamic country.
Read more: Christian girls targeted, turned into sex slaves,' Kerala's biggest church sounds the alarm against Love Jihad
Former Chief Minister of Kerala Oommen Chandy had earlier stated that a total of 7713 persons were converted to Islam between 2006 and 2012. It is shameful how the Kerala state government continues to turn a blind eye as the state succumbs to radical Islamists. Yet, despite being aware of the political repercussions, Christians who make up 19% of Kerala's population have started acknowledging the 'love jihad' phenomenon after an influential Christian sect in Kerala raised its voice against "love jihad" incidents in the state. A high-power decision-making body of the Catholics has said that "secular political parties" should accept that it exists.
The Christians of Kerala have finally realized that Love Jihad is not a Hindutva manufactured myth, and now they are concerned about Narcotics Jihad as well, emphasizing how extremist groups are propagating the cause to establish Islam all over the world, either by war, drugs or any other possible means.