There have been very few instances in India's post-independence history when Hindus have come off as a united social and political force to reckon with. Rath-Yatra during the 1980s and 90s was one such. The seeds of Hindu unity sown during that period saw the formation of an openly nationalistic government at the centre formed under Narendra Modi in 2014. Now, when things seem to be solidified at the centre, the newly erupting caste rivalry seems to be hampering the unity. The latest inter-caste fight is between Gurjar and Rajput over Samrat Mihir Bhoj's legacy.
Uproar over the legacy of Samrat Mihir Bhoj
Chief Minister of Uttar Pradesh, Yogi Adityanath will inaugurate a statue of Samrat Mihir Bhoj in Dadri, Greater Noida. The inauguration will take place on September 22. Before the inauguration, Gujrat and Rajput Samaj are up in arms over their claims over the legacy of Samrat Mihir Bhoj. Both the castes are claiming that Samrat Mihir belongs to their clans. Gurjars consider Emperor Mihir Bhoj as their ancestor, due to which Emperor Mihir Bhoj is called Gurjar Emperor Mihir Bhoj The poster for the event made by Dadri MLA has "Gurjar Samrat Mihir Bhoj" written on it. After the posters were put up in the city, the Rajputs objected to calling Emperor Mihir Bhoj a Gurjar. The people representing Rajputs also submitted a memorandum to Jewar MLA Dhirendra Singh. On Sunday, they presented their side by holding a press conference and called Emperor Mihir Bhoj a Rajput. After objections were raised by the Rajputs, the word 'Gurjar ' was removed from the poster. This led to an uproar by the people belonging to Gurjar Community and they tore away posters to be used for the inauguration event.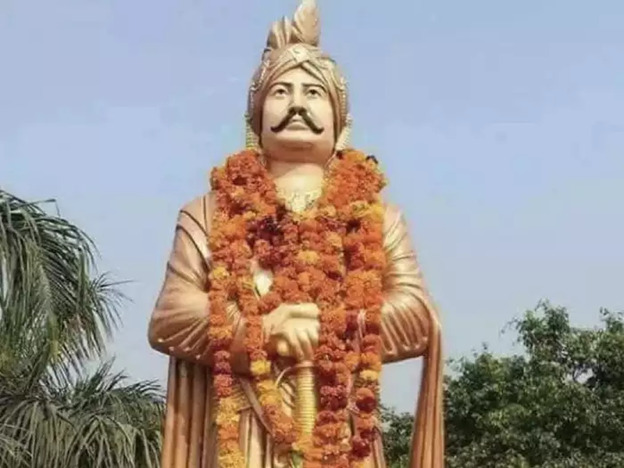 Samrat Mihir Bhoj(835-885CE) was a great king who ruled over India during the ninth century. He was a devotee of Lord Vishnu and adopted the title of Ādivarāha which is inscribed on some of his coins. His capital was Kannauj in modern-day Uttar Pradesh. At its peak, Bhoja's empire extended to Narmada River in the South, Sutlej River in the northwest, and up to Bengal in the east. It extended over a large area from the foot of the Himalayas up to the river Narmada and included the present district of Etawah in Uttar Pradesh. He was largely feared among Arab invaders and was called one of the first kings who established a reign of fear in Muslim invaders minds.
Besides being a conqueror, Bhoja was a great diplomat as well. The Kingdoms which were conquered and acknowledged his Suzerainty includes Travani, Valla, Mada, Arya, Gujaratis, Lata Parvarta and Chandelas."
Samrat Mihir Bhoj was an Indian king, nothing else
It is an act of disservice if one caste decides to lay claim on such a great ruler. Any king who has played a great role in the unification of Indian Geotechnical, cultural and social boundaries should be revered by all Indians, irrespective of their caste or clan. A king belongs to the people of the country and not to any particular caste or group. At a time when dragons like cultural marxism and Islamo leftists are burning the midnight oil for deleting glorious Sanatan history, unity is the only quality that will save Indic civilisation in the wake of these pseudo-intellectual attacks. These Hindu castes should decide whether they want to succeed as a nation or crumble as Individual groups.