'History repeats itself' may not always be true, but in the Indian context, it can be said with utmost confidence that historical events make a rhythmic connection. One such rhythm in Indian history is of powerful people living like commoners to understand and solve their problems. The next beat in this rhythm is being set by Mansukh Mandaviya, the Minister of Health & Family Welfare and Chemical and Fertilizers of India.
No place for the common man in Safdarjung
Recently, Union health minister Mansukh Mandaviya shocked the nation when he revealed that he was assaulted by a guard at the Safdarjung hospital while trying to sit on a bench as a common man. He was speaking at the inauguration of four health facilities at Safdarjung hospital on 16 September 2021. The four centres include 'child abuse care' and 'elder abuse care' centre in the new block, PM-CARES Pressure Swing Adsorption Oxygen Plant with a capacity 1 MT, and a new makeshift hospital at the hospital premises. Citing an example of a 75-year-old woman, who was pleading with the guards to get a stretcher for her son, he described how several patients are not being afforded basic facilities in Hospitals. He raised questions as to why no one helped the old lady, despite 1,500 guards stationed at the hospital. Highlighting the importance of paramedics and other medical staff, Mandviya said- "hospital and medical staff are the two sides of the same coin and they should work as a team".
Also read: Why China and the US should fear India's new Health Minister Mansukh Mandaviya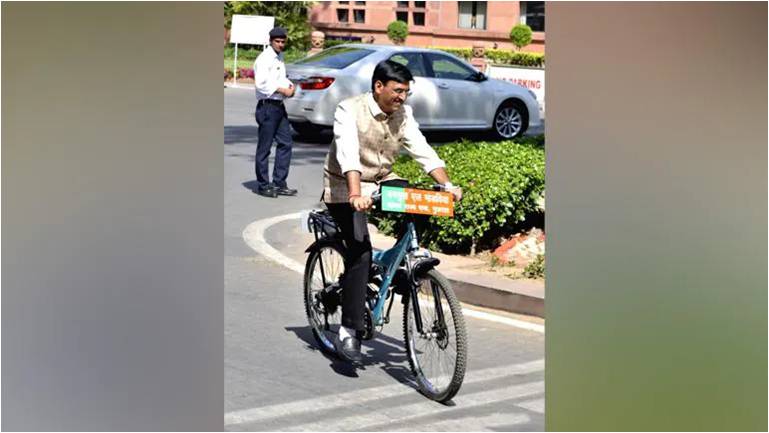 The Union health minister is famous for his low-profile-style of working. As a Rajya Sabha MP from Gujarat, he rides a bicycle to get to the parliament.
Read more: Mansukh Mandaviya has done phenomenal work both in Gujarat and in centre and his big promotion testifies that
Mansukh takes the Sanatan root to weed out corruption
The tradition of shedding royal attire to establish a connection with the common public is not new in the Indian Sanatan way of living.
Bhagwan Ram was an efficient and empathetic king because of his experience of living in the forest for 14 years without any support from his kingdom or anyone else earlier known to him.
Siddhartha left his royal life and went on to live as a hermit for decades before coming back as an enlightened Gautam Buddha to spread his knowledge.
King Vikramaditya was widely known to trudge around in his kingdom as a commoner to see whether his policies were implemented properly.
Gupta kings were said to be the biggest exponents of this tradition. During the 4th to 6th century CE, kings like Samudragupta, Ramagupta, Chandragupta II regularly used to mingle with commoners in an attempt to gather direct feedback from the public.
The latest exponent of this glorious tradition was Raja Bhoj (1010-1045CE), who ruled the Malwa region. He is best known as a patron of arts, literature, and sciences. Riding his horse during midnight, while donning a commoner's look, he used to sit around pavements and talked to beggars and other downtrodden sections of society to understand their problems.
Corruption has been a part of the Indian administrative setup since independence. Scams related to jeeps, Bofors, 2G and Commonwealth games are some of the few major scams which mired the country. Other than these, a common man has to face a lot of bureaucratic hurdles which are cleared only by bribery. Efforts like the RTI (Right To Information) act and DBT (Direct Benefits Transfer) have been made by successive governments, which have been beneficial in reducing the corruption by a certain extent, but unless the topmost people in the government do not directly get involved in weeding out the menace of corruption, a big and significant change is extremely hard to come by. Our Sanatan traditions have some wonderful solutions for our day-to-day problems. It is time we look into our rich history and utilise the wisdom ingrained in them.