Mansukh Mandaviya, the man who is being trolled by the Congress IT cell for poor English, might get a bigger role – probably the position of CM of Gujarat in upcoming years.
In the Union government as Minister of State for Chemical and Fertilizers, he led India's Covid fight from the front and arranged medicines, vaccines, PPEs and oxygen cylinders in record time despite an exponential increase in demand during the second wave.
At a time Union health Ministry was laggard in its response, he oversaw the turnaround of the system and filled the gap.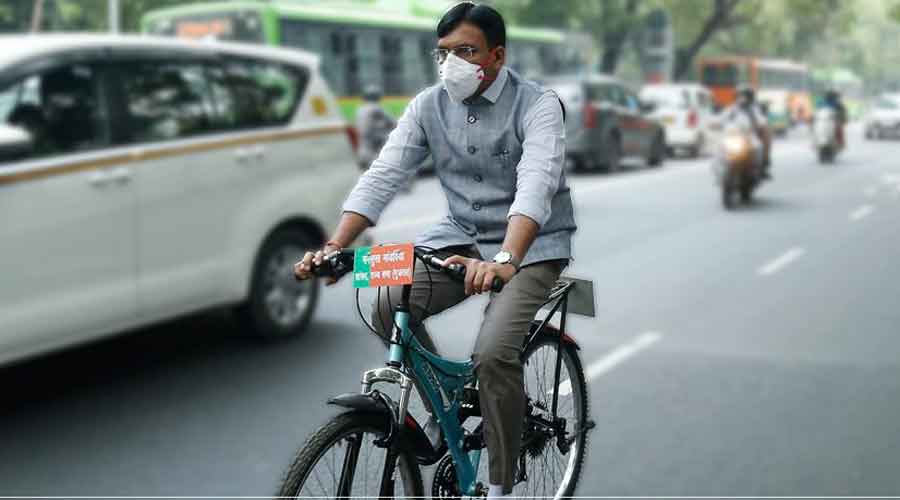 Moreover, as Minister of Ports, Shipping and Waterways (Independent charge), he oversaw the drafting and passing of the Major Port Authorities Bill, 2020 that gives significant autonomy to port trusts and enables them to operate like private players.
Under his leadership, Pradhan Mantri Bharatiya Janaushadhi Pariyojana (PMBJP) Scheme witnessed a phenomenal turnaround with revenue growing by over 55 times in five years, to Rs 665 crore in 2020-21 fiscal from Rs 12 crore in 2016-17.
"When Mandaviya took charge (of the ministry) in 2016-17, sales under the scheme were just Rs 12 crore in 2015-16. Last fiscal, the scheme posted revenue of Rs 665 crore — a growth of over 5,500 per cent," said a senior government official as per a report by ThePrint.
Mandaviya came up with innovative ways to promote the scheme and weeded out the corruption. His leadership was highly appreciated by the employees in the Ministry of Chemical and Fertilizers. India witnessed around 18 per cent growth in pharmaceutical growth and schemes like PLI for APIs are being implemented efficiently, thanks to the visionary leadership of Mandaviya.
"In the first quarter of the ongoing fiscal year, we have already recorded a turnover of more than Rs 200 crore. While the official revenue target is to achieve Rs 625 crore this fiscal, we anticipate to earn around Rs 1,000 crore. This speaks volumes about his (Mandaviya's) administration and leadership skills," added the official.
Mansukh Mandaviya will now look after the Union Ministry of Health as well as the Ministry of Chemicals and Fertilizers. PM Modi has trusted him with such a huge responsibility at a time when the country is fighting the Coronavirus crisis and the pharmaceutical sector is set for a big leap.
In upcoming years, Mandaviya might be made Chief Ministerial candidate from Gujarat, his home state. Mandaviya comes from the highly influential Patidar community of Gujarat and is a close confidante of Prime Minister Modi. The current CM of Gujarat, Vijay Rupani, is a Jain. The Patidar community wants one of their own for the CM post since Prime Minister Modi came to the centre, and in the last few years, there have been many protests by the community.
The rise of Hardik Patel shows that Congress is banking on Patidars and this could be only countered if BJP fields someone from the community for the CM post, and who better than Mansukh Mandaviya. Prime Minister Modi has often praised Mandaviya and even in 2017, he was a frontrunner for the CM post.
Read More: Congress Party shows its disconnect with the grassroots by correcting a minister Mandaviya's English online
"He is a simple man. He uses a cycle to reach Rajya Sabha. His family members still use the state transport buses to commute in Gujarat. He is well accepted in both RSS and BJP circles. Moreover, his loyalty is clearly to Modi, which makes him a frontrunner," said a senior BJP leader back in 2017 when he was among the candidates for the CM post.
Mandaviya might have missed the post in 2017 but was brought in the Union ministry and was promoted given his stellar performance. If he continues his performance, in the next Gujarat assembly election or in next to next election, the 49-year-old leader might be given the CM post by the party leadership.