Loyalty is a great quality for your day-to-day life, but when you are in politics excess loyalty will get you dumped into the sidelines. Probably, the above-mentioned quote was going through Ms. Mamata Banerjee's mind when she decided to shed her Muslim appeasement strategy for a brief period. But regional leaders and parties, especially in Bengal, have always behaved like a frog in a well; they have a tendency to misunderstand their regional success translating into a national one.
Mamata trolled by supporters for using Hindi
Mamata Banerjee realised this cold-hard truth when she dared to congratulate Indians for Hindi Diwas on 14 September 2021. Tweeting in Hindi she wrote- "हिन्दी दिवस के अवसर पर सभी देशवासियों एवं हिन्दी भाषा के विकास में अपना योगदान दे रहे सभी भाषाविदों को बहुत-बहुत शुभकामनाएं (on the occasion of Hindi Diwas, many best wishes to all the countrymen and all the linguists who are contributing towards the development of Hindi language)". This tweet was good enough to send her Hindi-phobic vote bank in frenzy.
हिन्दी दिवस के अवसर पर सभी देशवासियों एवं हिन्दी भाषा के विकास में अपना योगदान दे रहे सभी भाषाविदों को बहुत-बहुत शुभकामनाएं।

— Mamata Banerjee (@MamataOfficial) September 14, 2021
One Twitter user Biswarup Banerjee demanded Urdu from Mamata instead of Hindi. He wrote- "Hindi will not work, I want Urdu in Bengali because after that it will be the real language". Another user accused Mamata of appeasing the Hindi vote bank. Going by the name Nil Mukherjee, he replied to Mamata's tweet writing- "it was known that on the one hand the politics of confusing the culture of Bengal and on the other hand the attempt to appease the Hindi speakers, I see the grassroots political duplicity has really taken to another level". Accusing Mamata of behaving like a BJP, a user going by the name AITC wrote- "If you want our votes then stop behaving like BJP".  Another user Deepmalya wrote- "You are the Chief Minister of Bengal. You are talking about Hindi Day. No one has ever heard of Bangla Day".
হিন্দী চলবে না বাংলায় উর্দু চাই, কারন এরপর ওটাই তো আসল ভাষা হবে।

— Biswarup Banerjee (@Falguni1951) September 15, 2021
আপনি বাংলার মুখ্যমন্ত্রী হয় হিন্দি দিবস এর কথা বলছে কোই বাংলা দিবস এর কথা তো কোনোদিন শুনিনি 😑

— দীপমাল্য Deepmalya (@DeepmalyaKuila) September 14, 2021
ভোটের দায় বড় দায়, এটা তো জানাই ছিল, একদিকে বাংলার সংস্কৃতি নিয়ে জলঘোলা করার রাজনীতি আর অন্যদিকে হিন্দিভাষীদের তোষণ করার চেষ্টা, তৃণমূল রাজনৈতিক দ্বিচারিতাকে সত্যিই এক অন্য পর্যায়ে নিয়ে গেছে দেখছি. এবারে তবে হিন্দিভাষীদের সাথে ওই ঠেকুয়া-লিট্টিচোখা নিয়ে ভাষণটা ও আবার হোক 😎

— NIL Mukherjee 🇮🇳 (@NilotpalMukher6) September 14, 2021
Mamata's reign has given full power to anyone who wants to Islamize Bengal and turn Hindus and Hindi irrelevant in Bengal. Recently, an artist Sanatan Dinda had tried to Islamise Hindu Goddess by making a charcoal dry painting of Maa Durga in Hijab, the Islamic cloth often a symbol of women's oppression in Islam.
TMC does not believe in tolerance
Trinamool Congress had run a very aggressive campaign in the 2021 assembly elections. They had turned elections into Bengali vs outsiders, where BJP leaders were deemed outsiders by TMC leaders. The minority appeasement party had left no stone unturned in committing Taliban-level violence during and after the elections. People connected to BJP, RSS cadre were killed and their bodies were hanged in the open so that people could see the consequence of raising their voice in a democratic society. The Bengal police were so much complicit in violence by TMC goons that the violence was not even recorded in official documents. It was only after the Calcutta High Court order at the behest of the national human rights commission that violence by Mamata's goons came to national attention.
Read more: No confidence in West Bengal govt,' Calcutta HC maintains that NHRC will investigate TMC's post-poll violence
Mamata showing her opportunist side
Mamata Banerjee's tweet in Hindi is politically motivated as she is contesting from Bhawanipur in a do-or-die by-poll. If she loses from Bhawanipur, she will lose her chief minister post and it will be the start of the end for Mamata Banerjee and her party TMC in West Bengal. Contesting from Nandigram, she had lost to BJP Suvendu Adhikari in the 2021 legislative assembly elections. Bhawanipur seat has an excessively large amount of non-Bengalis voters. According to some estimates, 40% of the voters are Hindi speakers in Bhawanipur. TMC had fielded Sovandeb Chattopadhyay in assembly elections. Though Sovandeb had emerged victorious, he had very poor performances in wards dominated by Hindi speakers and non-Bengali voters. The seat also comprises of Gujarati, Punjabi, and Marwari-speaking voters.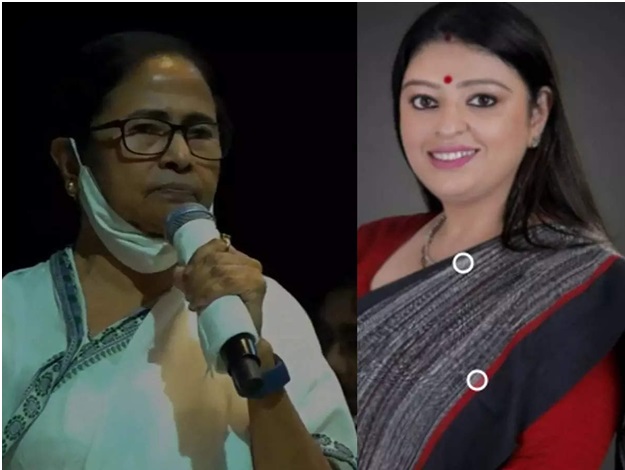 Read more: If Mamata loses Bhawanipur bypoll, West Bengal and the TMC will change forever
BJP has fielded a Marwari candidate Priyank Tibrewaal from Bhawanipur. A lawyer by profession, Tibrewal is also an active BJP Youth-wing leader. She has been in news for raising the voices of victims of political violence by TMC goons. She was the one who had filed a case in Calcutta High court seeking its intervention in political violence. The court had ordered a CBI to probe into cases of crimes such as murder and rape.