Taliban sternly warns Imran Khan of dire consequences, if Pakistan interferes in Afghanistan's internal matters.
Taliban does not consider Durand line as a valid border and wants to galvanise all Pashtuns located inside both Pakistan and Afghanistan.     
After using Pakistan to resurrect itself, Taliban is ditching Pakistan, crushing Imran Khan's hopes of strengthening his Kashmir agenda
Pakistani Prime Minister Imran Khan's dream of leveraging the Taliban in its South-Asian diplomacy is getting shattered, now that the latter is not acting according to his expectations. In fact, the Taliban is acting exactly the opposite of what he had thought.
Imran Khan gets a reality check from Taliban
Recently, a Taliban commander and member of the Taliban's social media, General Mobeen Khan reprimanded Imran Khan and advised him to stay away from internal matters of Afghanistan. He also called Imran Khan a puppet and raised questions about the legitimacy of his prime ministerial post. Talking to Ariana news, he said- "Imran Khan did not come to power owing to Public consensus, he is called 'puppet' inside the Pakistan".
Giving a stern warning to Pakistan about interference in Afghanistan's internal matters, he also said- "we do not give anyone the right to interfere in our internal matter, if someone deliberately tries to interfere, we also possess the right to interfere in their internal matters".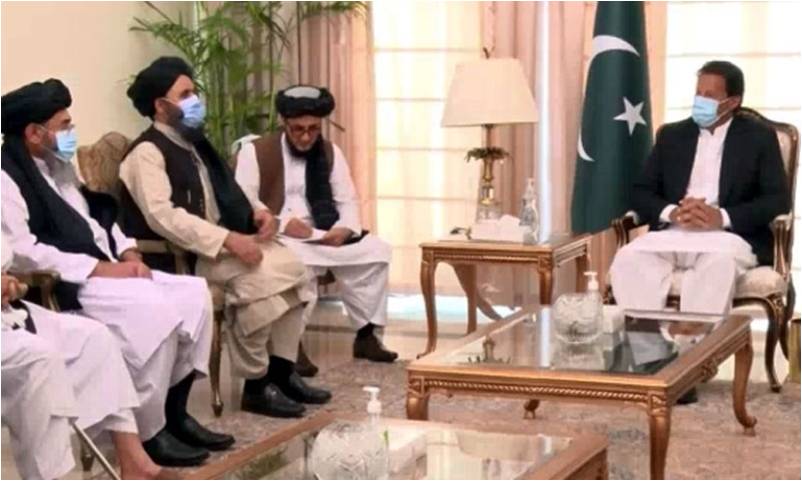 Pakistan was one of the few countries which had provided legitimacy to the Taliban government during 1996-2001. After the US stormed into Afghanistan, Pakistan played the role of a double agent for the USA. On the diplomatic front, it kept talking about peace, cooperation, and coordination in Afghanistan. In the name of fighting terrorism inside as well as outside Pakistan, they kept fooling the US government for almost two decades and racked up trillions of dollars from them. With Pakistan's support, the Taliban, which was once on the verge of extinction, was resurrected and was able to capture Kabul's presidential palace in August 2021. And within one month, they formed an interim government.
Taliban does not need Pakistan anymore
Pakistan supported the Taliban, as it had hoped that Afghanistan would eventually get under the indirect control of Imran Khan. But, as soon as the latter came to power, they started to run on their own agenda. They released more than 4,000 terrorists, most of who belong to the Tehrik-i-Taliban, with an agenda to establish a separate Pashtun nation. Furthermore, they do not accept the Durand Line between Afghanistan and Pakistan as a valid boundary. Instead, they want to take over Pashtun-dominated areas of Pakistan like Balochistan and Khyber Pakhtunkhwa.
Read more: If you want our friendship, declare Pakistan a Sharia state,' Taliban's "offer" to Pakistan
Now, the Taliban is on its way to get legitimacy from the international community, as Joe Biden-led US administration is already engaged in talks with them over different issues. Moreover, it is also running a social media propaganda to garner legitimacy and along with that, hardline Islam sympathisers present in public spaces are busy creating soft space for the Taliban. All these signs indicate that Pakistan is not required by the Taliban anymore who now seem poised to further their Pashtun agenda. The Frankenstein monster that Pakistan created seems ready to engulf them.