Off-late, the Stockholm syndrome of the Indian liberal lobby has again come to attention. Despite them getting factually thrashed several times, their love for Islamic invaders does not seem to evaporate into the vacuum. Recently, a factual claim by nationalist lyricist Manoj Muntashir saw liberals cat calling him as Islamophobic and hate-monger. THE EMPIRE, a movie based on looter and anti-Hindu Babur has been portraying him as a SUPERHERO. Similarly, Kabir Khan, the director of pro-Islamic Propaganda movies like New York, Ek Tha Tiger, Bajrangi Bhaijaan was seen appreciating Mughal Dacoits as the Nation-builders. 
With the lies around Mughals' legacy resurfacing, it becomes imperative to bring out facts in the public domain. We already have generations brainwashed into 'Glory of Mughals', so much so that TAJ MAHAL is called Symbol of love, but the road built by Dasrath Manjhi in memory of his only wife rarely finds a mention in our cinemas. No matter how much they try to brainwash us into believing that Mughals enriched India, the fact remains that India's wealth stagnated under Mughals. They looted our temples, plundered our universities and institutions, tortured us, and took away trillions of dollars of wealth to their native lands.
Claims Made by Mughal Sympathisers
In a classic case of half-cooked, half-baked, page three paparazzi type propaganda, the main claim surrounding Mughals' ''Rich Legacy'' is that at the time of Aurangzeb (one of the most brutal plunderer and genocidal kings of Mughals), Indian GDP constituted about 25 per cent of the world GDP. The data has been compiled by economic historian Angus Maddison.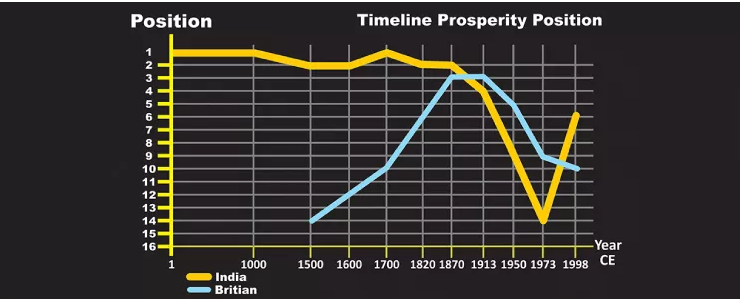 Read more: Swara Bhasker claims Mughals made India rich based on a DailyO article
There is truth in the data, but as it is said – ''Statistics don't lie, it's the people who make up that statistics lie''. This statistic has been used to propagate a lie to such an extent, that generation after generation has believed that Mughals were the ones who enriched India while it's the Britishers who plummeted the Indian economy into oblivion.
Indian Economy Before and After Mughals
Digging deep into GDP data of the last 2000 years narrates a different story. Jeff Desjardins compiled the Economic history of the world in a single chart. This chart shows the contribution of Major economies towards the world GDP during different epochs. 
Comparing Indian GDP before and after the Mughal era makes it crystal clear that Mughals stagnated the Indian economy. The chart clearly shows that India's share in world GDP was hovering between 40-45 percentages of the world's GDP from 1AD to up until 1150 AD, at the time when India was ruled mainly by native dynasties like Chalukyas and Guptas. Building upon the rich legacy left by Mauryan Empire, they had taken India to such a level that our country was called as Golden Bird. It was mainly in the 12th century that looters like Mahmud Ghazni, Timur, and BakhtiyarKhilzi started the drain of wealth from India. They did this through looting temples, imposing Jajiya tax etc.
This chart that I have taken from Jeff Desjardins' essay "2,000 Years of Economic History in One Chart" puts data into the correct perspective. pic.twitter.com/e5nFi2PUSk

— Atul Mishra (@TheAtulMishra) August 31, 2021
Later on, our contribution to the world GDP plummeted to nearly 25 per cent during the peak of the Mughal Empire in 1700. A little calculation will show you that Mughals looted approximately 40-50 per cent of Indian wealth during their barbarism. The data also indicates that after the 1850s i.e. when the British took complete control of India, India's share saw a sharp decline and it continued in Congress plagued independent India Governments.
Fact-Based Reality
Mughals' reality has always been hidden from Indian masses through Bollywood propaganda movies like Mughal-e-Azam, Jodha Akbar, etc. It is the first time in independent India that we Indians have awakened to the reality of Mughals. But, the postmodern professors and writers who have made their livings through Islamic appeasement cannot accept the reality. So, they keep coming with historical distortions like THE EMPIRE. 
The reality grounded in facts cannot be ignored in the awakened Hindu society. The Mughal rule can be summarized in a Quote by Atul Mishra, the founder of the TFI media group–''so in a nutshell Mughals were what they were. A barbarous clan that practised hardcore Islamism. They had utter disregard for Hinduism. They pillaged India to fill their own coffers and build lofty mausoleums. Their contribution to India's growth is nil, nada, zilch''.