Alleged 'comedian' Rohan Joshi, of the tainted and now-defunct All India Bakchod (AIB) fame has some rather strong opinions about 'Modi bhakts' and how they deserve to die. Taking to Instagram, where Joshi is a phony little star among braindead millennial liberals, the comedian decided to speak his mind and some of the usual 'truth to power' which clowns like him are so famous for among social circles with equivalent levels of mental degeneracy. So, at a time when the Covid-19 pandemic is spreading like wildfire across the country, Joshi posted an Instagram story and said that 'bhakts' should go and pray at the under-construction Ram Mandir for their dead family members.
"To all the bhakts who have lost their loved ones during this crisis, be strong. Your dad and Akshay Kumar are building you a lovely temple where you can go and pray for their departed souls." In a follow up post, the eternally puberty-struck man explained his rather sick views of bhakts, and said that him celebrating their and their family members' death was justified. "People calling the last story rude, I think you underestimate the degree of my fury and contempt. Fuck bhakts. They are directly responsible for this. Directly. I can literally still see plenty of them still defending him (Narendra Modi). I have nothing but contempt for them and not a shred of empathy." He ended his enthusiastic monologue with, "Fuck the high road."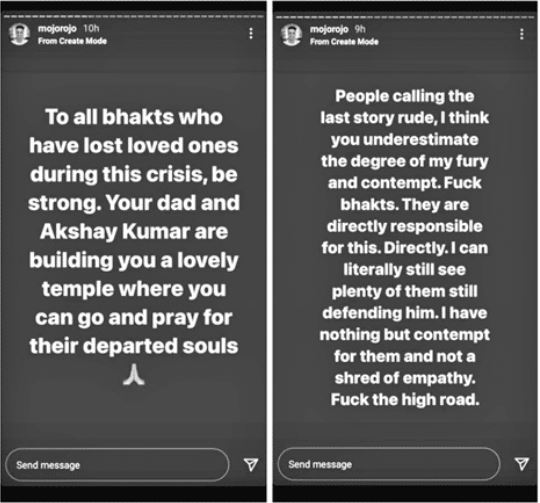 Rohan Joshi is a classic example of what parents should teach their children not to be. Again, for a man whose career was destroyed during the Modi era due to Indians at large becoming more aware of the nefarious designs of demented creatures like him, it is only expected for his hatred to become manifest in forms like it recently did. Rohan Joshi hates Hindus for their political choices. As an atheist himself, Joshi places himself at a certain intellectual elevation, which allows him to abuse Hindus and Modi supporters.
Read more: Protected and Deactivated: Unfunny comedians of India go into hiding after netizens dug up their old tweets
Joshi is also a staunch Ram Mandir-hater. He cannot stand the fact that Hindus and Modi supporters are rising from strength to strength, imperilling any chances of his ilk resuscitating. His frustration against 'bhakts' is rather evident, as people like him weaponize the term of spiritual significance into a pejorative one. Such is the contempt which Rohan Joshi harbours for 'bhakts', that he is willing to celebrate their death. The sad part for him, however, is that the virus does not discriminate on the basis of a person's ideology, and Karma too, as we all know, is quite a thing.