The Agrima Joshua incident has started a domino effect and the so-called comedians of the country that have made their entire career by deriding religions have instantly gone into a hiding. The stand-up comedy scene of India is filled with the likes of Agrimas who for quick fame and popularity satisfy the narrowest of audiences with debaucherous remarks about one's ideals and gods. The death and rape threats that Joshua was met with should be probed but what these other comedians have said in the past which now has surfaced cannot be ignored. Such putrid language on display can put the biggest of criminals to shame–at least in a verbal battle.
The Agrima Joshua incident was a tipping point in the sense that netizens started prodding around on other suspected comedians accounts. And no sooner the jar of their crassness was out open in the display, these so-called crusaders of free-speech went underground as they knew nothing could explain foul-mouthing a public figure or someone's religion.
Many propagandists who masquerade as comedians are now either protecting their Twitter account or deactivating it completely.
This week alone, at least seven stand-up comedians have either deactivated their Twitter accounts or protected it after netizens began digging up their old tweets and videos in which they were "mocking" Hindu Gods and Goddesses. Some of these comedians even posted 'apology' videos as Twitterati began trending #HinduphobicComedyIndustry.
Sahil Shah, Azeem Banatwalla, Alokesh Sinha, Sanjay Rajoura, Aadar Malik, Neeti Palta, and Rohan Joshi were the comedians who faced the wrath on social media.
Rohan Joshi, the co-founder of All India Bakchod (AIB) had been forced to deactivate his Twitter account after screenshots of his tweets using vile language against politicians went viral on social media. The comedian later came out with his victim-card post on Instagram saying that he will be taking a sabbatical from the social media platforms as his phone number and address were leaked.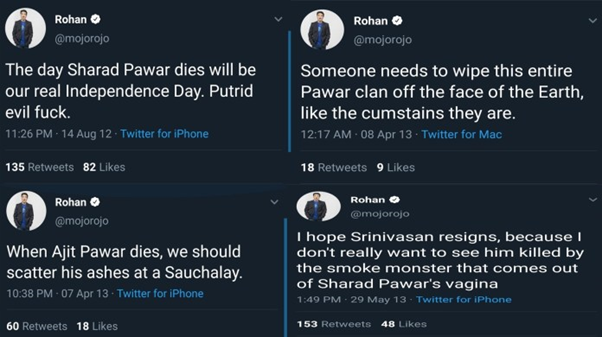 Shefali Vaidya, a prominent journalist has announced that she will be filing a case against Rohan Joshi for his vitriol filled tweets directed at her.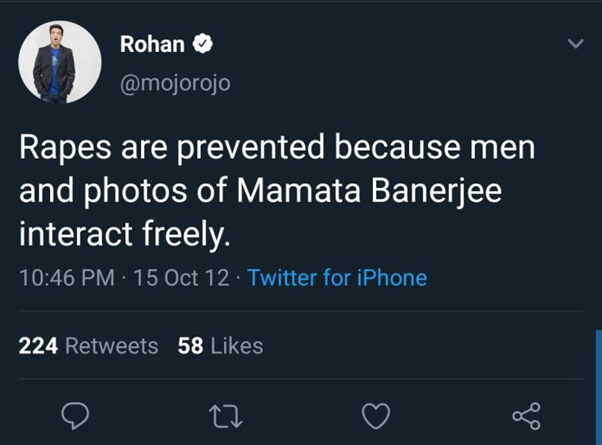 AIB and its cheap second-copy, East India Comedy (EIC) and its few members have also been targeted by the tweeters after their absolutely distasteful old tweets started to surface. The rot of their mind that they plated to their audience in the name of comedy in itself is a grotesque joke.
Sahil Shah's and his tweets for Shiv Smarak dedicated to Maratha ruler–Chhatrapati Shivaji Maharaj invited some strong reaction from the internet and he was forced to tender an apology and protect his twitter account.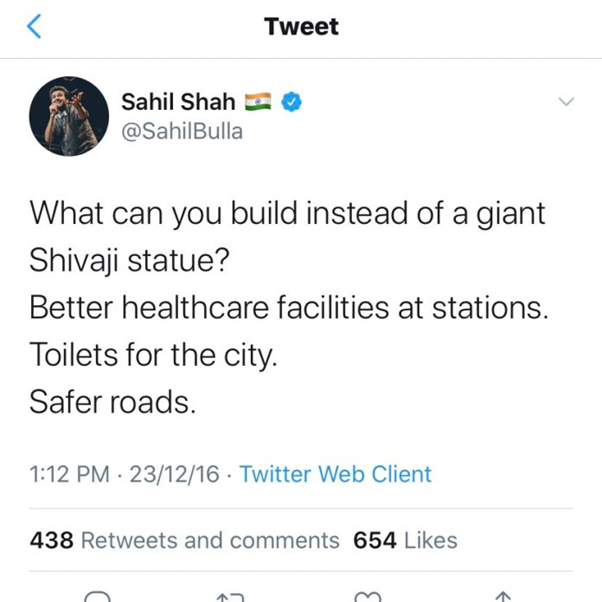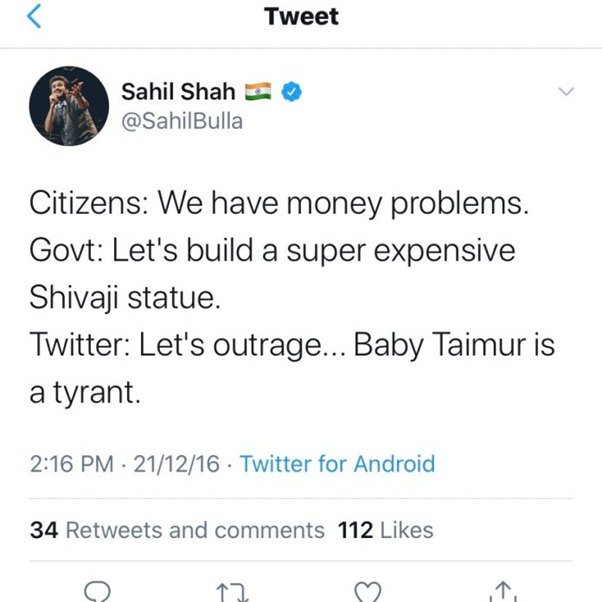 Another Stand-up comedian Aadar Malik was lambasted by the netizens for his incendiary remarks about the Shiva-ling. His derisive video rant has since then gone viral and invited the collective wrath of the audience.
Standup CoMeDiAn Aadar Malik (@TheAadarGuy), son of Abu Malik, Nephew of Anu Malik(Yes, that garam chai ki pyali singer).

Has he ever made a standup cOmEdY of The god of his own Community? 🤔 pic.twitter.com/piX7ZdenVa

— Mikku (@effucktivehumor) July 13, 2020
One of the other name on the list is Neeti Palta whose repugnant tweet about receiving a spam message for "puja special lingerie", and connecting to a 'mandir ka ghanti' invited special attention from the tweeters.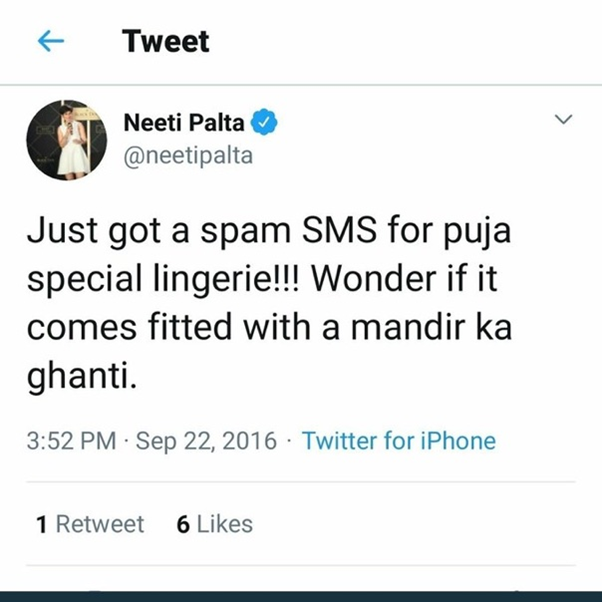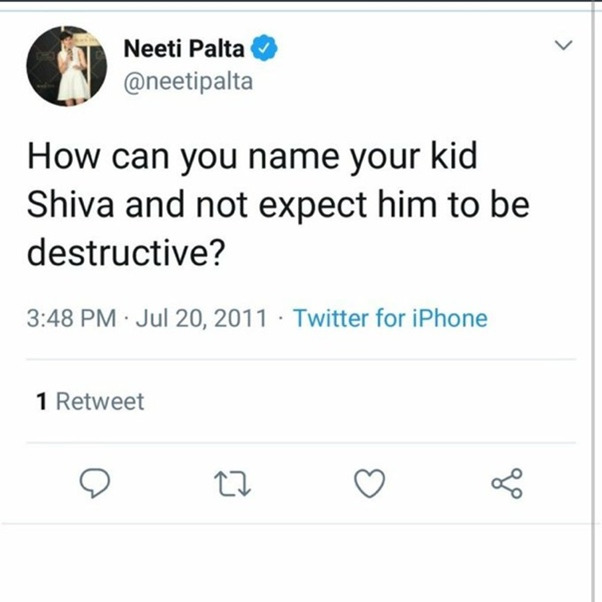 Another EIC alumnus, Azeem Banatwalla and his apparent hatred for Hindus and their Gods was on full display in one of his tweets. Tweeting such rabble-rousing stuff and then claiming that India does not have freedom of speech would be a hyperbole, pretty sure Mr. Banatwalla will agree on this point.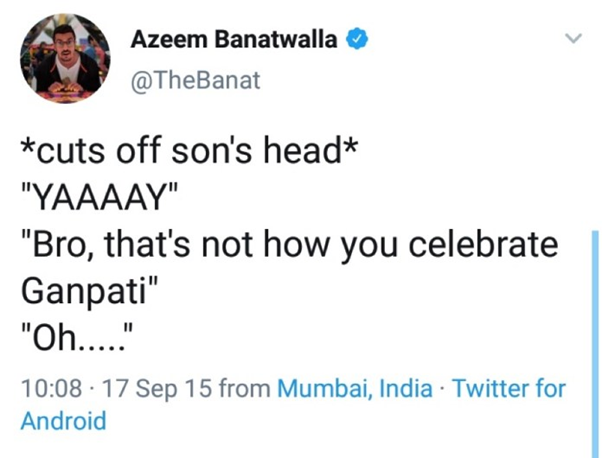 Another deranged leftist comrade camouflaged as a foul-mouthed comedian–Sanjay Rajoura from 'Aisi Taisi Democracy' also went back in his shell after his tweets started surfacing where he had crossed the very limits of human decency.
He joined the bandwagon of his fallen comedians who had deactivated their accounts.
Dear @MumbaiPolice does Indian constitution give people RIGHT to make fun n mock Hindu Gods and Goddesses?
This guy @AisiTaisiDemo is mocking Ganpati Baapa and Lord Shiva and hurting sentiments of Hindus all over the world
Please take action
CC @PMOIndia @HMOIndia @CMOMaharashtra pic.twitter.com/KEXEdVmmOJ

— Ramesh Solanki (@Rajput_Ramesh) May 3, 2020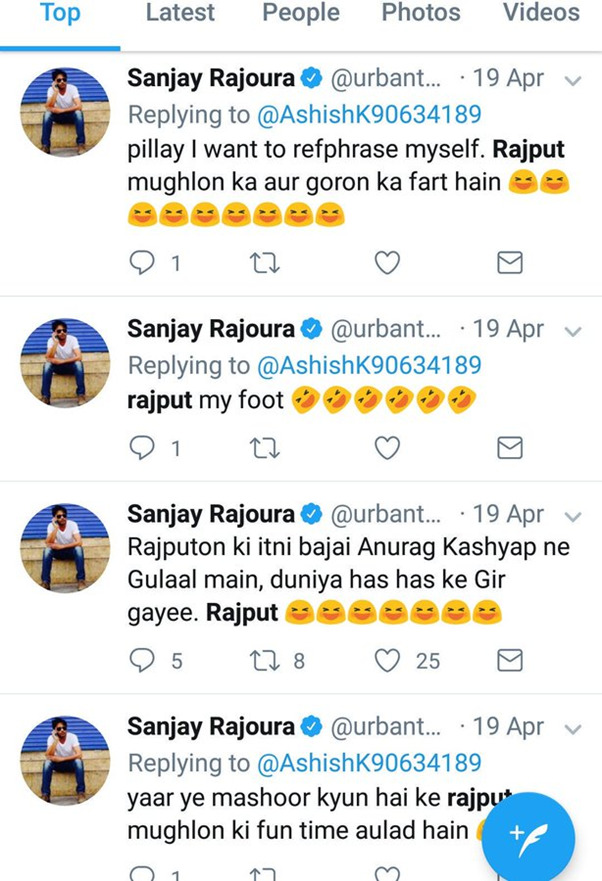 The entire episode has proven that the likes of Kunal Kamras and Rohan Joshis love to hide behind the garb of comedy to push their vile and fatuous agendas.
From making unsavoury comments about one's religion to making sexually suggestive statements, the line for these funny comedians seems to be pushed continuously further—till the time they make such jokes again.
However, the netizens have given them a reality check this time and hopefully the toxic comedic culture that has festered in the country for so long is somehow sanitized.