Ideally, groundwater should be available at a depth of 50 to 60 feet in a state like Punjab, but guess how much one needs to dig to install a tube well in the state. 200-300 ft! And why so? Because in Punjab, groundwater is used indiscriminately to cultivate paddy which is a crop not natural to the western part of the country.
As per data from the Central Groundwater Board (CGWB), water is overexploited in states like Punjab, Haryana, and Rajasthan- the states which were at the forefront of the Green revolution. Farmers in these states used to grow pulses and maize before the 1980s but shifted to wheat in the 1960s and 1970s. So far so good, because wheat production raised the cereal production and intake in the country and helped it to become self-dependent in food production.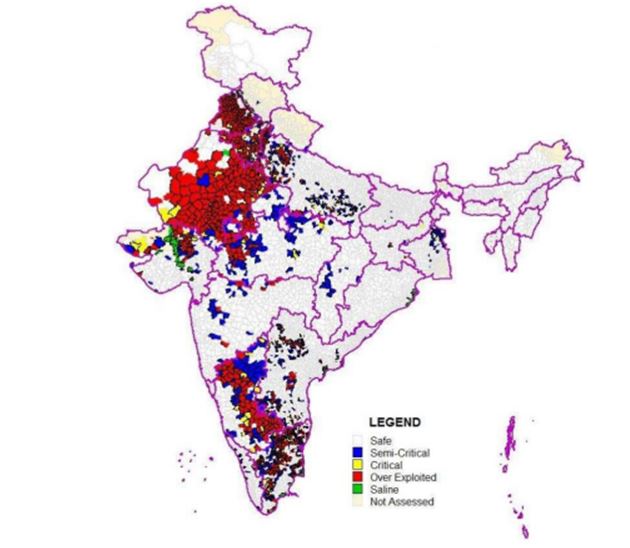 Later, however, farmers in these states shifted to paddy production- a crop suited for water-rich states like West Bengal, Bihar- thanks to free power by the state government and MSP by the union government.
"Paddy (rice) requires far more water than other crops and as farmers started cultivating paddy, the need for tube wells arose. The extraction of groundwater only increased as farmers shifted from the use of monoblock pumps in the 1980s to other types like submersible pumps," says Magar Singh, a farmer from the state of Punjab.
Given the fact that the Union government started giving MSP on rice, it became a handsomely remunerative crop compared to pulses and vegetables. So, farmers from states like Punjab installed tubewells and today almost every big farmer in the state has four to five tubewells. With indiscriminate use of groundwater, the water level started depleting and today it has reached around 300 ft; a tubewell installation now costs more than a lakh rupees, thanks to depleting levels of groundwater.
"Most of us here in the village have tube wells installed, be it on our farm or inside our houses. We use groundwater for irrigation, drinking and other domestic purposes. In 1977, we got our first tube well drilled at a depth of 35 ft-40 ft. Water at that time was easily available at 15 ft-20 ft. Since then, we have drilled as many as four tube wells as the water levels have been consistently falling. I got the latest one installed two years ago at around 300 ft. It cost me around ₹1,00,000," says Gurmeet Singh, a farmer from Punjab.
Thanks to free power and lack of regulation, tube wells are becoming the primary source of water for drinking water, irrigation water, as well as other domestic purposes. As per various reports from the Central Groundwater Board, an independent agency under the Ministry of Jal Shakti, the groundwater depletion would lead to scarcity of drinking water across the country in the next few years.
Last year in November, Minister of Jal Shakti, Gajendra Singh Shekhawat said that 22 percent of the groundwater in India has already dried or is in critical states, and majority of the groundwater is exploited for agricultural purposes. "Agriculture sector consumes nearly 89% of available water resources in India. We really need to help farmers and create awareness among them so that they can move towards water use efficiency measures such as drip and sprinkler irrigation," said Shekhawat.
The MSP regime, for which the farmers are protesting, is already doing massive damage to the people of Punjab and Haryana. If the state government keeps giving free power and the union government continues to provide MSP, this indiscriminate use of groundwater will never stop.