In a new revelation, a Chinese angle has been ascertained in prolonging and encouraging the farmer protests in India. According to newly uncovered facts, a pro-Khalistan radical group has been seen colluding with China, amid the alleged Khalistani links in the ongoing protests.
A letter, penned by radical pro-Khalistan group Sikhs for Justice (SFJ) has been uncovered. The letter was addressed to Chinese premier Xi Jinping on June 17, in which the pro-Khalistan group offered support to China. The letter 'condemned India's violent aggression causing the death of several soldiers of China at the Ladakh border". The letter further "empathised with the people of China as their land and resources were under Indian occupation" and have "faced genocide at the hands of Indian state since 1947".
In a manner indicating high-level nexus between China and the radical organisation, the letter read, "We want to take this opportunity to thank the people of China for overwhelming, encouraging and supporting response they have given to SJF's recent call for non-Governmental Referendum 2020 for the secession of Punjab from India."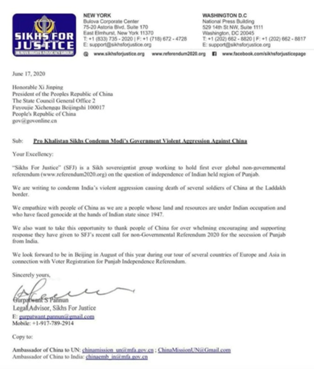 This letter was written in the aftermath of the violent face-off between India and China on June 15, after the latter occupied Indian territory.
Sikh for Justice is a secessionist group, formed in 2007, that supports the formation of Khalistan. Its founder and legal adviser, Gurpatwant Singh Pannun, had launched 'Referendum 2020', which seeks to "liberate Punjab from Indian occupation". He has been designated a terrorist last week by the Ministry of Home Affairs. The organisation was banned in India in 2019 as an unlawful association for advocating Referendum 2020.
The organisation has hijacked the ongoing farmer protests in India and has been inciting the farmers against the government. To 'stand in solidarity' with the protesting farmers, they have recently protested outside Indian Missions in the US, Canada, UK and Europe. SFJ threatened to shut down consulates in various cities across the world in light of the farmers' protests. The outfit also offered $1 million to farmers who were injured or whose tractors were damaged in the farmers' protests.
Moreover, The radical organisation wrote to EAM S Jaishankar and MoS Muraleedharan, declaring their support for the Bharat Bandh called on December 8 and alleged that the Indian government was 'unabashedly suppressing and gagging the protesting, criticizing and dissenting voices, with impunity'.
Taking note of their various illegal activities, National Investigation Agency (NIA), on Wednesday, filed a charge sheet against 16 SFJ members, based out of the United States, the United Kingdom and Canada under the Unlawful Activities (Prevention) Act, for allegedly being involved in seditious activities and fomenting enmity on the pretext of religion and region in India.
It has been clear since a very long time that Pakistan has been overtly involved in peddling anti-national agenda in India through this radical pro-Khalistan group. India has been cracking down heavily on its nefarious activities. A few months ago, nine individuals linked to separatist Khalistani groups including four based in Pakistan were designated as terrorists in India.
This letter now reveals a deep Chinese involvement in India's internal affairs. However, this isn't the first time that China has been involved in India's domestic activities. A few years ago, in February 2018, Sterlite Copper Plant in Tamil Nadu, which used to produce almost 40 per cent of India's total copper, and enabled India to become a net exporter of the essential metal, was closed due to the protests from China supported activists.
Revelations have again come to light, revealing a deep China-Pakistan nexus to further the farmer protests in India. This time, they are using the support of a radical pro-Khalistan group. With NIA cracking down on all nefarious activities of the group, it is only a matter of time before the organisation becomes dormant and the Chinese and Pakistani agenda comes to an inevitable end.