In the last few years, the overseas collection has become critical, in fact, the most important component of earnings for Hollywood studios. In 1991, only 30 per cent of Hollywood's total monetary collection came from overseas, and today, it accounts for 70 per cent of the total collection.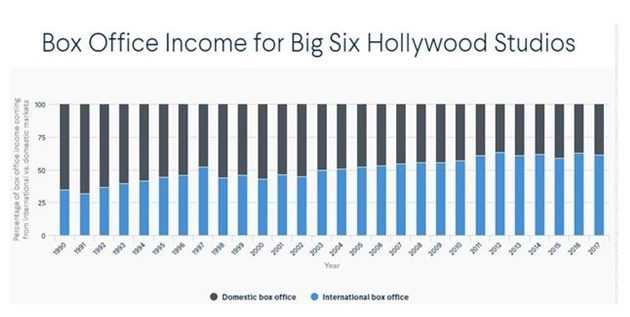 The figures have been reversed in the last three decades, and with this a major change has come in Hollywood's approach towards politically sensitive issues, as the major studios (big six) have started self-censoring to cater to large markets, specifically China.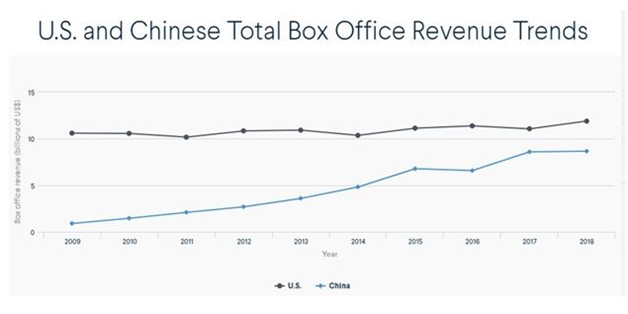 China, the largest trading partner of the United States and its arch-enemy, has become the second-largest market for American movies. The revenue from China is rising exponentially, and in 2020, the collection from China was estimated to surpass that of the United States. This had once already happened in the first quarter of 2018 when the total collection of Hollywood movies in China was greater than that in the US.
This forced the major Hollywood studios and popular stars to succumb to the Chinese Communist Party. Walt Disney Studios, which is one of the production houses that earn a handsome amount of total revenue from China, made a movie named 'Mulan' with Chinese-American actress Liu Yifei in the lead role.
'Mulan' is a remake of a hit 1998 film of the same name which was based on Chinese folklore and promoted "Chinese values". Disney pumped 200 million dollars in the film and expected it to earn at least 1 billion dollars.
Mulan specifically thank the publicity department of CPC Xinjiang uyghur autonomous region committee in the credits.

You know, the place where the cultural genocide is happening.

They filmed extensively in Xinjiang, which the subtitles call "Northwest China"#BoycottMulan pic.twitter.com/mba3oMYDvV

— Jeannette Ng 吳志麗 (@jeannette_ng) September 7, 2020
Within a few days of release in the Western markets, the movie had garnered heavy controversy as it was filmed in Xinjiang, the Chinese province where Uyghur minority is being "reeducated" in the concentration camps. In the credits, the Disney Studios thanked the Xinjiang government for allowing them to shoot in the province.
The controversy around the film and its boycott in the Western world reached to another level when the users discovered a social media post from the lead actress Liu Yifei justifying police brutalities in Hong Kong and China's imposition of National Security Law. "I support the Hong Kong police. You can all attack me now. What a shame for Hong Kong" posted Liu in August 2019.
The pro-democracy activists in Hong Kong have urged to boycott the movie and Disney studios. "Because Disney kowtows to Beijing, and because Liu Yifei openly and proudly endorses police brutality in Hong Kong, I urge everyone who believes in human rights to #BoycottMulan," Hong Kong activist Joshua Wong tweeted.
The Hollywood studios are not only caught in a fight between the United States and China, but, they are also facing a dilemma to balance between business interests and principles like Human Rights, democracy, and freedom of expression, and so far, they have prioritized business interests over principles.
"Companies like Disney are faced with difficult decisions when it comes to balancing where they stand with core principles like human rights and access to global markets," said Michael Berry, who teaches Chinese culture at the University of California, Los Angeles.
With a market-access to Hollywood studios, the Chinese government has started using these culturally influential studios as a Chinese propaganda tool. The scriptwriters, directors, and production studios are forced to paint China and the Chinese government in good light in a fear of getting banned by the Chinese government.
Stanley Rosen, a professor of political science at the University of Southern California told CNBC, "You have to be very careful before you shoot a script — knowing how big the Chinese market is — to make sure that you get China right.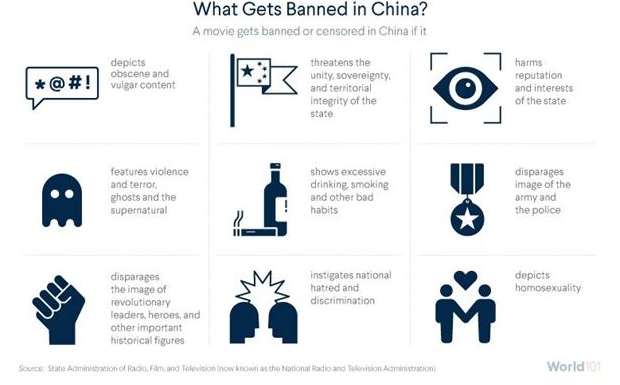 A report by Pen America has talked about how Hollywood writers are changing scripts, deleting scenes and recasting actors only to gain access to the 1.4 billion strong Chinese markets. The Chinese Communist Party officials would not tolerate any mention of Taiwan, or China's human rights abuses in Tibet, Hong Kong or Xinjiang. These issues are completely avoided by the self-proclaimed flag-bearers of liberalism and human-rights in Hollywood. This is why you'll never see a Hollywood movie on Tibetans losing their land, culture and religion, or on Uyghur Muslims who are held captive in internment camps.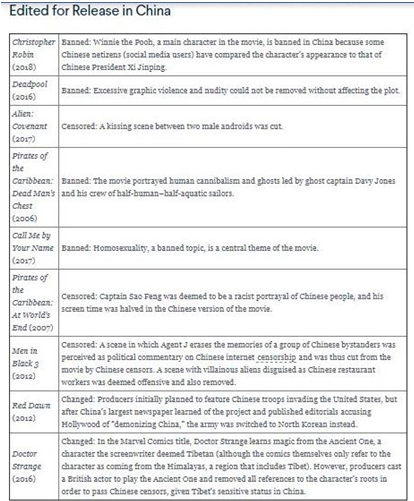 There are many examples of Hollywood prostrating before the Communist Party of China. Hollywood is guilty of deleting Taiwanese and Japanese flags from the movie Top Gun: Maverick. The movie 'Call me by your Name,' was banned for portraying homosexuality. Scenes from Men in Black 3 were also deleted. And the 2018 movie Christopher Robin was banned because its main character was Winnie the Pooh, who is often compared with Xi Jinping. The 2016 movie Doctor Strange had to change its character, 'The Ancient One' who was deemed a Tibetan. All scenes about his cultural roots were also deleted.
The media houses and think tanks in the United States have become vocal against Hollywood's self-censorship and forced censorship. A few months ago, The Heritage Foundation, one of the most prominent American conservative think tanks, reported on 'How China is taking control of Hollywood'.
Disney is addicted to Chinese cash and will do just about anything to please the Communist Party. Disney even thanked the CCP thugs who are locking up people in concentration camps.

This is evil behavior from a once-great American company.https://t.co/WQYk6jsUKf pic.twitter.com/5f5fICKOap

— Tom Cotton (@SenTomCotton) September 8, 2020
Republic lawmakers are also speaking up against the Chinese influence on Hollywood. Sen Tom Cotton, a Republican from Arkansas, slammed the company on Twitter on Tuesday, saying Disney is "addicted to Chinese cash and will do just about anything to please the Communist Party."
Previously, Republican Senator Tom Cruz introduced the "Stopping censorship, restoring integrity, protecting talkies (SCRIPT)" Act in the US Senate.
Cruz said, "For too long, Hollywood has been complicit in China's censorship and propaganda in the name of bigger profits. The Script Act will serve as a wake-up call by forcing Hollywood studios to choose between the assistance they need from the American government and the dollars they want from China."
However, the initiative must come from the Trump administration only then it will be effective. Before the Hollywood studios become an extension of Global Times, the US government as well as the intellectual establishment- media and academics- have to rise against Chinese censorship. The liberal media establishment in Washington and New York, like NYT, WSJ, and Washington Post–which, for long, have run Chinese-funded sections on China–are already compromised. If timely action is not taken by the US government, Hollywood would become an unofficial spokesperson of Xi Jinping in the United States.