In the last few months, the Modi government took many steps to purge Chinese companies out of India's supply chain. Import restrictions were made more stringent and non-Chinese manufacturers were offered various incentives to move manufacturing units to India.
The incentives offered by the government is working as more than two dozen companies have pledged investment worth 1.5 billion dollars to set up Smartphone manufacturing units in India. These companies include Samsung, Apple, Foxconn, Wistron Corp., and Pegatron Corp- some of the largest Smartphone and other consumer electronics manufacturers in the world.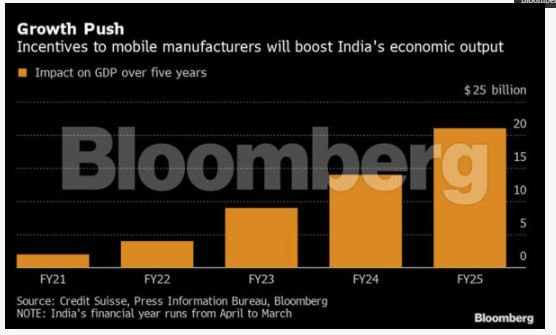 Production Linked Incentives(PLI) scheme, which offers incentives of 4-6 percent to electronics companies that manufacture mobile phones and other electronic components such as transistors, diodes, thyristors, resistors, capacitors and nano-electronic components such as microelectromechanical systems, has helped the country to attract investment in the electronics manufacturing sector.
"There is a reasonable chance for India to gain in terms of incremental investment of supply chains within the country over the medium term," said Kaushik Das, chief India economist at Deutsche Bank AG in Mumbai. "These programs are aimed at increasing India's manufacturing share in the gross domestic product."
As per the National Policy on Electronics, the government expects the manufacturing of electronics goods to reach worth 153 billion dollars over the next five years and create one million direct and indirect jobs. The new Smartphone manufacturing units would bring investment worth 50-55 billion dollars which will increase the annual economic output (GDP) by 0.5 percent, reported Bloomberg, the premiere business media outlet.
The Modi government has aimed to increase the share of manufacturing in India's GDP from around 15 percent to 25 percent. The Make in India programme was launched with this aim in 2014, but it has not been very successful till now. It needed a blackswan event like Coronavirus pandemic to force the companies to decouple their supply chains from China.
In the last few months, a large number of companies announced the closure of their factories in China and are looking for new low-cost destinations to start manufacturing. This is a golden opportunity for India to become a manufacturing powerhouse and provide jobs to its large workforce.
Southeast countries like Vietnam, Cambodia, and Thailand, are attracting more companies which are moving out of China than India, despite the country's large workforce and a huge market. Therefore, the government needs to make more efforts to ensure that this once in a generation opportunity is not missed.
The Modi government should offer a PLI like scheme for other sectors such as pharmaceutical, automobile, logistics to ensure that majority of foreign companies seeking exit from China choose India as their destination. Otherwise, this once in a generation opportunity would slip out of hand and Southeast Asian countries would end up having the cake India so desperately wishes to have.
In order to ensure that non-Chinese companies which are setting up manufacturing units in India have fair access to Indian markets, the Modi government is already tightening screws on Chinese companies like Xiaomi, BBK Electronics (owner of brands such as Oppo, Vivo, Oneplus, Readme) and delaying their approval of imports from China.
These companies assemble mobile phones in India but import the parts from their home country, China, and have control over more than three fourth of India's market. Therefore, the Bureau of Indian Standards (BIS), which is responsible for ensuring the quality of goods in India, is delaying the approval for imports. These steps will attract non-Chinese manufacturers as they will eye for a larger share of the huge Indian market.