The plight of Indic communities knows no end, and has only been aggravated in recent times. A micro-community of India is that of the Jain community, who are well known for their staunch obedience of dharmic practices, and are perhaps the most unflinching people when it comes to following their religious teachings.
In secular India, however, such unwavering commitment to one's spiritual path can often be contested, since the fragile feelings of another Abrahamic community, who are perhaps the most staunch when it comes to their religious practices, can be hurt at the drop of a hat. A similar development in Chennai has spiraled into a major controversy now.
Jain Bakeries and Confectioneries, owned by one Prasanth and located in Chennai's T Nagar is the centre of liberal outrage. A WhatsApp advertisement circulated by the bakery mentions the fact that only Jains are employed by the bakery and are involved in the process of baking various confectionery items. It further says that the bakery does not employ any Muslim staff.
This simple mention is what has outraged many, and has also prompted an over-zealous Police department to charge the owner of the bakery under frivolous charges.
The Jain shop owner has been booked under sections 153 (provocation to cause riot), 153A, 505 (inciting commission of an offence against another community) and 295A (insult against a class of people) of the IPC.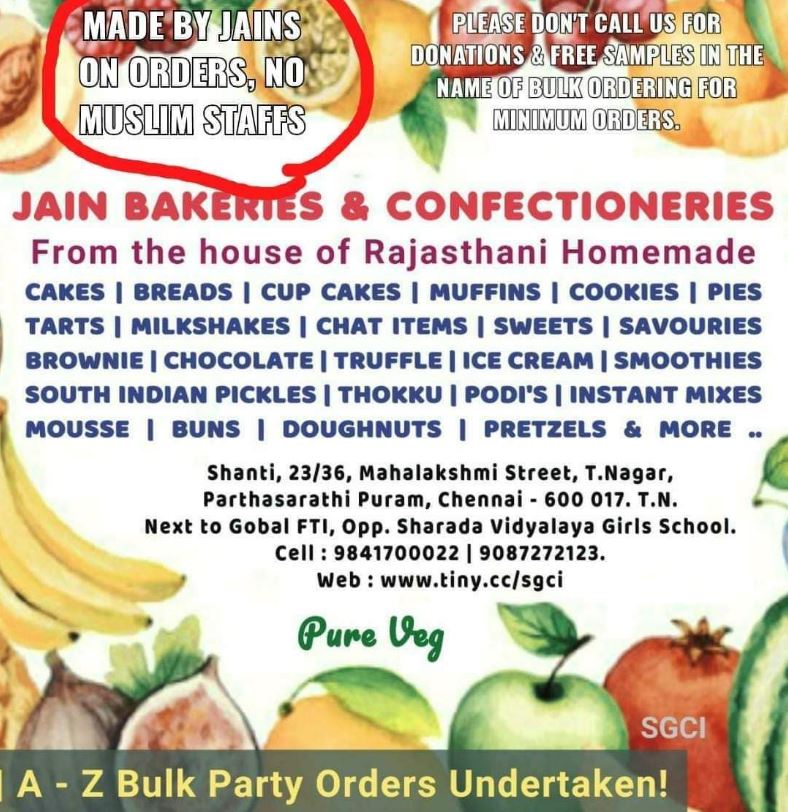 How the police arrived at the profound conclusion that the advertisement could cause riots in the city is really something that we are unable to comprehend. Besides, isn't the Chennai police pre-emptively assuming that the other community would be so provoked by the advertisement, that it would initiate riots? While that is not a complete impossibility, it is more of a statement on the particular community in question, rather than the owner of the Jain bakery.
Of course, no frivolous booking of any innocent citizen is complete without the person being charged with Section 153A of the IPC, a highly abused clause which is slapped against just anybody to stifle their freedom of expression. The section is applicable against those who 'Promote enmity between different groups on grounds of religion, race, place of birth, residence, language, etc., and doing acts prejudicial to maintenance of harmony'.
How is it justified to book a devout Jain for merely stating that no Muslims are employed in his bakery? Jains are very particular about the food they consume, and as such, there is no harm in stating that the bakery employs only Jain staff. Moreover, why is the same overreach on the part of the Police not practised against Muslims, who clearly consume only Halal certified products, which means that only Muslims are employed for all aspects of manufacturing the product? Is 295A slapped on those businesses that make Halal products?
While halal certified products are shoved down the throats of unsuspecting non-Muslims, and nobody cares to bat an eye, a Jain bearing true faith to his religious principles is suddenly seen as a potential rioter? Why are the same parameters not applied to Muslims, and why does the police follow a clearly dichotomous approach for Muslims and non-Muslims?
Jain societies don't allow even eggs eating Hindus as tenants. A bakery predominantly having microminority Jain customers has every right to not employ nonveg eaters. It is the state that is hounding/outraging religious feelings of a microminority to appease 2nd largest majority.

— Me (@semubhatt) May 10, 2020
On what basis? Minority institutions are allowed to discriminate. In this case given extreme precautions with regard to Jain food, it's their right to ensure that no meat or meat eaters handle food at their bakery. Open assault on the Jain community in Chennai. https://t.co/R3cqHe7ZCY

— Abhijit Iyer-Mitra (@Iyervval) May 10, 2020
Only recently, Hindu fruit sellers in Jharkhand were harassed by the Police for writing on the banners fixed to their stalls, the words: Vishwa Hindu Parishad ki anumodit Hindu fal Dukan (Hindu fruit shop approved by the Vishwa Hindu Parishad). Again, they were charged frivolously by the state police.
In Bihar's Nalanda, an FIR was lodged against Hindus for displaying saffron flags on their shops. They were charged under Sections 147 (rioting), 149 unlawful assembly), 188 (disobedience), 153A (promoting enmity between religions), 295A (malicious act to outrage religious feelings) of the IPC, and Section 66 of the IT Act.
Clearly, what has happened in Chennai is not an isolated incident of specific targeting of Indic communities for wearing their religious identity on their collar. It is part of a larger trend where non-Muslims are being hounded for being proud of their religion and culture.