What do a bunch of boys from posh South Delhi schools do on Instagram? Objectify women? Indulge in brazen and heroic slander? Use expletives against women? Pass lewd comments on their bodies? Issue rape threats? The answer would be "all of the above". As a matter of fact, what has been already stated is perhaps an understatement, when compared to the sheer amount of viciousness which was flowing in an Instagram group called "Bois Locker Room".
Screenshots of the same group went viral two days ago, and have ever since, temporarily of course, shook the conscience of the nation. It is being said that the group comprised of teenage boys in the 16 to 18 age bracket, belonging to South Delhi.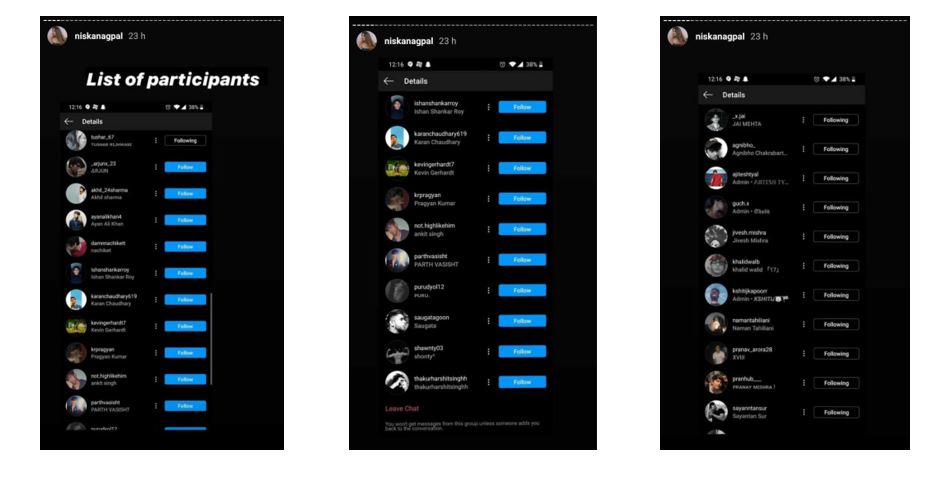 Screenshots from the stories of one Niska Nagpal on Instagram soon were seen on the stories of almost everyone on the platform. A look at the leaked chats shows the sheer guttural mindset of the boys, who, despite being from well-to-do backgrounds and what many would call, despite being 'privileged', were seen brazenly objectifying women, abusing them, and after being exposed, even threatening them with dire consequences.
The chats are disturbing, and sick, to say the least. The boys also are said to have morphed images of underage girls, without their consent, and passed comments on the same, fulfilling whatever sadistic fetish's they must be having. Mind you, the circulation of pictures belonging to underage girls is done consciously by the lunatics of South Delhi.
The comments which these boys make for the girls are bound to turn one's guts upside down. As mere teenagers, one would wonder what causes such a misogynistic mindset to fester in a generation which is otherwise supposed to be referred to as 'millennials'. From judging the bodies of girls, to fat-shaming them, to even commenting shamelessly on their private parts, this bunch of morons has done it all. "Bhai jitni bhi ladkiyon ne stories daali hai na sabki nudes leak kar dete hain. Kuch kuch ki hai mere paas…now they'll know yeh sab *expletive* karne ka kya natija hota hai…ab muh band rakhengi yeh *expletive*…bada feminist banna hai na sabko…kahin muh dikhane ke layak nahi rahengi." This was the response by one of the over-entitled brat to the unwanted exposure he and his group of friends were being made to face on social media.
The Delhi Commission for Women, meanwhile, taking suo moto cognizance of the incident, issued notices to Instagram and Delhi Police.
Breaking –

DCW chief @SwatiJaiHind issues notice to Instagram and Delhi Police in the matter of a group named "boys locker room" being used by some miscreants to share objectionable pictures of minor girls and planning illegal acts such as rape of minor girls. #boyslockerroom pic.twitter.com/PyzxGCv7kt

— Delhi Commission for Women – DCW (@DCWDelhi) May 4, 2020
The Delhi Police has initiated a probe into the matter, and has identified many students of three posh South Delhi schools who were members of the group. According to India Today, a top cop of Delhi Police has ordered to file an FIR under Section 465 (forgery), 471 (using as genuine a forged document or electronic record), 469 (forgery for purpose of harming reputation), 509 (word, gesture or act intended to insult the modesty of a woman) of Indian Penal Code and Section 67 (publishing or transmitting obscene material in electronic form) and 67A (publishing or transmitting of material containing sexually explicit act in electronic form) of IT Act.
On Tuesday, The Delhi Police Cyber cell successfully tracked the boys. It was observed that nearly 20 boys were part of the ridiculous group. The Delhi Police has confiscated the mobile phones of the boys and investigation is underway.
The youth, particularly the Z-generation as it is called, is outraged, rightfully so. What these boys from Delhi indulged in was abominable, and one wonders how they developed such a minset and mentality, which thinks of women as nothing but mere sex toys. Are we, however, ready to take a reality check, and simply gauge the sheer levels of sexism which prevail in society?
For instance, will the parents of these criminals take accountability for their children's animalistic tendencies? Indian parents, usually, know everything about their children. As such, did the sick mentality sharing space with them in the form of teenagers, escape their sight, or were they complicit in allowing such a mindset to proliferate? Is sexism inherent in these families, or did these kids learn the same from other sources? Although we'd like the parents to have nothing to do with this entire fiasco, the question of their complacency needs to be asked. The issue of parent's turning a blind eye to their child's deranged behaviour needs to be addressed, as it is usually seen that boys are given a free pass by their families to indulge in all sorts of activities, which girls would normally be prohibited to even think of.
But here's the catch. Our generation, the generation of millennials, is a hypocritical one. We outrage over issues momentarily, and then go about practicing the same behaviour which we claimed to stand up against previously. This issue too, in a week's time, will be a distant memory, with everyone returning to their normal, and usually aimless social media lives.
Are we ready to address fundamental faults in our society? Are we willing to boycott the cheap songs which Bollywood dolls out onto the electronic and digital airwaves? Will we call out the blatant sexism and objectification of women in such songs, or will we dance to the same? Are we willing to call out the hip-hop artists, whose only claim to fame is that they abuse women relentlessly and portray them as no more than sex objects to whom consent is an unknown subject? Will we condemn all industries, and institutions, which indulge in blatant, and conscious sexism?
As I said, we are a generation of hypocrites, and will never address the fundamental fault lines. Instead, what we will do is an outrage for two days on social media and satiate our conscience. Then, it will all return to normal, until something as outrageous erupts again for us to temporarily feel enraged about.
It is sad to see that this incident, which could serve as a wake up call for many, has been lowered to a mere men and women slugfest, where women are cursing all men, and the men, of course, are dismissive about it all calling it an overreach of feminism. Those who are not doing so, are opting for the easy way out, by taking the moral high stand and sermonizing all lesser beings, as though they are clean as a speck. One can clean their conscience and claim to have voiced their anger against prevalent sexism, only if we do not indulge in it ourselves. And that is something which can be said about nobody.
Once again, it is important to reiterate that until and unless we strive for fixing our fundamentals, there isn't a way out of the normalized sexism which surrounds us. It will continue to enrage us at regular intervals, momentarily so, until everyone forgets about it again to save the date for future outraging.