In a glaring example of how trans-national Communist loyalties and alliances can seriously disturb traditional balance of power and impair cultural ties, the Communist regime in Nepal seems to have fallen prey to Beijing's influence.
China is openly meddling in Nepal's internal affairs, and has openly made a puppet regime out of Nepal's KP Oli government. In fact, Beijing has not even tried to be subtle about how it is manipulating the internal party and government affairs in the landlocked, Himalayan country.
There are disputes in the ruling Nepal Communist Party, which has put Prime Minister KP Oli in a precarious position with warring factions led by Dahal and Nepal openly speaking up against him. But just when an imminent split seemed to be on the way, the Dragon jumped in to save the day for the ruling Nepal Communist Party.
Chinese Ambassador to Nepal Hou Yanqi held a series of meetings with senior Nepal Communist Party leaders in an attempt to set things in order within the Communist Party. China is acting almost as if it owns the ruling government as well as the Himalayan country, and it is difficult to find a parallel to this level of meddling in internal affairs.
Hou held meetings with top Nepal Communist Party leaders- Prime Minister KP Oli and former Prime Ministers Nepal Communist Party Chief (NCP) chair Pushpa Kamal Dhal and senior party leader Madhav Kumar Nepal- both of whom have been at loggerheads with the incumbent Prime Minister.
The Communist Party of China (CCP) is tutoring the Nepal Communist Party (NCP) on how to avoid dissensions, even as the latter's spineless attitude in face of Beijing's meddling seems to have drifted away the Himalayan country into deep Chinese influence.
Even the Nepalese Foreign Ministry was not taken in the loop when Hou started invading Nepal's sovereignty and integrity as the ruling Communist Party seems to have tilted heavily towards China owing to ideological leanings.
The Nepal Communist Party- largest Communist political outfit in South Asia is actually an amalgamation of Communist Party of Nepal (United Marxist-Leninist) and Communist Party of Nepal (Maoist Centre).
Therefore, the Nepalese Communists draw a lot more inspiration from Mao Zedong than their counterparts in other countries, which also explains the Nepal Communist Party's ugly tilt towards Beijing.
Not only has the Chinese Ambassador taken control of Nepal's internal affairs, but the matters are really being handled right from the top by CCP and China's President Xi Jinping reportedly telephoned Nepal's President Bidya Devi Bhandari, throwing his weight behind the incumbent Prime Minister KP Oli.
Later, a Press Release by China again supported the KP Oli regime in no ambiguous terms making it amply clear that the Communist regime in Kathmandu bears allegiance to Beijing.
Warning bells ringing for New Delhi
When it comes to India, the recent developments are rather troubling as greater Chinese influence in Nepal means a huge security threat for India. Traditionally, Nepal has played the role of a buffer zone between India and China, but with Nepal's Communist regime openly getting compromised to Beijing, the balance of power in the region gets seriously disturbed.
Over the recent past, there have been several hints of Chinese influence in Nepal taking a toll on Indo-Nepal ties. When India released its new political map last year in order to accommodate changes due to bifurcation of the erstwhile state of Jammu & Kashmir, Nepal had raised a false flag by raking up the Kalapani dispute unnecessarily.
Oli had himself made rather undiplomatic remarks stating, "India should immediately withdraw its army from there (Kalapani area)". But while Kathmandu cries foul over imagined territorial disputes with India, it has not even once spoken up against how China has been encroaching upon hundreds of acres of its territory.
In fact, the KP Oli regime in Nepal has time and again made it a point to frown upon India's initiatives as interference in the Himalayan country's internal affairs, while portraying much more objectionable Chinese comments and actions as stronger bilateral ties.
Four years ago, Oli government was accusing New Delhi of being unfair and partisan towards Madhesis, and hurting Kathmandu's interests but today China is literally taking control of Kathmandu's affairs and there are no hints of outrage.
Road ahead for India
India shares an open border with the country guarded by the Sashastra Seema Bal (SSB), and the Indo-Nepal border, in fact, happens to be one of India's most open borders. For decades, India has tolerated an entire network of smugglers, ISI-funded madrasas and support base for Naxals, which operates from within Nepal.
Porous border with Nepal has contributed to Indian Mujahideen (IM) creating an entire ecosystem at the Indo-Nepal border targeting India- recognised as the single biggest terror threat to India and the Maoists in Bihar have benefitted from the open movement across the international border.
In 2010, there were reports of Nepal Maoists training Naxals with help from Lashkar-e-Taiba (LeT) which means that the Himalayan country could be the meeting point of the two biggest security challenges to India- Naxalism and Islamist terrorism.
Now, Maoism is again rising in Nepal with Chinese influence that should compel India to rethink its long-term stand of open borders with the landlocked country. Modi government must understand that in Nepal, we are now dealing with Beijing, not Kathmandu.
Add China to this equation and you would understand why growing Chinese influence is a major threat to India's internal security situation. With China in the equation, expect support to Naxalism and jihadist outfits on the Indo-Nepal border to grow even further.
Chinese investments have risen sharply in Nepal, with 90 per cent of the latter's FDI coming from the mighty Dragon. The Oli regime is spineless in face of Chinese expansionism and China also plans to build the trans-Himalayan rail line that will cut through the mighty Himalayas which have, for centuries, acted as a geographical barrier between India and China.
This BRI project will mean rail connectivity between the Chinese city of Kerung and Nepal's Lumbini that is situated merely right at the Indo-Nepal border. Having bought out the Communist regime in Nepal, this map illustrates how China has come merely kilometres away from India via the landlocked, Himalayan country.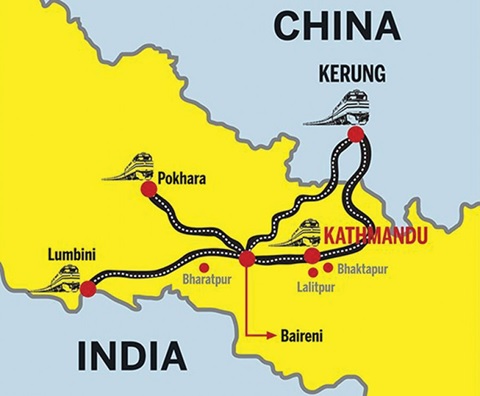 There is not much that India can do politically because any criticism of the Nepal's Communist Party would be labelled by Kathmandu as gross interference in internal affairs. India needs to throw in money into Nepal in order to counter Chinese influence and also consider fencing the Nepal border. The Himalayan country is no longer a friend and it is not worth taking the trouble of all the anti-India activities that emanate from its territory.