"सिर्फ इंसान ही गलत नहीं होते, वक्त भी गलत हो सकता है"
Unfortunately, such powerful dialogue deliveries will no longer be witnessed in Indian cinema. 29th April, 2020, is a day which has hurt the very core of all Indian cinema lovers and admirers. The demise of Irrfan Khan has left an irreplaceable void among all Indians, who were simply in love with the man's acting. The legend was battling a neuroendocrinal-disorder, which led to his untimely demise today at Mumbai's Kokilaben Hospital.
The entire nation has been pushed into mourning by the news of Irrfan Khan's untimely demise. In an industry where without influence, nepotism and power, seldom can anyone make the cut, Irrfan Khan emerged as a living legend. The man was loved and admired by people irrespective of their age. From children to the elderly, all seemed to be awestruck by all of Khan's powerful performances. This is perhaps a fundamental reason as to why for many, the death of Khan has come across as a personal loss.
Prime Minister Narendra Modi and Union Home Minister Amit Shah offered their condolences on the legend's demise through Twitter. PM Modi observed that Khan's demise is a loss for the global cinema and entertainment industry. Similarly, Amit Shah said that the nation has lost an exceptional actor and a kind soul.
Irrfan Khan's demise is a loss to the world of cinema and theatre. He will be remembered for his versatile performances across different mediums. My thoughts are with his family, friends and admirers. May his soul rest in peace.

— Narendra Modi (@narendramodi) April 29, 2020
Anguished over the sad news of Irfan Khan's demise. He was a versatile actor, who's art had earned global fame and recognition. Irfan was an asset to our film industry. In him, the nation has lost an exceptional actor and a kind soul. My condolences to his family and followers.

— Amit Shah (@AmitShah) April 29, 2020
Bollywood too couldn't really fathom the extent of the loss which the industry faced with the international actor's demise. Every person associated with the industry, small or big, condoled the death of Irrfan Khan. Amitabh Bachchan and Ajay Devgn also poured their hearts out over news of the actor's demise, saying that the irreparable loss had left a huge vacuum in the industry.
T 3516 – .. just getting news of the passing of Irfaan Khan .. this is a most disturbing and sad news .. 🙏
An incredible talent .. a gracious colleague .. a prolific contributor to the World of Cinema .. left us too soon .. creating a huge vacuum ..
Prayers and duas 🙏

— Amitabh Bachchan (@SrBachchan) April 29, 2020
Heartbroken to hear about Irrfan's untimely demise. It's an irreparable loss for Indian cinema. Deepest condolences to his wife & sons. RIP Irrfan.

— Ajay Devgn (@ajaydevgn) April 29, 2020
Apart from the stalwarts, government officials, ministers, sportspersons and people from different walks of life came together in grieving the demise of the man in what are already troubled times for the world.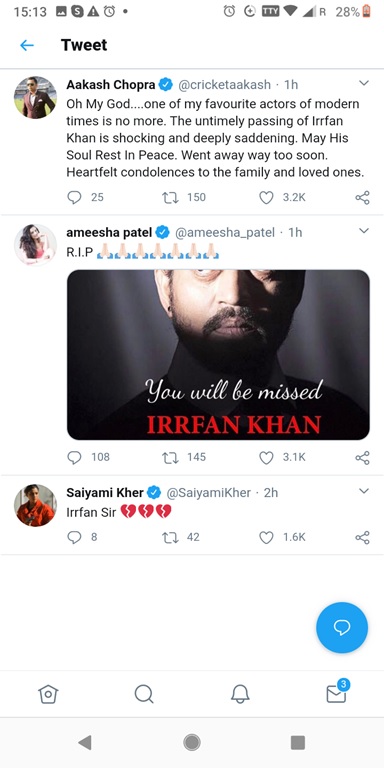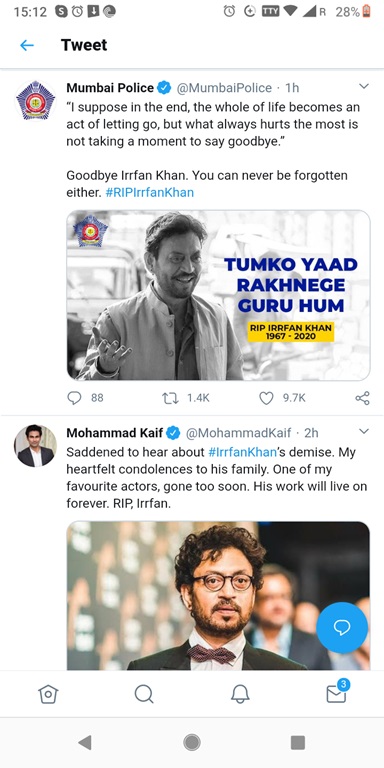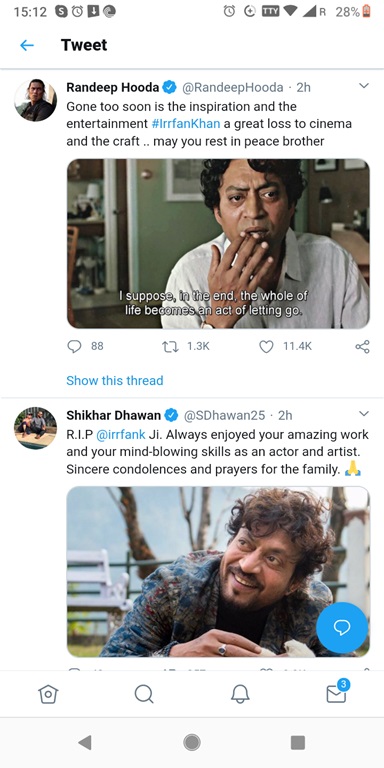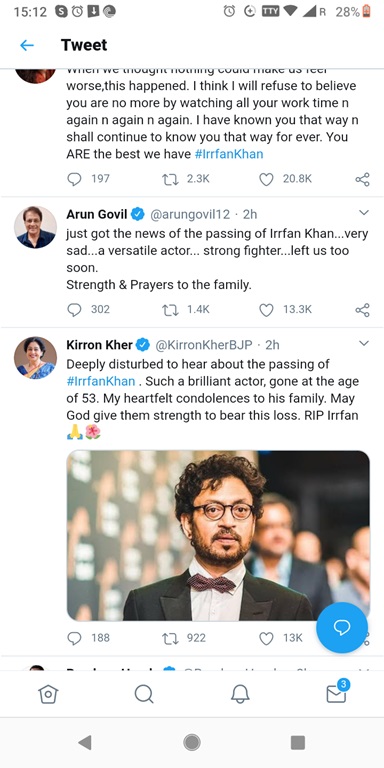 Born on 7th January, 1967 in Rajasthan's Tonk district, Irrfan Khan, even as a child was a lovable and unique personality. While talking to a journalist, Khan reminisced the fact that despite being a Muslim, he was not interested in non-vegetarian food items, due to which his relatives would opine that a 'pandit' has taken birth in the house of a 'maulvi'. After completing his school education in Rajasthan itself, Khan moved to Delhi and took admission in the much acclaimed National School of Drama.
As an actor, Irrfan Khan first made his mark as a stage artist, following which he turned to the television genre. He then worked in serials like "Bharat Ek Khoj", 'Chandrakant', 'Chanakya', et al. As a matter of fact, Khan was also offered a role in Meera Naiyar's "Salaam Bombay", but was removed from the same at the last moment.
As is the custom, Irrfan Khan's road to fame was not a bed of roses in Bollywood. Although nobody was doubtful about the man's talent and skills, he somehow couldn't get the platform to display the same to the world. Khan got his first major break from the film 'Haasil', in which, despite playing the role of a villain named Ranvijay, Irrfan simply left the audience awestruck, resulting in him being considered the real hero of the film. For the same, Khan was awarded the Best Villain Filmfare Award in 2004.
There was no stopping Irrfan Khan's meteoric rise after his role in Haasil. Through his prolific acting, Irrfan Khan could blow life in any given film he chose to act in. Even if the scripting was mediocre, Irrfan Khan's mere presence would turnaround the fortunes of the film. It also must be mentioned that the actor only worked on scripts with which he felt satisfied and a personal-connect, and did not play roles in just about any film for the purpose of minting money. The same legend played a crucial role in taking India to the global cinema scene, and he personally played all-important roles in Hollywood blockbusters like Life of Pi, Inferno and Jurassic World. Needless to say, Irrfan made his mark in the international film industry, and made his country proud in the global scene.
Irrespective of the fact that Khan was a sea of immense talent, Bollywood, bearing true faith to its inherent tendencies, did not allow Irrfan to flourish in a manner he deserved to, due to which not many people were aware of his tremendous skills. This, however, changed in 2012, with the release of "Paan Singh Tomar", in which Khan almost lived the role effortlessly. How a previous sportsperson was forced to take the law in his own hands in erstwhile India, was portrayed by Khan in the film. His role and eloquent acting in the said film garnered him praises from all quarters, including some of his detractors. He also received the national award for best acting due to his portrayal of Tomar.
Irrfan Khan did not look back eversince. D-Day, Talwar, Kaarwan, Hindi Medium, Angrezi Medium were some of the films honoured with the man playing the lead role in them. With every film, the man stunned the audience. An audience which had been deprived of quality and classy acting suddenly found a messiah in Irrfan Khan. Such was the man's dedication to the art, that he completed the shoot of the film Angrezi Medium despite battling the rare neuroendocrinal tumour.
Although Irrfan Khan is no longer among us, his legacy will live on forever. Indian Cinema will be indebted to the legendary actor for showing everyone what acting should actually look like. The man spoke with his eyes, and India will always fondly remember his moving glances. His art will live on, forever.