As India prepares to take the COVID-19 head-on, the Congress and its entire Lutyens' ecosystem is making all possible attempts to trigger panic in the country and derail the country's fight against the novel Wuhan virus. Rahul Gandhi, in particular, has been constantly trying to peddle lies about shortages of Personal Protection Equipment (PPE)- masks and other protective gear required by doctors in the fight against Coronavirus.
Now, in an attempt to further his agenda, Rahul Gandhi and the entire ecosystem came out with another façade- a tweet from an imposter account about shortage of PPE in India's hospitals. The twitter handle, posing as Dr. Kamna Kakkar, purportedly a doctor at Pandit Bhagwat Dayal Sharma Post Graduate Institute of Medical Sciences (PGIMS), Rohtak, tweeted, "Please don't send me to war without weapons @PMOIndia. Please arrange #PersonalProtectiveEquipment for us doctors ASAP. We need #N95masks #HazmatSuits to defeat #Corona. Sincerely yours, an Indian Doctor".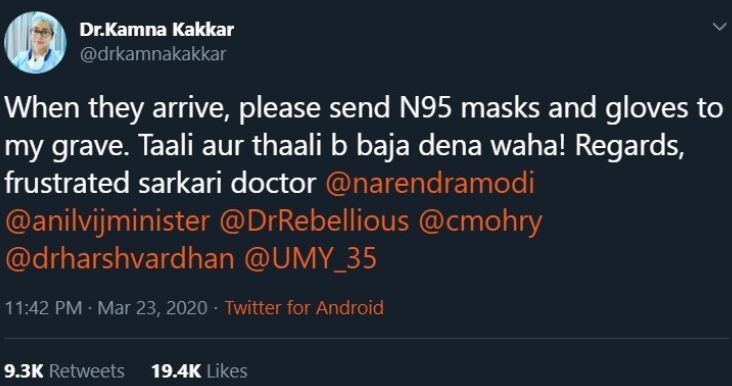 In another tweet, she said, "When they arrive, please send N95 masks and gloves to my grave. Taali aur thaali b baja dena waha! Regards, frustrated sarkari doctor narendramodi @anilvijminister @DrRebellious @cmohry @drharshvardhan @UMY_35." 
In yet another tweet, she said, "Plz tell if I should intubate a Corona patient if my lachaar Sarkari hospital has not provided me personal protection items like N95 mask or gloves? (P.S. I have life plans & no suicidal intent!) @anilvijminister @PMOIndia @DrRebellious @PMOIndia @drharshvardhan @anjanaomkashyap".
What is particularly amiss with this twitter handle and the agenda that was furthered by it was that the handle was created in March 2020 only and now look at the kind of popularity the tweet received- 9,300 retweets and 19,400 likes in such a short span of time, something that is highly perplexing on the microblogging platform. 
Rahul Gandhi was unsurprisingly at the forefront of giving wide publicity to this twitter handle, retweeting one of its tweets, he said, "I am feeling sad, because this was completely avoidable. We had time to prepare. We should have taken this threat much more seriously and have been much better prepared." 
I am feeling sad, because this was completely avoidable. We had time to prepare. We should have taken this threat much more seriously and have been much better prepared. #CoronavirusPandemic https://t.co/dpRTCg8No9

— Rahul Gandhi (@RahulGandhi) March 24, 2020
The way the Twitter handle emerged suddenly and started spreading information, coupled with the extensive and manufactured publicity that it received, including from the Gandhi dynast that it is most probably the handiwork of an IT cell. What makes it that much more suspicious is the abrupt behaviour of the Twitter handle. After Rahul Gandhi's propagandist retweet, many individuals offered to help but the purported doctor who was in a seemingly vulnerable position did not respond to any of those individuals. 
Equally suspicious is the manner in which the Twitter handle got deleted. Before deleting the handle, it tweeted, "I apologize for the misinformation/ panic created! N 95 masks are available in our institution & will be given to all those in direct contact with Corona patient. There are plenty of masks- we just didn't know what door to knock. ICMR guidelines have been rapidly changing." The clarificatory tweet is clearly nothing less than a flimsy excuse for spreading panic and misinformation. 
You can troll me all you like, but here's the truth: pic.twitter.com/UEVuXkESwl

— Pratik Sinha (@free_thinker) March 24, 2020
So a fake handle in the name of @drkamnakakkar is created, usual suspects like Shekhar Gupta & Barkha Dutt follow it in no time, tweets unverified stuff, Rahul Gandhi quotes the account and targets the government. The account is deleted, soon after.

Do you see the sinister plot?

— Amit Malviya (@amitmalviya) March 24, 2020
Meanwhile, Pratik Sinha of Altnews too has stated that the account was an imposter. He has claimed that the account was created by the Doctor's brother with her profile picture and name. It is clear that the entire ecosystem got together to peddle lies about the paucity of Personal Protection Equipment (PPE) in India's hospitals, and now that they have been exposed, they are trying to come up with a new façade- a brother empathising for his sister and creating an imposter Twitter handle.
While this exercise was a part of Rahul Gandhi's efforts to create panic about purported shortage of protective gear, the reality is that the government has been ramping up the storage of Personal Protection Equipment (PPE) including the N 95 masks. In fact, the export of N 95 masks has been prohibited since January 31, and later even the export of other surgical masks was also banned. 
Moreover, much before the Coronavirus outbreak took shape of a public health emergency in India, the Union Ministry of Health and Family Welfare had declared that it would stock up at least 50,000 Personal Protection Equipment (PPE) kits for the doctors and other medical staff on the frontlines combating COVID-19. The Modi government has kept pace with the Coronavirus outbreak.
While Rahul Gandhi is literally manufacturing content on social media to somehow blame the Modi government for a make-believe shortage of N95 masks, he is not speaking up about the mismanagement and impropriety in some of the Congress-ruled states. In Rajasthan, for instance, 2.5 lakh N 95 masks worth Rs. 2.5 crore has gone missing from the Sawai Man Singh (SMS) Hospital in Jaipur.
Similarly, in Maharashtra- the most badly hit state insofar the Coronavirus is concerned, there have been disturbing reports about illegal hoarding of masks. Recently, the Mumbai Crime Branch seized a huge consignment of masks that included 2.75 lakh N95 masks, worth Rs. 14 crore. 
The Unit 9 of Mumbai Crime branch seized facemasks worth Rs 14 crore on Tuesday, a day after Chief Minister Uddhav Thackeray implemented curfew across Maharashtra. pic.twitter.com/rw8Qf8ZvqO

— mid-day (@mid_day) March 24, 2020
It seems that there is a well-coordinated strategy to create a shortage of N95 masks and then shift the entire blame on Modi government, or to commit an N95 mask scam in today's crisis situation and to scapegoat Modi government for such a dire situation.