On Sunday, 22nd February, at exactly 5 PM, millions of Indians came out of their gates, balconies and windows to thank all the emergency personnel for their tiring efforts amidst the Wuhan virus pandemic after Prime Minister Narendra Modi's rallying call to observe a Janata Curfew. But some of the enlightened youth of the country who are colloquially referred to as woke (slang term) across social media platforms started jeering their own parents and relatives. The name-calling and shaming showed exactly how woke they all are. Parents were abused because they were obeying their nation's leader's call.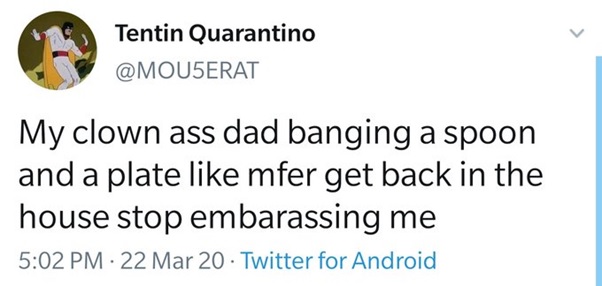 The amount of cynicism and snark for a Nobel gesture towards social solidarity cause is shockingly astounding. The Wokes are consumed in their hatred for one man. In dissing the 5-minute event where the whole of India participated, they are dissing the very same people that they claim to stand for.
India is a country of youth and youth is the future of any country. Youth surmises synergy. But of course, we live in India and the sure shot way to claim your minute to fame is to throw some uber-cool abuse laden with a chic slang (Read: NO CAPS). The F word is used rampantly, of course, the new F word being Fascist because let's be honest the other F word is yesterday's slang for our ever-evolving generation.
And how can you forget the word Nazi. These words slip out so effortlessly of our generation's mouth that if there was a spell bee competition for 'wokes' they would be totally nailing it just by spelling these two words. And we did indeed saw a sample of this on Sunday.
The language on display was absolutely derogatory and by all means cannot be used in the article. Some high IQ youngsters locked their parents in the balcony while they clapped–and to top it, tweeted effervescently about it.
The youth likes to talk about Freedom of Expression, but if their parents have an independent notion, different from theirs, they will be dubbed as Modi devotees or Sanghis, how convenient. Alas! Freedom of Speech died an ironic death then and there. 
We all have run-ins with our parents but to address them with lewd comments over a social media platform in front of strangers is just a new level of low the woke-youth has hit. For them, Sanghi is kryptonite, albeit none of them is any superman.
Bomboclaat!!!!! pic.twitter.com/pmkOCY38rg

— cor'ANA (@MiishNottyAna) March 22, 2020
The main reason for this changing mentality of youth in India is ignorance and trust in Instagram more than any books. Today's young or woke generation relies less on paper and more on Instagram where the only keywords pushed are anti-Modi and Fascist.
There is a news from Delhi in which a youth locked his father in the room so that he could not vote for BJP.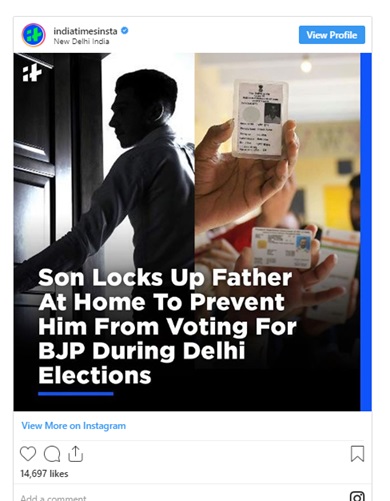 We take a lot of pride in our Indian civilization, but the wokes would be surprised to know that parents are considered God for us. They might have their fallacies. They might not be able to differentiate between black and white or for that matter they would not be even knowing that a gray area exists. But to cuss and diss them can only be the prerogative of a brainwashed intellectually inept woke.
The domino effect starts from Instagram, where the text of protest, anti-India love, and western love is filled with photos, meme, and videos. Due to the distorted history and propaganda spread by the media over the years, the Indian youth tries to compare and ape everything to the West.
This poisonous propaganda has corrupted their mind in such a way that even in times of epidemics like Coronavirus, they did not show an iota of gratitude.
The woke generation does not even know the difference between Ramayana and Ram Charit Manas.
These people spread distorted facts on CAA, NRC, and Kashmir. Comedians are the benchmark for this woke generation. These youngsters do not even understand that the comedians make money simply by using them. Today it seems like political ideology is more important than family and friends.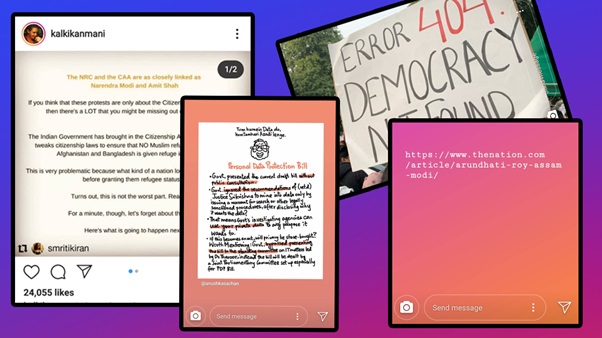 Even if you have a different ideology from a member of your family, you cannot shut it down in a room by bombarding it and god forbids if the future of the country went into these woke hands, then the day is not far when India will become haphazard and unbridled like western countries. The delinquent behavior is what ails them for being a model citizen of the country.
Wokes are sharing this on Instagram pic.twitter.com/NIrI89UOsG

— smyltr (@smyltr) February 28, 2020
Wokes have captured Instagram.
If you are on Instagram, then do follow this page. pic.twitter.com/oX8Kt7vb3D

— Kushal Kumar Sinha (@KushalSinha001) March 3, 2020
Saying it again, the entire #Aarey movement was a hogwash. The activists have vanished. Their woke leaders are in power and silent. The only victim – ordinary Mumbaikars as the decision on Metro car shed is delayed. Result – metro project in limbo https://t.co/DThcZYeEjU

— Smita Deshmukh (@smitadeshmukh) March 16, 2020
Remember, it's ok to be cool and rebellious and not agree with anyone but when you cross the threshold of human decency that's when you should realize that you, yourself are part of the problem, something the woke generation should realize!